Olympic finalist Molly Renshaw made her mark on the international swimming scene in 2016, read on as she looks back on a senior breakthrough season and what she hopes to achieve in 2017. Follow Molly's season via the British Swimming website and our social media channels.
When I think back to 2016 and everything that happened it was a huge whirlwind of firsts and so many different achievements for me.
"I qualified for my first Olympic Games in Rio, which was an amazing feeling and a huge achievement that I'd worked towards for so many years."
Next we moved on to the LEN European Championships in London. It was great to go to a major meet on home soil and have that challenge of a strong international field just before Rio.

I came away from that a European Champion after being part of the Women's 4x100m Medley Relay team. This was another major confidence boost for me with the biggest meet of my life just a couple of months away.
Rio was an unforgettable experience and to represent Team GB and my country was one of the greatest honours. I was happy with my performances. To break the British Record in the semi-final and qualify for an Olympic final at my debut games was incredible.
Getting back into training last year was tough. I'd talked with my coach [Dave Hemmings] after my post Games rest and we agreed that the World Short Course Championships in Canada would be a great incentive for me.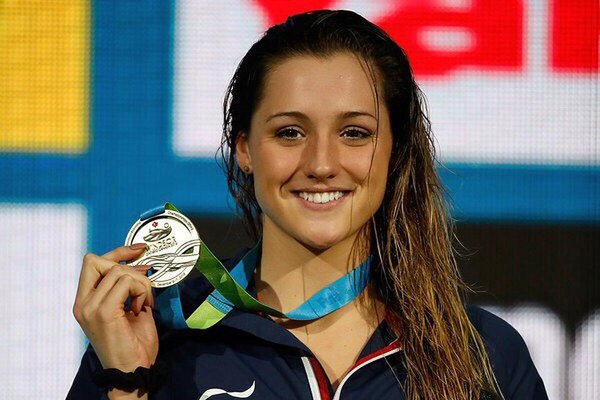 The plan paid off and I won gold in the 200m Breaststroke. Medalling was a huge surprise for me as well as going close to my personal best.
To come away from Canada as a World Champion was a great feeling and a great boost to my motivation. It gave me great momentum coming into 2017 to kick off the long course season.
My main aim for the British Swimming Championships in a couple of weeks' time is to qualify for the FINA World Championships in Budapest this summer and to get close to my PB on my 200 [breaststroke]. I'll be over the moon with that.
I have a fairly busy schedule for the British Champs; I'm competing in the 50, 100, 200m Breaststroke and the 200m Individual Medley.
I'm not looking to break any records, just secure that spot on the team and then focus and prepare for the summer, that's when I would like to deliver some strong times this year.
"I'm really enjoying my training at the moment and that helps me to concentrate in the pool and work hard. My main target is Tokyo but at the moment I'm taking each week and each block of training at a time and getting everything I can out of it."
Outside of the pool, like any swimmer I like to eat and sleep a lot. After training I get some recovery food, maybe take a short nap so I'm fresh for afternoon training and then now and then catch up with friends.
I go home to visit my parents at weekends when I can, they recently got a puppy cockapoo and I also have a horse so to be able to go back and ride her is a great way for me to relax.
See me compete at the British Swimming Championships this April in Sheffield – secure your seats today and buy tickets 
here
 or subscribe to our You Tube channel 
here
 to watch all the action on the LIVE stream.