Matt Wylie broke onto the world stage this year after a highly successful British Para-swimming International Meet that saw him qualify for his debut Games where he went on to become Paralympic Champion. Read on to find more about his look back on a great 2016 and his hopes for 2017.
This year has been fantastic for me. I started off the year by changing my event from the 400m Freestyle down to the 50m Freestyle. It was very exciting to train for this event as it was totally different to what I had done before.
My first major competition of the year was the trials for the Paralympic Games in Glasgow. My new training regime paid off as I swam a new personal best in the fastest time in the world that year. Not only that I had achieved the consideration time for the Paralympic Games which was a dream come true.
Straight after competing in Glasgow I flew out to Madeira for the European championships. This competition will always be very special to me as I took gold in the 50m Freestyle - my first major title.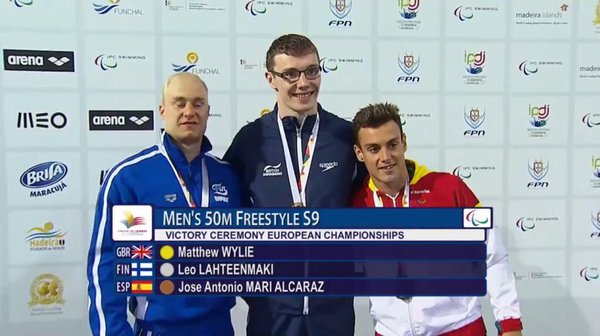 The final competition of the year was Paralympic Games though. I was excited to be part of the fantastic team heading out to Rio. I was nervous to compete in the pool and the crowd was bigger than anything I had seen before. This being said the excitement on race day was unbelievable. I loved Rio it was an experience I will never forget. Becoming a Paralympic champion still feels a little surreal but it's a great feeling never the less. 
Getting back into training was great. After Rio I had an extended break of about eight weeks of no training. This is a lot considering usually I only take two weeks off after a normal season. It was really nice to spend time going out with my friends and family and not have to worry about going swimming the next day. Getting into the pool was hard at first, after losing a lot of fitness, although it's getting a lot easier now. It's nice to start fresh in a new cycle with new targets and goals. 
Since returning from Rio I've been to numerous celebratory events. The most special to me was visiting Buckingham Palace. Getting to meet the queen was something I would never expected to have been able to do.
As well as this I have made a lot of public appearances in my local area, for the council. Another event I attended that was important to me was visiting my old secondary school and college. Both of which have placed plaques in their entrance way to commemorate my success. 
Since returning to training, I have attended a camp in Manchester with the podium and podium potential squads. The camp was focused around starting a fresh on the journey to Tokyo. The other athletes returning from Rio were in varying states of getting back into training. This made the camp a nice way to get a nice general full week of training done. As well as this it was great to mix with the podium potential athletes, I got to share my experiences from Rio helping them prepare for the next four years and maybe the Games in Tokyo.
I am very excited for Christmas this year. We have loads of family staying over on Christmas Eve under the tree is stuffed with presents. This year is going to be a little different for me, as on the afternoon of Christmas Day I am driving down to my girlfriend's house in Hartlepool. This is the first year I am spending some of Christmas Day away from my own family. On Boxing Day we are doing the reverse, the morning in Hartlepool and afternoon back in Sunderland. I get both Christmas Day and Boxing Day off which is a nice little break, before heading out to Spain for 10 days of training in the New Year. 
I am excited moving into the New Year. I have already met with my coach, Danny Thompson, to discuss our plans moving forwards. This season is about trying some new things and ideas in my training. The main focus is around increasing my strength and power output, through more gym work than I've done before. There is also the IPC world championships in Mexico in October. I would love to qualify for this and compete in my first world championships.