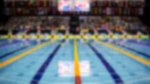 British Para-Swimming International Meet / World Series 2018
#BPSIM2018
31 May 2018 — 3 Jun 2018
The British Para-Swimming International Meet is returning to Sheffield for 2018, which will again feature as the British leg of the World Para Swimming Series. The competition, which runs from 31st May – 3rd June at Ponds Forge, will be the selection meet for the World Para Swimming European Championships 2018 later in the year.
The British Para-Swimming International Meet returns to Sheffield for its second year where we will see the British Para elite battle it out against some of the best in the World.

The schedule and ticket information will be available here soon - don't miss out!
To view information on the World Series including dates and venues of other legs, please see here. 
Athletes! The most important domestic event on the para-swimming calendar is just around the corner. Make sure you get your entries in early to guarantee your chance to compete.

Training will be available in the competition pool on 28-30th May. Times will be confirmed in the Entry Pack. 
Full details about your accreditation will be automatically sent to you to complete on completion of your entry. 
The Schedule, Consideration Times, Event Conditions and Entry Information will be published under the Coaches tab .  

Check out the World Para Swimming European Championships Selection Policy here.
Further information and documentation relating to the Meet will be made available here. 
Coach Passes are now available to purchase here. Please note you will require a valid safeguarding qualification to apply for Coach Passes for any British Swimming or Swim England event as of 1st January 2018. 
Upcoming events
Watch the live stream!
Didn't manage to secure yourself a ticket, you can still catch all the action via our live stream.