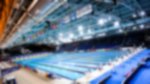 British Swimming Championships 2019
#BSC19
16 Apr 2019 — 21 Apr 2019
The British Swimming Championships will be held from 16th - 21st April in Glasgow. The British Championships attract the best swimmers from across the British Isles aiming to be crowned British Champion.
Click here to view and download the start lists and results.
Tickets are now available on the door for each session of the championships.
Tune in to the British Swimming Championships 2019 LIVE STREAM
Upcoming events
Watch the live stream!
Didn't manage to secure yourself a ticket, you can still catch all the action via our live stream.