The future looks bright for British artistic swimming after their busiest summer for a generation of athletes drew to a close - and the team are already looking forward to the 2023 season.
Britain were represented across seven events at the European Aquatics Championships in Rome, following on from the six they competed in at the Budapest-based World Aquatics Championships in June. 
Kate Shortman and Izzy Thorpe may only be 20 and 21 respectively, but they have become the experienced heads of the GB setup, taking part in their third Worlds and fourth Europeans this summer. 
In Rome, the duo placed seventh in both the Free Duet and Tech Duet finals, with scores of 84.96 - a slight improvement on Worlds - and 84.25 respectively. In that latter event, they had changed the music to their routine to mix things up at the end of a packed training and competition schedule, making for a fresh experience and a new challenge as they continue to build for the next two years and targeting their second Olympic Games appearance in 2024.
"It was a bit nerve-wracking because we didn't quite know what was going to happen. It's quite a quick turnaround time for us, there's not a lot of people who would do that, so that was a good challenge for us," said Thorpe.
"It helped us enjoy training a bit more, I think. That routine had gone a little bit stale, so it brought a new life to training leading up to this competition. I found it really fun, I think we both did to swim it in a competition, it felt new and exciting. Even though it was a bit of a risk, it felt exciting.
"The season has definitely been a long one, it's taught us how to fight all the way to the end, push to the end, because it's been tough to come to this point, especially after an Olympic year and having a bit of a longer break.
"Having all the team here, it has taught them a lot too. Since we've been training together all year, this is a lot more for them than they'd been used to before, so it has potentially been helpful for us to be here and help lead them in the right direction."
Shortman - who was fifth on 85.06 in the Tech Solo contest - added: "We've had some big competitions in a row, so to get to that final competition in the Tech Duet, we just needed a change and, as Izzy said, it was a lot more fun to swim and we were really excited to compete it, feeling like, 'this is our chance to shine'.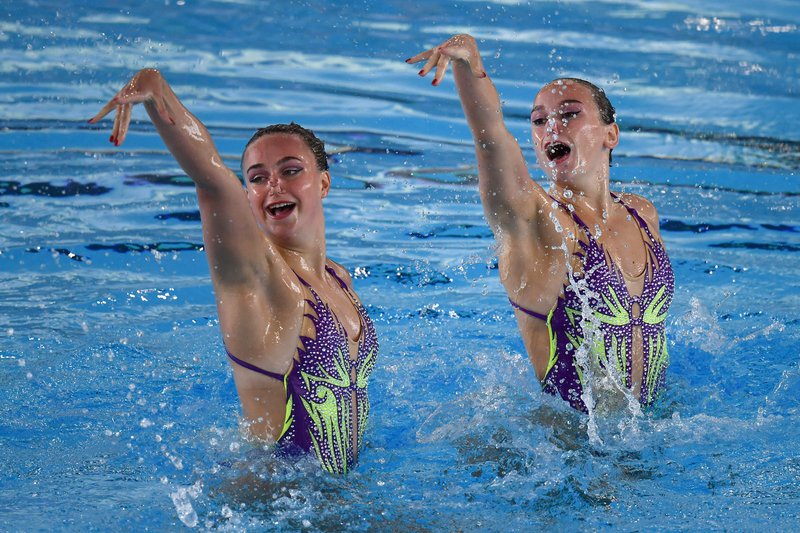 "Because we only changed the music and not all of the moves, we can probably do something even better moving forward and we probably want to step up and show some new things. We'd be excited to do a new routine, we'll see."
There were some encouraging performances, too, in the team events, especially given June's World Championships appearance was the first for a full British team in nearly a decade.
The Tech Team final brought a sixth-placed finish on 81.41, a score of 82.93 saw them finish seventh in the Free Team final and the Free Combination team placed fourth on 84.50.
Now nearly a year into the new High Performance Centre setup in Bristol, the high-profile, back-to-back competitions have provided a huge step forward, in terms of experience and opportunities for fine-tuning their routines, for the Bristol-based team. 
Speaking after the Free Team final, Isobel Davies reflected on how much the last two months have fired her enthusiasm for what could lie ahead.
"I'm definitely really excited for next season. I always get really inspired when I come to a new competition, it gives me that new energy and motivation to keep going. So after a much-needed break, we'll be ready to come back, fight even stronger and look forward into the next season," she said.
Milly Costello added: "It's been really good being part of this team, especially because for this year we have been training consistently together on the new programme, so we feel like we've made a massive step up in the team as a whole, we feel more together, so that's been really good."
Robyn Swatman was among the busiest British athletes across the artistic swimming programme, involved in the team events and the Free Solo prelims and final, where she placed ninth on 82.16.
"I'm not going to lie, it's gone better than I thought it would. I was kind of nervous coming into a big senior competition, having to do all the teams and then solo on top of that, and there are prelims and finals for most events," she said.
"I think it went really well, managing it all, and also doing everything after the performances and before them. It all went really well."
Click here to read our review of the team's World Championship campaign in June.