Britain's artistic swimmers went above and beyond their expectations after completing a historic World Championships campaign - and team leader Karen Thorpe says it has got them even more excited for what the future now holds. 
The 10-strong team recently returned from Budapest following their eight-day programme at the FINA World Aquatics Championships, where a full British team competed for the first time since 2013. 
Across the meet, the GB cohort qualified for finals in each of the six events they entered. Third-time Worlds duo Kate Shortman and Izzy Thorpe placed ninth in the Tech Duet (84.97 points) and 11th in the Free Duet (84.86), as they reached their maiden World Championship finals together, with Kate coming an impressive seventh in the Tech Solo event on 85.16 points.
The team, meanwhile, placed sixth in the world in the Free Team Combination competition after scoring 84.63 points. The Tech Team event saw a ninth-placed finish (82.52), with the Free Team contest rounding out a busy schedule for the team in 12th place (82.80). 
Speaking after that final Free Team showpiece, Isobel Blinkhorn - who was involved across all three team finals - reflected on the progress the group had made at their first World Championship outing together.
"I think we all really enjoyed it. In that final performance, you could tell everyone was pushing, we were working together as a team and it all came together at the end, so we're pleased with it," she said.
"After Covid, it has been weird coming to any competition at all really - but this one's been big, we've all been really excited to compete. It's been a lot of fun.
"I think we've exceeded expectations, actually. This is a big confidence boost for everyone. We're happy to have come here and swum well, we've got personal bests in every team routine so it's been a great week." 
Artistic swimming manager and team leader Karen Thorpe echoes those sentiments. It has been less than a year since the new High Performance Centre in Bristol was established, and she believes the results of that are already being seen in the water.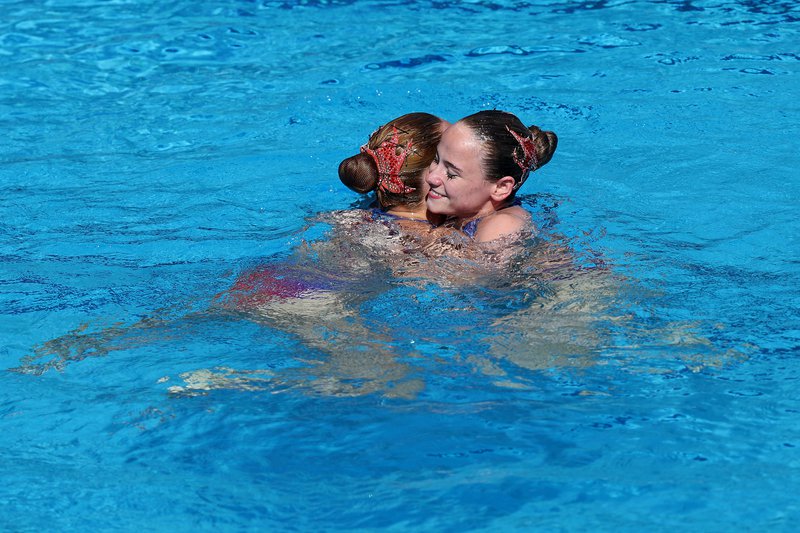 "The World Championships have been a really good competition for us. We entered six events and made six finals, which was beyond our expectations for the meet," said Thorpe.
"It's been really good because we started our new regime with the programme in September, and we had set ourselves a challenge of where we wanted to go and what we were going to achieve, and this has exceeded that.
"We've had so much positive feedback, about the development we've made since last year, when we had much more of a club-based training and camp-based system. Now, all the athletes are all training together. It takes a long time to develop the athletes themselves - the strength, the flexibility, even the mindset.
"That has been a tough learning curve for us, because they've all started university as well so have been living away from home for the first time, so it's been quite an adjustment for them. 
"But I think everyone has found that it's been a really great experience and it has really inspired them. They were excited on the last night to now go on and prepare for the European Championships in August and then to start the new season to see what 2023 can bring, now they've had a taste of this."