Lois Toulson and Eden Cheng added European silver to the World Cup equivalent they won just a week ago on Friday night in Hungary.
Fresh from securing silver at the FINA World Cup in Tokyo last week, which secured Great Britain a berth in the Women's 10m Synchro at the Olympic Games later this summer, the pair picked up where they left off, securing further silverware inside the Duna Arena.
Two strong required dives set the tone, although an unfortunate slip for Eden Cheng on take-off in the third round saw the Brits lose ground; that being said Cheng showed incredible composure to still deliver a half decent effort.
A phenomenal fourth round Inward 3 ½ Somersaults (407C) put the Leeds and Crystal Palace divers right back into medal contention, but they went even better in the final round, a stunning Back 2 ½ Somersaults 1 ½ Twists (5253B) rewarded with 74.88 points to snatch silver once again.
What's more, that final dive was the highest scoring of the entire contest, a fitting way to cap off the most successful two weeks to date for this partnership, who are flourishing in Olympic year.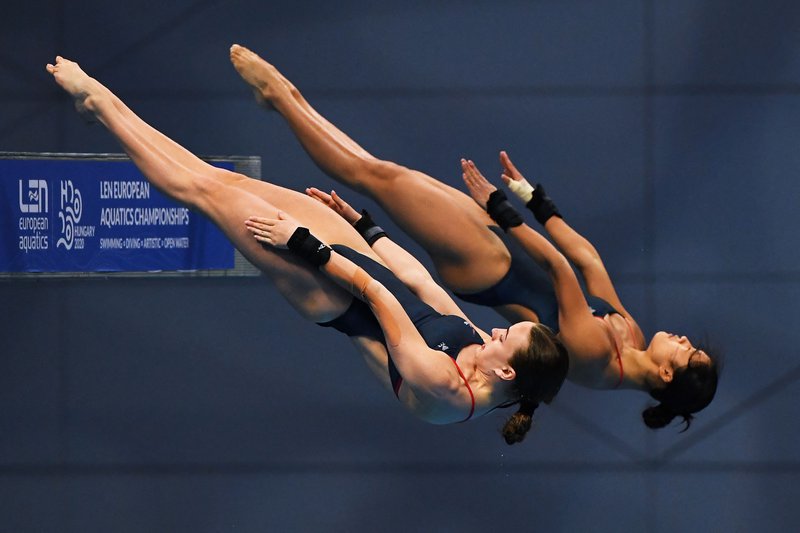 Commenting on their performance, Cheng said:
"I'm very pleased and also very proud of myself for being able to work my way, psychologically, through the remaining rounds. After that slip I was frustrated with myself, as that has never happened before, ever, so I was just trying to be present in the moment and take it dive by dive rather than what had happened before.
"You train for these kind of incidents I guess, so I just tried to hold on and make the dive."
Toulson added:
"I was really happy with how we performed and after that mishap I could see Eden was a bit shaken, but I'm really proud of how she managed to do her last two dives really well. It was a good lesson to learn here and we still managed to come away with that silver medal, so I'm really pleased.
"We had a good chunk of training synchro together, as I spent two months down in London, and I think that put us in a really good position. We haven't had a solid block of training like that before, as we're obviously at opposite ends of the country! Now we're ready to go home and do the same again and hopefully we'll be ready for the next competition. With diving anything can happen, but if we're selected for the Olympics I think we definitely have the potential to medal."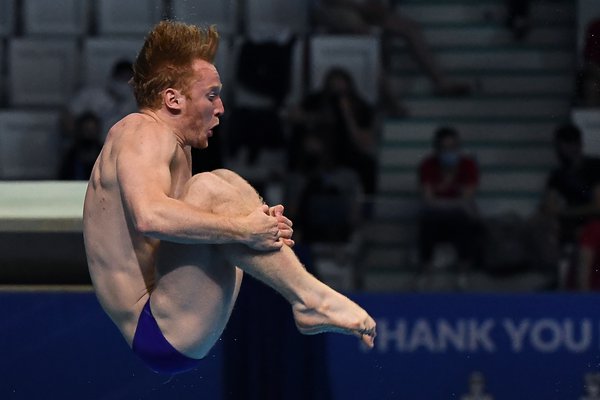 Stepping down to the 3m springboard, attentions turned to James Heatly and Jack Laugher who had qualified third and fourth respectively out of the morning prelims for the men's final - Laugher having sunk a sublime Forward 2½ Somersaults 3 Twists Pike (5156B) for just shy of 100 points on his final dive to propel him up the standings after a misplaced effort in the fourth round put his progression in doubt.
Under the Friday night lights of the Duna Arena however the key to success was the word consistency, and it was Edinburgh Diving's Heatly that showed this in greater measure of the two Briton's on this occasion. With gold and silver Russian duo Kuznetsov and Schleikher in imperious form throughout, Heatly worked his way into a tussle for the bronze after nailing his Forward 4½ Somersaults Tuck (109C) for 96.90 points in the fifth round, leaving him just three points shy of Martin Wolfram (GER) for a one dive shootout.
Sadly the final round went the way of the German who had beaten Heatly to World Cup gold just weeks ago, but the Jen Leeming coached athlete reflected positively on his fourth placed finish, commenting:
"The field in Europe is just incredible, so actually in the grand scheme of things when I reflect back on it I can be happy - even if it is frustrating right now.
"460 for me a year or two ago would have been a score I would really struggle to get, whereas I've achieved it here with two drops so there's a lot more to give, which is exciting."
For Laugher it was an evening to move on from and refocus on the bigger goal of this summer. The 3m Springboard Olympic silver medallist from Rio concluded the final in sixth place having blown hot and cold in the reception he received from the judges in his efforts, but leaves Budapest with his 1m Springboard silver from earlier in the week.
Follow all the action from the European Aquatics Championships, with details of how to tune into upcoming live stream coverage HERE.