James Heatly ensured a medal-winning finale to the Diving World Cup in Tokyo for Britain's athletes by securing silver in the Men's 3m Springboard on Thursday.
The Edinburgh Diving Club man was always in top-three contention across an intriguing, nip-and-tuck contest, having looked good throughout the preliminary and semi-final stages.
Three solid dives to open his final list were followed by a brilliant Reverse 3 1/2 Somersaults Tuck (307C) in round four that earned Heatly an impressive 84 points, the joint-highest tally of that round.
The European medallist then followed it up with another round-leading effort, a superbly-executed Forward 4 1/2 Somersaults Tuck (109C) bringing in a score of 91.20 to leave him second heading into the final set of dives.
With the pressure on and his toughest dive to come, Heatly - who is coached by JenLeeming - kept his cool, pulling off the Forward 2 1/2 Somersaults 3 Twists Pike (5156B) for 72.15 points. That briefly put him into the lead, before Germany's Martin Wolfram edged ahead to take gold by 6.5 points.
Fresh from winning Men's 3m Synchro gold with Jack Laugher earlier in the week, Dan Goodfellow narrowly missed out on another podium place by finishing fifth.
The City of Leeds athlete - who topped the preliminary and semi-final rounds - led the final after three dives, including a brilliant opening Forward 2 1/2 Somersaults 2 Twists Pike (5154B), worth 81.60.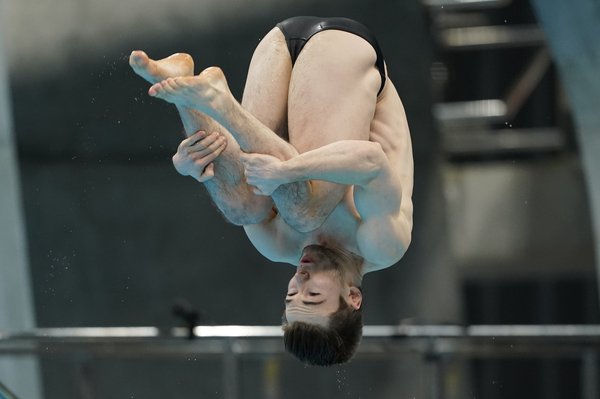 Goodfellow relinquished top spot in round four and fell just short of the top three with the final dive of the World Cup, a Back 3 1/2 Somersaults Tuck (207C).
The British team will leave the Tokyo Aquatics Centre with five medals to their name, including a trio of golds, courtesy of Tom Daley and Matty Lee in the Men's 10m Synchro, Laugher and Goodfellow in the Men's 3m Synchro and Daley in the Men's 10m Platform.
Heatly's silver is added to a silver from Lois Toulson and Eden Cheng in the Women's 10m Synchro, while Britain also secured each of the remaining Olympic quota spots open to them ahead of a return to the World Cup venue for the Games of Tokyo 2020 in three months' time.
To check out the reports from all six days of the competition, head over to our Diving Newssection.