Seventeen year-old Andrea Spendolini-Sirieix delivered a spectacular last dive to take the Women's Platform title in Rome, whilst James Heatly and Grace Reid added to their series of synchro successes.
Great Britain's European medal tally from the diving pool was doubled as James Heatly and Grace Reid first took a sublime silver in Mixed 3m Synchro contest, ahead of Andrea Spendolini-Sirieix claiming a maiden European gold in the Women's Platform to close out the afternoon.
Spendolini-Sirieix has been in illustrious form over the past month, with multiple medal successes at the Commonwealth Games before being involved in the bronze medal quartet in Monday's opening Mixed Team event. Having qualified first from the Platform preliminaries, the Dive London athlete started the final in steady fashion to sit in second after her opening two dives, with Sofiia Lyskun (UKR) providing a marker 12.50 points positive to reel in having started with higher tariff dives.
The gap duly began to close in round three, before Andrea banked a cluster of eight's from the judges with a Reverse 2 1/2 Somersaults Tuck (305C) on her fourth trip up the platform to narrow the margin to the Ukrainian down to 2.50 points.
Stepping up for the last dive of the contest Andrea knew it would take her best scoring effort of the final to clinch the victory, and in that decisive moment the 2021 European Championships bronze medallist delivered a stunning Back 2 1/2 Somersaults 1 1/2 Twists Pike (5253B) for 76.80 points to earn the European crown.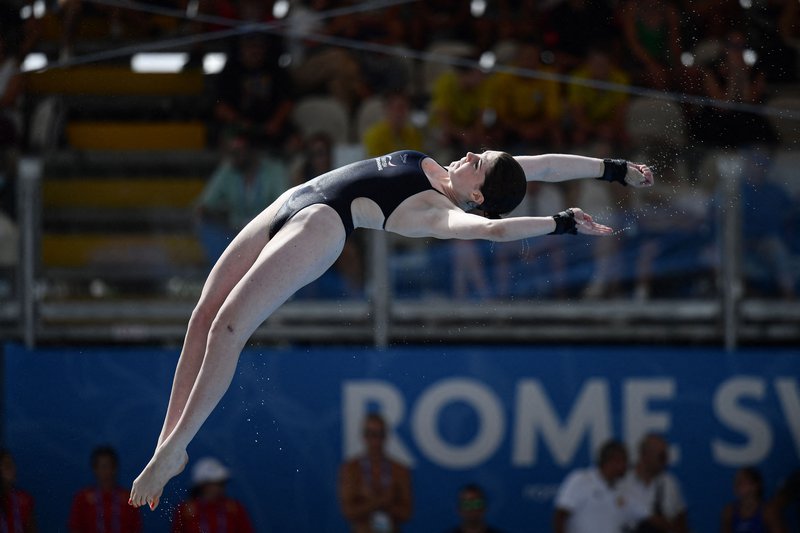 "I saw how well everyone else competed on that last round and I knew I needed to give it my all, but at the same time I was quite calm - I didn't put any pressure on as I wasn't telling myself I needed to do a good dive to be proud, I could take pride in my performance either way." said Spendolini-Sirieix
"The take-off was good so I was like just let me get my hands on this and it was a great finish. My mum and my brother came to the Commonwealth Games but to have them here with family that's never seen me dive before supporting me and to be able to go up [into the stands] without any covid restrictions it was just the perfect way to celebrate really."
Reflecting on her year and the progress made, the Alex Rochas coached diver added:
"I've come a long way since January, I've grown as an athlete and as a person as well and I'm so excited for next season I think it's going to be great.
"I was really disappointed after Budapest especially with my individual, and after the team [world bronze] my confidence slowly built back up. When we went back home I was just focussed on improving and I think that I definitely did that.
"Alex says hard work always beats talent and that is something that will always ring in my head. You have to work hard and put in 100% effort every single day and I've done that ever since Budapest till now and the changes I have made are noticeable and I'm really happy with how it's gone."
Meanwhile Leeds Diving's Lois Toulson put in a courageous performance to build her way up the leaderboard to sixth overall after a dropped effort in round one left her adrift of the medal contenders. Toulson's Back 2 1/2 Somersaults 1 1/2 Twists Pike (5253B) ranked among the top five scoring dives of the competition and a positive conclusion to her list, with the Mixed 10m Synchro champion set to join forces with Spendolini-Sirieix in the Women's event on Sunday.
"I've got one day rest and then we can start training synchro - we've never done it [together] before so it's going to be a bit of a challenge but quite fun I think." said Lois.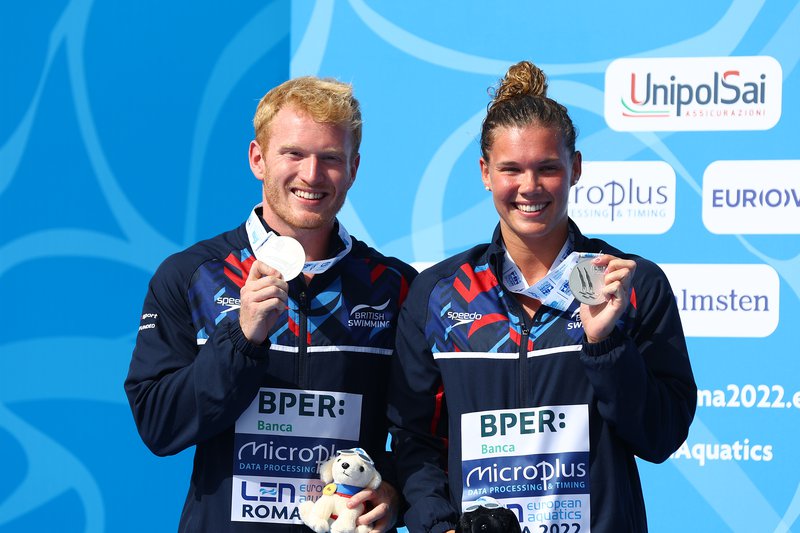 Britain's first medal of the afternoon came from a pair that were too backing up a commonwealth title with further success as James Heatly and Grace Reid built upon that aforementioned gold and a world bronze to complete the set with European silver in sunny outdoor setting of the Foro Italico.
The duo established themselves in the silver medal position early on and proved highly consistent across their five rounds. Their three optional dives all cleared 65 points, with a polished Forward 2 ½ Somersaults 1 Twist Pike (5152B) in the fourth round the highlight as they maintained pressure on the German pair who held out for gold.
Delighted to have another medal to close out his 2022 campaign, Heatly commented:
"We're really happy and for me the season is done now, so to finish on another medal and another consistent performance is great – we've kind of got the set now world bronze, European silver and commonwealth gold.
"The goal for this one was just to enjoy ourselves after putting focus on the worlds and commonwealths which came up first, so to come here enjoy some sun, try not to get sunburnt and get a medal the objective has been achieved."
Whilst Grace added:
"There's been a super atmosphere here and to be in such an iconic pool is just amazing.
"I just so enjoy doing mixed synchro with James. Both of us dived really consistently today and I'm really happy we can put in a performance like that after one heck of a season so just super proud of what the team have done, and of James."
Full results from the diving at LEN European Aquatics Championships can be found here, with full details of BBC live streaming of scheduled event available here.