Britain's divers enjoyed a golden Friday at the FINA Grand Prix in Rostock, Germany, on their way to finishing second in the event's medal table.
Andrea Spendolini-Sirieix and James Heatly both earned individual crowns on the opening day of finals, winning the respective titles they had claimed at national level at the British Diving Championships a month previous.

Spendolini-Sirieix was in good form heading into the Women's 10m Platform showpiece after previously winning her semi-final - and a superb final dive, a Backwards 2 1/2 Somersaults 1 1/2 Twists Pike (5253B) earned her an eye-catching score of 76.80 to take her overall tally to 330.50.
That was enough to pip Canada's Celina Toth to the gold by a dramatic 1.15 points, securing the Crystal Palace Diving Club youngster her maiden senior international title. 
Earlier in the session, Edinburgh Diving Club's Heatly had ensured his place on top of the podium with an impressive display in the Men's 3m Springboard. 
Heatly led the final from his second dive onwards, with a Reverse 3 1/2 Somersaults Tuck (307C) fourth up scoring 82.25 - the only dive in excess of 80 points of the entire final.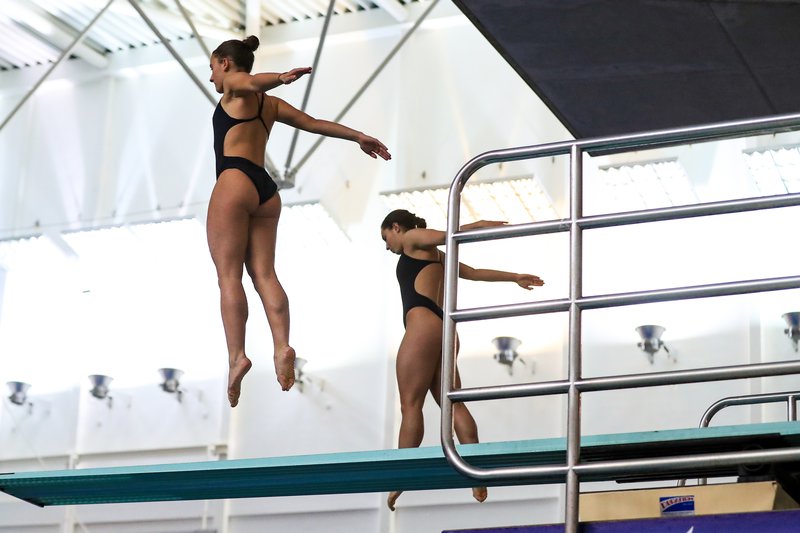 His overall score of 424.25 put him some distance clear of Mike Hixon from the United States. 
There was also British gold in the Mixed 10m Synchro event, as Gemma McArthur and Lucas Thomson combined for victory. Their score of 286.98 had them 12.72 in front of Germany's Naomi Hinzmann and Alexander Lube.
Scarlett Mew Jensen and Maria Papworth Burrel secured a bronze medal in the Women's 3m Synchro on Sunday, finishing on 275.10. Sitting fifth heading into the final round of dives, Mew Jensen and Papworth Burrel scored 64.80 for their Forward 2 1/2 Somersaults 1 Twist Pike (5152B) to jump up to third and make the podium.
That result was mirrored by Matthew Dixon in the Men's 10m Platform, his score of 420.95 ensuring he finished third. Thomson ended fifth in that contest. 
Saturday brought a trio of fourth-place finishes for British athletes - including the nearest of near misses for Thomson and Ben Cutmore in the Men's 10m Synchro. Their score of 366.45 had them less than two points adrift of Ukraine's Yehven Naumenko and Oleh Serbin, who took bronze.
Jordan Houlden and Anthony Harding were fourth in the Men's 3m Synchro, while Papworth Burrel finished in the same place in the Women's 3m Springboard.
It is not long before more British involvement on the international stage, with the FINA Diving World Series kicking off in Montreal this weekend.
You can make sure you are in the stands for the series' finale at the London Aquatics Centre in March, with tickets on sale HERE.