Three days, 10 events and hundreds of dives later, the British Diving Championships are over for another year.
The national event was back at the Plymouth Life Centre for 2020, with the weekend's competition rounded out by Matthew Dixon claiming the Men's 10m Platform title with a personal best of 503.85 on Sunday evening, in front of a packed crowd. 
There were some eye-catchingly close contests across the weekend, with plenty of talent and commitment on show. 
Every winning diver was on hand in the aftermath of competing to reflect on how they felt at being crowned British champion. 
Here's what they had to say about standing atop the national podium... 
DAY THREE
Maria Papworth Burrel - Women's 3m Springboard winner (318.85)
On a first senior individual crown
"I'm ecstatic! I wasn't expecting this at all. I haven't had the ideal preparation - I had back injections just before Christmas, so to get this is an absolute shock to the system. 
"It's just come from overall confidence. More reps and sharpening my entry, it's that sort of stuff."
On being joined on the podium by synchro partner Scarlett Mew Jensen, who won bronze in the 3m Springboard after the pair were crowned 3m Synchro champions the day before
"We really enjoy synchro because it's a break from individuals stress.
"It's nice to have someone who's basically my best friend, and we'll hopefully be carrying on through this season."
Matthew Dixon - Men's 10m Platform winner (503.85)
On victory and breaking that elusive 500-point barrier in his home pool 
"I can't really put it into words right now! I wanted to get that 500, it was my dream to get that 500 and so I'm so happy to get it today. 
"I just took it dive by dive and it paid off. It was so hard to compose myself - I was so nervous, especially following Noah (Williams), who did insanely well. His dives were incredible and he was so close to me (ending on 483.00), but as soon as I hit the water on that final dive, I knew it was a good dive and I took the win!
"A home crowd and home pool, it's just incredible. The atmosphere was insane and I can't thank everyone enough for being here and cheering me on - it was so good.
"This is an amazing start to the year and I'm hoping to get selection for the World Cup now and if so I'll hopefully do well there and then potentially get selected for the Olympics, which is the ultimate dream." 
Read the full round-up from the final day of action HERE.
---
DAY TWO
James Heatly - Men's 3m Springboard winner, for a second successive year (478.50)
On a thrilling win that saw him finish less than two points clear of Dan Goodfellow
"I feel quite tired now, but I'm so happy - I've retained my title, and it's a personal best as well. I can't ask for more at this point of the season. I'm so happy!
"I don't want to watch what anyone else is doing, I don't want to hear what's happening, I don't even like to see what my own dives were. I knew I had done five good dives before my last one anyway, so I was just trying to focus and take it one dive at a time. It's a marathon, not a sprint, so take it slow.
"I've added that triple in at the end, and that was a new dive I only learned in December, so the plan is to keep fine-tuning that and sharpen everything up. Who knows, there might be a few extra things working in the background."
On what the rest of 2020 could hold
"The Tokyo Olympics is the goal for the year, but we've still got lots to get through. There's some grand prixs this year, potentially the World Cup, but I'm not 100 per cent sure what's going to be decided after this, so I'll have to wait and see and get back to you!"
Andrea Spendolini-Sirieix - Women's 10m Platform winner (340.30)
On leading out of the prelims and taking gold in the final
"I have no words to describe it, I'm so happy! I just thought that if I kept the consistency and I kept going in with entries and having the right mindset, then I could definitely have a chance."
On the keys to her progression 
"My coach, she's really encouraging and really kind. And the athletes around me are all really supportive. 
"Now my aim is to get higher scores and to keep on with the consistency."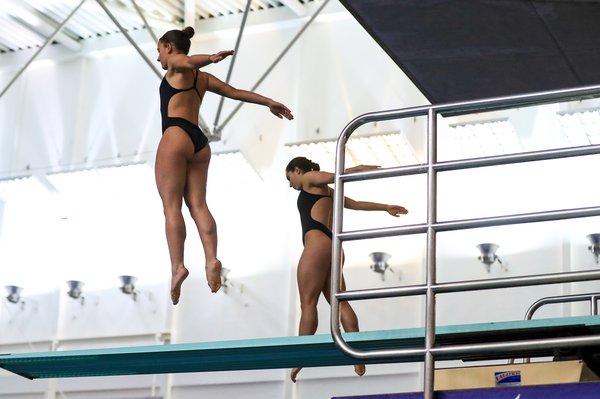 Scarlett Mew Jensen and Maria Papworth Burrel - Women's 3m Synchro winners, for a second successive year (273.30)
Mew Jensen on the victory
"It went pretty well - we haven't trained at all, really. I think we did our first optional together here. Maria has been out a bit because of her back, so to come together like that, we are really chuffed."
Papworth Burrel on what the pair would be looking for in the following day's individual event - which she went on to win
"Just consistrency, like today - putting all your dives in your head, not being too dramatic about things. If it goes badly, you pick yourself up again."
Ben Cutmore and Lucas Thomson - Men's 10m Synchro winners (353.91)
On their winning performance
Cutmore: "It's our first competition of the weekend, so to open it out with some brilliant required dives and put away the list for the medal is extraordinary."
Thomson: "Definitely. There's a few things we could've worked on, going forward, hopefully we can sharpen up a little bit - Ben's inward, my back bit. But our requireds are a really good standard and where they should be at the minute, so we're really happy with the gold medal." 
On what 2020 could hold for the pair
Cutmore: "It's a good start to the year. There's things to work on, but we'll just progress as the year goes on."
Thomson: "Hopefully we've got some competitions together. Ben is still a junior, so he's got some junior stuff. But hopefully there should be a grand prix coming up for us where we get to have another run at it, so fingers crossed, we'll see what happens." 
Read the full round-up from the second day of action HERE.
---
DAY ONE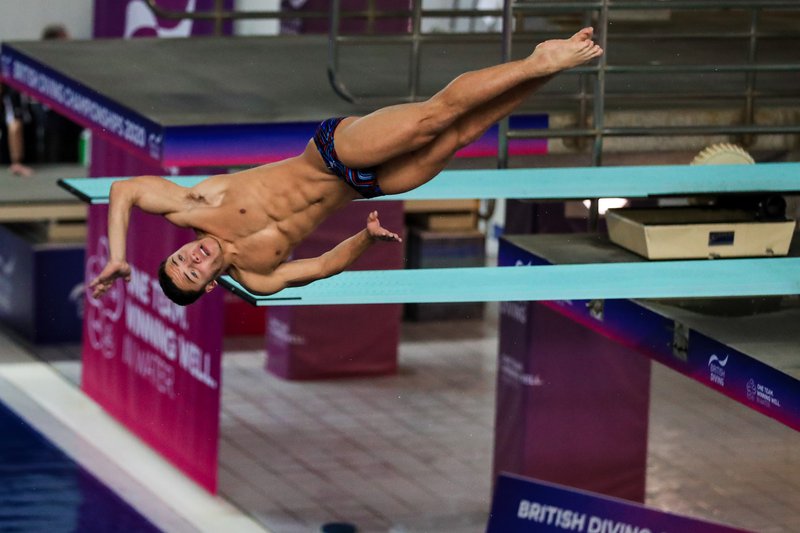 Lois Toulson and Eden Cheng - Women's 10m Synchro winners (277.80)
On beating Andrea Spendolini-Sirieix and Josie Zillig by less than a single point
Toulson: "It was really tense. We don't follow the scores as they are going through, so we didn't know how close it was. It was good competition. There's a lot to work on, but our synchro is getting a lot better, which I'm pleased with - so there's some good things to take away."
Cheng: "It's good just to get back into things. It's nice to be up there in a competition environment."
Toulson on the pair's hopes for 2020
"Obviously we are hoping it goes well this year, but there are a lot of competitions before the Olympic Games towards the end of the year. So we are just going to take it a competition at a time, and hopefully we can work on the things we need to work on." 
Jordan Houlden - Men's 1m Springboard winner (379.70)
On going one better than his silver medal in the same event in 2019
"It felt brilliant! There was so much adrenaline going through my body, but I was able to maintain it so I didn't go too high or too low when I needed to.
"I wasn't leading from the front, I was third from last, so I just went in with nothing to lose and dived my best. That's all you can do. It's definitely good being national champion. Hopefully I can be national champion next year as well, but we'll see."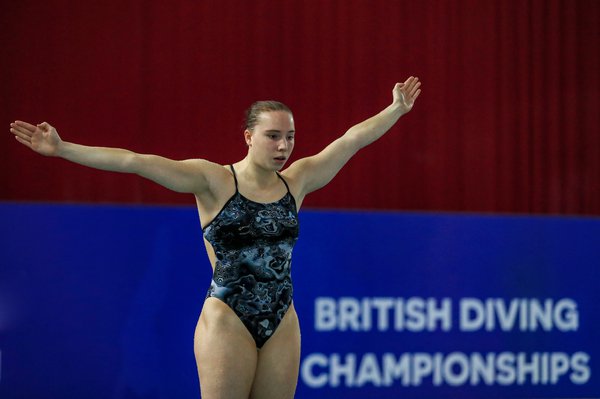 Jordan Houlden and Anthony Harding - Men's 3m Synchro winners, for second successive year (399.42)
On the successive 3m Synchro titles
Harding: "It was a great experience for me. I'm happy with the back-to-back with Jordan."
Houlden: "It feels amazing for me. I came first on the 1m and now with my synchro partner. It's definitely been an amazing day, I'm just speechless, absolutely speechless."
On their goals for the year ahead
Harding: "I think it's just take whatever we've got and we just see where we can go from there. There's the Rostov World Cup event next month, hopefully we can get a medal there and do well - and just show the world what we are."
Yasmin Harper - Women's 1m Springboard winner (254.10)
On her maiden national title
"I'm really happy with how it went. I'm just pleased to get my 1m off for the weekend, and with consistent dives throughout.
"It feels nice to be able to dive last (after topping the prelims), so you know what you've got to do. But it does add a bit more pressure - you know you have to do well because you've done well in the prelims. I've been feeling pretty good, I had a good few days of training before the competition started."
Read the full round-up from the opening day of action HERE.
You can relive every dive from every event with our Deep End Live playlist. 
If you are keen to witness more live diving action, you can get hold of tickets for the FINA Diving World Series leg at the London Aquatics Centre (March 27-29), which are now on sale.