Eden Cheng claimed the first senior individual title of her career by winning out in the most dramatic of Women's 10m Platform finals during a packed Saturday at the British Diving Championships.

Fewer than 10 points separated the top five divers heading into the final round before Cheng triumphed, to stand atop the podium on a day when Jack Laugher secured the Men's 3m Springboard title, Matty Lee and Noah Williams combined for a classy Men's 10m Synchro victory and Desharne Bent-Ashmeil and Amy Rollinson won out in the Women's 3m Synchro.
In that competitive Women's 10m Platform event, Crystal Palace Diving Club's Cheng - a European champion in the 10m Synchro - recovered from a drop in the first round with some solid dives, before a strong Back 3 1/2 Somersaults Tuck (207C) in round four, worth 74.25, put her well in contention.
From there, it was a contest of the Back 2 1/2 Somersaults 1 1/2 Twists Pike (5253B), with four of the top five attempting that last up. Eden ultimately got the better of that contest, scoring 75.20 for her effort to close on 318.75 - a barely-believable 0.25 ahead of synchro partner Andrea Spendolini-Sirieix, who finished on 318.50.
Spendolini-Sirieix scored 72.00 for her final dive after building well into the competition, while City of Leeds' Lois Toulson - who claimed that European synchro title in 2018 alongside Cheng - took bronze on 313.50 with some consistent diving across her list. 
For Cheng, the resilience she showed to hold out for the win under pressure was the most pleasing aspect of the result.
"It was a bit up-and-down, a bit of a rollercoaster ride. It didn't go so well at the start, but I brought it back and fought on. I feel great, because it shows I have inner fight, that's what I've been looking for and that's what I've been lacking for the last couple of years in individual, so it's really good," said the 19-year-old, coached by Lin Chen.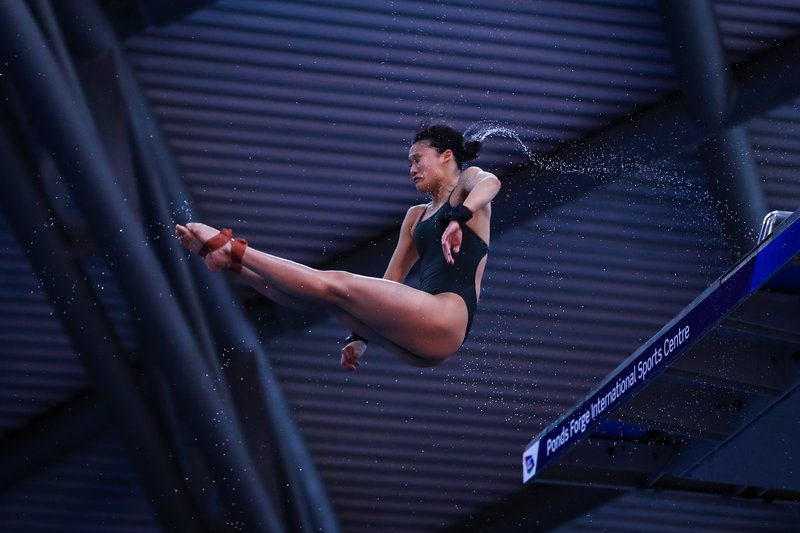 "It's really about perseverance and motivation, that's what we have to do as elite athletes - we know there is a prelim and then a final, so it is working on that reset button that we need to master. I feel like that went well for me. It was a tough contest, though. 
"Coming just ahead of Andrea, the fact that it was one-two for us and we are a synchro pair, it's exciting to see what we can do. I know yesterday didn't go so well for both of us, we can bring it on. We can improve, there's things in there to start work on - it's just the beginning. 
"It's been incredible having my family and friends here again. I love it, that's my support system, so having them here and watching me do what I do, it feels amazing." 
Laugher made it three British titles from three events for the weekend as he turned in another outstanding display to claim gold in the Men's 3m Springboard, at the end of another contest you could not take your eyes off. 
The City of Leeds man - a medallist in this event at back-to-back Olympic Games - made his intentions clear with a superb second-round dive, his Reverse 3 1/2 Somersaults Tuck (307C) scoring 94.50 points from the judges. 
A slight drop in round four was followed up by two more excellent efforts in five and six, with Jack closing on an impressive 495.00 points to take the crown. 
Close on Laugher's heels throughout was City of Sheffield's Jordan Houlden. Jordan was roared on by supporters at his home pool, most notably after his fourth-round Forward 2 1/2 Somersaults Triple Twist (5156B) earned him a tally of 93.60. 
An overall tally of 478.50 secured him the silver medal, ahead of Edinburgh Diving Club's James Heatly. The 2020 British champion and FINA World Cup medallist turned in a 90+ dive of his own, a fourth-round Reverse 3 1/2 Somersaults Tuck (307C) part of an incredibly high-quality few minutes of diving. He closed on 454.90 overall.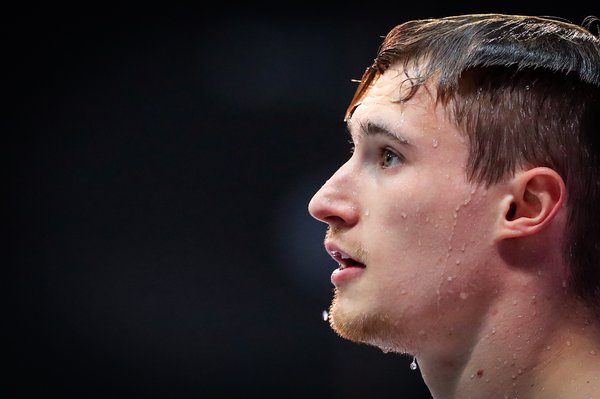 Champion Laugher is now looking forward to the busy international summer ahead - and the improvements he still feels he can make in the meantime. 
"I'm fairly pleased. There's still loads of things I need to improve, but it's nice to have people biting at my heels. In February, I didn't do too well but I didn't really need to - so it's nice to know I can do it when I need to," said the Olympic, World Championship and European medallist. 
"On the day today, I came out on top and I think I had some really good dives, but again, I think I need to improve on some things. That's what the World Champs are for, and Europeans and Commonwealths. 
"It's nice to have competitiveness in the nationals again, because obviously the World Championships and Euros are really competitive, so it's nice to have a good run out and you've got to hit your dives to stay at the top. It's really important to have that, obviously it adds that little bit of pressure to know that if you do drop something, you're not going to win this. It's good, and I'm really happy the other boys are diving so well.
"Now, I'll go home and have a small break and reset, but then we're going to be building up to Budapest. It's quite hectic, it's a fairly quick turnaround. It's going to be really exciting, but I've got a lot of things on the horizon. I'm really excited to do synchro with Tony [Anthony Harding, with whom he won Men's 3m Synchro gold on Friday], just excited to get out and compete again, because it's been such a long time. So there'll be a little bit of a rest and a breather, and then build it back up again."
Matty Lee and Noah Williams' new partnership worked to great effect as the Dive London pair secured a comfortable triumph in the Men's 10m Synchro contest. 
In only their second outing as a synchro pair, Lee and Williams landed every one of their dives with precision to outscore two other new-look British duos. 
Highlights from Matty and Noah's list included an Inward 3 1/2 Somersaults Tuck (407C) that scored straight 8s, 8.5s, 9s and 9.5s from the judges for 84.48, before they closed with a finely-executed Forward 4 1/2 Somersaults Tuck (109C) worth 92.13 points, thanks in part to stunning synchronicity.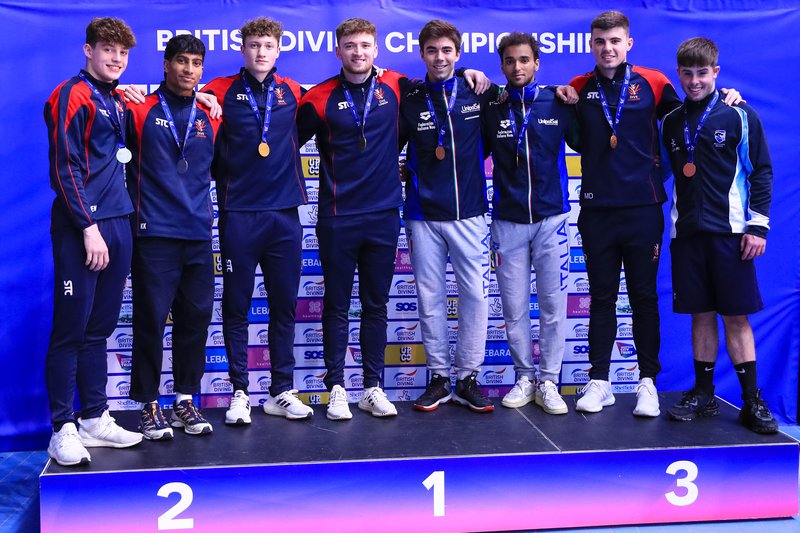 Their overall tally of 437.55 was clear of silver medallists Ben Cutmore and Kyle Kothari, also of Dive London. The pair - who won gold at the Futures Cup a fortnight ago - were top after the requireds and secured 77.22 points for their Back 3 1/2 Somersaults Tuck (207C) in round four, before ultimately finishing on 379.41 points. 
British bronze went to Matthew Dixon (Dive London) and Euan McCabe (Plymouth Diving) on 357.48, just behind overall third-place-finishers Eduard Timbretti and Andreas Sargent Larsen from Italy, on 362.73. 
"We're really happy with the performance. It was steady all the way through, nothing exceptional but certainly nothing bad. For our first major, we'll take it, for sure," said Williams.
"I'm feeling in a really good place ahead of the individual on Sunday too. I had a good performance at National Cup and Futures Cup, but I'm looking forward to competing against Matty again, because it's been a couple of years since we competed against each other. It's always good competing against your friends, it's a friendly environment and I enjoy it."
Olympic champion Lee added: "Training is very different to competing, and as much as you try, you can't simulate that same feeling in training. It's only our second time going at it, and I'm really happy with the performance.
"Like Noah said, there's still some room to add some extra points, but I'm also very pleased with how we did. I feel like it's been ages since I competed, and I kind of lost my morale a little bit - but I feel it's completely back, I'm really happy diving alongside Noah. Becoming British champions means we will get to look forward to the Commonwealth Games, Europeans and World Championships."
Bent-Ashmeil and Rollinson added to their ever-growing list of titles as a synchro partnership as they rounded out day two with victory in the Women's 3m Synchro.
The duo - who train at Dive London and Luton Diving Club respectively - won National Cup gold in February and defended their Elite Junior Diving Championships crown in April. Here, they landed two strong requireds early on to set the tone, and then overcame a slight drop of points in round four to finish with a high-scoring Back 2 1/2 Somersaults Pike (205B) last up, ultimately leaving them on 274.50 for the gold.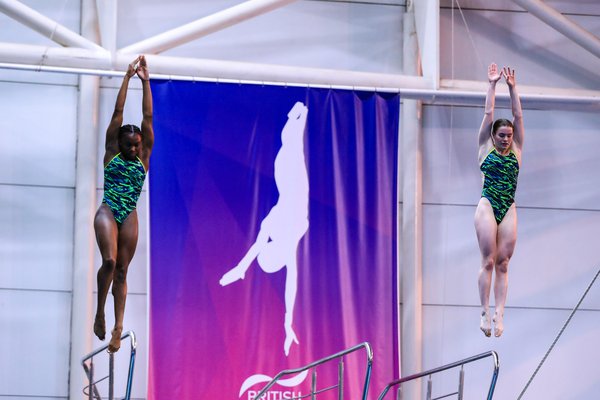 The silver medal went to Evie Smith (Crystal Palace) and Tilly Brown (Southampton Diving Academy) with a tally of 249.06, while Callie Eaglestone (City of Leeds) and Maya Kutty (Southampton Diving Academy) rounded out the podium with bronze on 244.68, after an eye-catching start of their own.
As for the winners, speaking about their performance, Rollinson said: "It was nice to get started with our requireds well. Inwards was an easy dive to start off our optionals; on the twist, I had a dodgy hurdle step, but then we pulled it back on the Back 2 1/2 Somersault Pike (205B), so it was nice to finish on a good dive.
"It was good to know we can pull it back, and still finish on a good score that we are happy with, considering. Ahead of the 3m individual tomorrow, it's good to get through some of the dives before I have to compete them on my own."
Bent-Ashmeil added: "Amy is a good synchro partner because she keeps me calm. We are going to keep building to more competitions internationally, so it's good to get the experience and get to know each other as a team. We were hoping to do well here to give ourselves the chance of selection for senior international competitions, like Commonwealth Games, if we are selected."
For full results from the day at Ponds Forge, click here.
Make sure you don't miss a moment of action across Saturday and Sunday, with livestream coverage on the British Swimming YouTube channel.