The next generation of British Diving talent shone and new synchro partnerships came to the fore as the inaugural Futures Cup came to a close in Plymouth. 
In an event devised to provide athletes with valuable competition opportunities after a disrupted couple of years and ahead of a packed summer of international meets, junior divers produced a string of memorable performances to claim medals against their counterparts from the USA and Canada. 
Leon Baker, Maya Kutty and Robbie Lee - who all train at Southampton Diving Academy - were among the young British and Home Nation athletes to stand atop the podium on the junior side of the competition, before Ben Cutmore - into his first season as a senior - and Kyle Kothari triumphed in a high-quality senior Men's Platform finale. 
Every single result contributed to the overall Futures Cup, with points awarded in descending order for the top six finishers in each event. The Great Britain team won out overall, with the USA A team in second and Canada A third. 
The first individual medal of the competition was won in style by Southampton's Baker, who claimed the Men's Junior 3m Springboard title with an impressive display of finals diving. 
Baker - representing the British team across the Futures Cup - had looked the athlete to beat during the combined preliminary and semi-final rounds on Saturday, and so it proved in the finale, with his Reverse 3 1/2 Somersaults Tuck (307C) in round five receiving an eye-catching 91.00 points from the judges and a noise to match from the crowd in the stands.
His final total of 454.65 secured the gold, with compatriot and synchro partner Hugo Thomas (Dive London) taking silver on 390.50 and Maxwell Miller of the USA bronze on 388.40. 
Speaking about his experience and the performance, Baker said: "I'm extremely impressed with that. I went into it really confident and then just enjoyed it, and that helped a lot. My requireds set me up well going into the final, and from there, I did feel confident and it went well.
"It has been really nice seeing a few familiar faces here at this Futures Cup. We love our friends from Canada and USA, and it's great to go up against them here." 
Baker would also go on to win the Men's Junior 3m Synchro competition alongside Dive London's Thomas, the pair combining impressively to finish well clear of American rivals Maxwell Miller and Joshua Sollenberger. Evie Smith (Crystal Palace Diving Club) and Tilly Brown (Southampton Diving Academy) won out in the junior women's equivalent. 
The individual Women's Junior 3m title, meanwhile, went to Baker's clubmate Maya Kutty. Kutty moved to the front after a brilliant second dive - a Reverse 2 1/2 Somersaults Tuck (305C) worth 70.00 points - before showing impressive composure in her final two dives to finish on a strong 292.40, clear of USA diver Avery Worobel in second on 271.95. 
Bailee Sturgill - who had earlier secured a podium spot in the Women's Junior Platform final - took third on 268.95.
That competitive Women's Junior Platform contest saw Grace Ally triumphant. Hannah Newbrook and American Jaiden Lynch had challenged each other throughout the prelims and semi-final lists - but it was Ally of the England team who stepped up with a consistent five efforts in the finale. 
A fourth-round score of 65.80 for her Armstand Back Double Somersault (624B) was the highlight and contributed to her overall tally of 277.10, with Dive London's Newbrook (representing GB) behind on 259.65 to take silver. Bailee Sturgill of the USA team (on 250.70) won bronze. 
British team member Robbie Lee brought the curtain down on the junior section of the Futures Cup by winning a really entertaining Men's Junior Platform final. 
In a brilliant session for the club, Southampton Diving Academy athlete Lee moved to the fore of a nip-and-tuck showpiece after a finely-executed Back 3 1/2 Somersaults Tuck (207C), which scored 8s and 8.5s to earn him 82.50, on the way to an impressive overall tally of 432.05. 
Tyler Wills from the USA team picked up silver on 403.60, while Luton Diving Club's Jorden Fisher-Eames, representing England, threw down the dive of the final in scoring 86.40 for his Back 2 1/2 Somersaults 1 1/2 Twists Pike (5253B). Jorden claimed the bronze medal after closing on 372.75. 
European medallist Robyn Birch secured herself the Futures Cup title in the Women's Platform event as she got the better of compatriot Eden Cheng from 10m at the beginning of the senior finals programme.
Birch - competing for the England team - started strongly and quickly recovered from a slightly under-par second dive to remain consistent from there on in, before closing with her best score of the day. Her Back 2 1/2 Somersaults 1 1/2 Twists Pike (5253B) was worth 72.00 points from the judges and ensured she closed on 318.75, ahead of Britain's Cheng on 283.80. Canada B diver Kate Miller was a mere 0.5 points back for bronze. 
Reflecting on the weekend, Birch said: "It's been great. When we're at home, training in our facilities to do a comp run through, it's not always exactly the same pressure and nerves. So to actually have a competition like this, against international divers, it's been a great opportunity, especially with us having the British Diving Championships in two weeks time, so it's definitely been a good run through.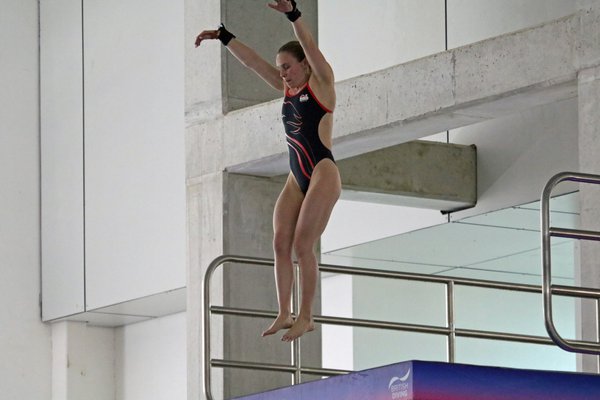 "I definitely feel a lot better preparing for the nationals having had this competition, it's always good to get the cobwebs blown away and have that practice.
"Because we've not had that many comps for a long time, it sometimes takes a bit of time to get used to that pressure again and to be able dive with nerves. This has been good to go through."
Off the springboards, it was silver for Scotland representative Grace Reid in the Women's 3m contest. Reid led the way throughout Saturday's combined prelims and semi-final, having done the 1m-3m Springboard double in Plymouth at the British National Diving Cup three months earlier. Within a single dive of the final here, it was clear it would be a close affair - and it was ultimately Mia Vallee of Canada A who came out on top, a fine series of dives without one drop securing her gold on 345.80 points.
Reid was not far behind, finishing second on 314.00 as Vallee pulled clear over the final two dives. Margo Erlam, also of Canada A, won bronze on 309.40. 
In the first of two all-international finals, Edinburgh Diving Club man Yona Knight-Wisdom was in sparkling form to record a new personal best of 481.05 on his way to a resounding Men's 3m Springboard triumph.
Competing for Jamaica, Knight-Wisdom made an early marker with a 79.05 score for his opening Forward 3 1/2 Somersaults Pike (107B), before a haul of 91.00 points for his Reverse 3 1/2 Somersaults Tuck (307C) helped him on the way to a new best. Bjorn Markentin of Canada A took silver on 365.25 points, while Ireland's Jake Passmore (who trains out of the City of Leeds) won bronze on 355.75. 
With several of the British competitors electing to focus on their Men's Platform Synchro efforts after competing in the individual prelims and semi-finals on Saturday, it meant the senior Men's Platform finale was a North American affair - and it ended with a Canada 1-2-3. 
Benjamin Tessier (of Canada B) got the better of his compatriots, with impressive executions throughout seeing him close on 500.35 for the gold medal. Canada A's Rylan Wiens scored 453.45 for silver, and Canada B competitor Matt Cullen took bronze with 439.30. 
The final events of the weekend were the Men's and Women's Platform Synchro contests. Andrea Spendolini-Sirieix (Dive London) and Eden Cheng (Crystal Palace) may have been the only senior duo in contention on the women's side, but they used this vital competition opportunity well ahead of the British Diving Championships at the end of May, opening confidently with two strong required dives and then finishing with a 76.80 score on their closing Back 2 1/2 Somersaults 1 1/2 Twists Pike (5253B).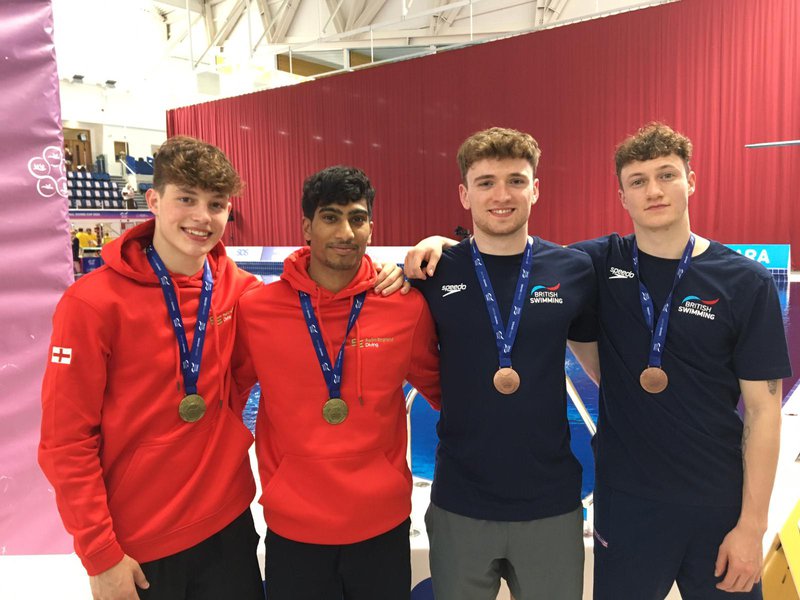 The men's event looked like it could be won from any of the partnerships. Olympic champion Matty Lee and FINA Diving World Series gold medallist Noah Williams were competing together for the first time as they build towards British Championships and the summer. They ultimately finished with bronze, on 390.75 points. Silver went to Canada B combo Benjamin Tessier and Matt Cullen on 406.92. 
But it was another new synchro partnership, in Ben Cutmore and Kyle Kothari, that came to the fore. Cutmore spoke before the meet about being excited to see the first steps on this synchro journey - and they did not disappoint, their Inward 3 1/2 Somersault Tuck (407C) garnering their highest score of the final, 82.17 points. It meant an overall tally of 424.17, securing them gold.
Speaking afterwards, Kothari said: "It was a long wait to the end of the weekend. This is a new partnership and it's always interesting to see how the first run out goes. A score of 424, I said to Ben beforehand that I'd take 400, that'd be a good list - so 424 is really good.
"We've got a couple of things to brush up on, but it's super exciting. We are both doing individual at British Championships as well. It'll be interesting, because I've just had to focus on this (the synchro) this weekend, so it'll be interesting to see how both go together. I'm really excited. Hopefully it goes as well as that or better!"
Cutmore added: "That was our first outing, our first competition together. Looking forwards, it's looking exciting, but we're not going to get ahead of ourselves - we're going to keep putting in the work and keep making the partnership better and better. That 424 is just the starting point, hopefully. 
"I've loved the Futures Cup. It was great to see our friends from the USA and Canada, nice to compete against them, nice to see them, nice to speak to them, and just to get back into the competition environment when we've not had that many competitions since COVID. It's nice to get my dives done again and also get my first outing on a 109 (Forward 4 1/2 Somersaults)."
To check out the full results from the first-ever Futures Cup, click here. Relive every session from our livestream here.