It may be less than two months since Eden Cheng took on the biggest event of her diving career to date in making her Olympic debut at Tokyo 2020 - but she is already getting herself ready for the competitive environment all over again. 
Four-time European medallist Cheng placed seventh in the Olympic Women's 10m Synchro, alongside partner Lois Toulson. At the same Tokyo Aquatics Centre venue earlier in the year, the pair had secured Team GB's berth in the synchro event by claiming a brilliant silver at the FINA Diving World Cup. 
But while some athletes are steadily easing their way back into training at the start of a new season and a new Olympic cycle, Eden is already firmly focused on being at her best for the months ahead. First up, the 18-year-old is set to be in action at next month's British Elite Junior Diving Championships in Plymouth, before gearing up for December's World Junior Diving Championships in Kiev, Ukraine.
Despite the fast turnaround, motivation has never been greater for Cheng after a taste of elite-level diving on the sport's greatest stage this summer.
"I definitely think my experience in Tokyo has raised my motivation for the upcoming season and, most importantly, Paris 2024 - especially because it's less than three years away now," she said.
"There are many exciting competitions coming up that I'll be working towards, and having the experience from the Games under my belt, I hope I can use it in the future to help deal with outside pressures that may not be in my control, and instead be able to focus all attention into what I'm doing and being present.
"In an ordinary season, the first few months back would be full of basic training in the pool to focus on any technical issues that may have presented themselves during the past season, as well as heavy strength and conditioning, specific conditioning and acrobatic training to improve physical and technical condition.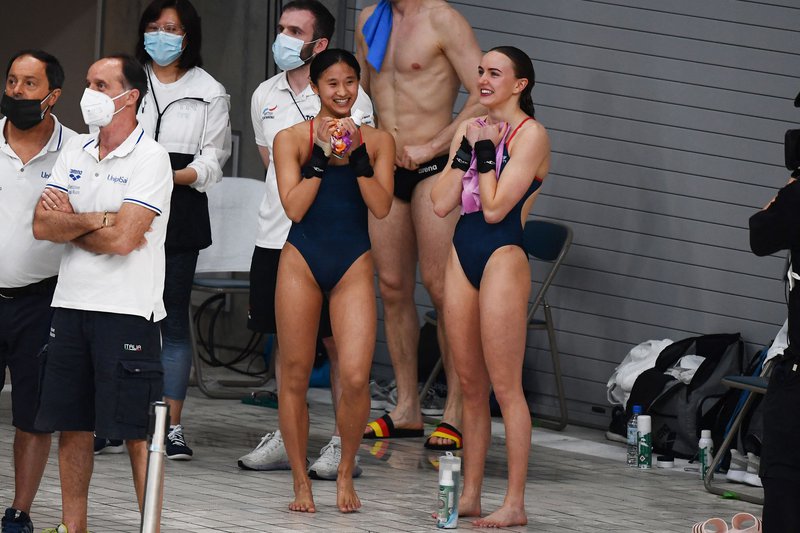 "However, for me this season, I need to quickly get back to competition form, as I'm currently preparing for the British Elite Junior Championships, and then the World Junior Championships in Kiev." 
Whatever those upcoming competitions throw at Cheng, she is right to acknowledge how priceless the experience of an Olympic Games will be for her - even one that was staged behind closed doors.
She was in the stands early in the diving programme, alongside her British Diving teammates, as Tom Daley and Matty Lee made history by claiming gold in the Men's 10m Synchro, the first of three medals won by Team GB's divers at the Games. 
While Cheng and Toulson felt their result could have been better in the Women's 10m Synchro, the event still provided both with the opportunity to test themselves against the very best the sport has to offer - and Eden hopes such Olympic appearances will play a long-lasting role, not only in her own career but for others starting out in the sport.
"Even though my time in Tokyo was shorter than normal due to COVID, I can still say the experience will be something I will forever treasure. It was a true honour to have the opportunity to represent my country on such a big world stage, with the Union Jack across my chest again and, of course, to wear the Olympic rings for the first time," she added.
"The village was out of this world, from the eco-friendly village plaza made of recycled wood and cardboard beds (which were quite comfortable, in fact!), to the home away from home, the Team GB block. It was surreal to walk through there and see many of my sporting idols walk past and give me a smile.
"I even got to meet Geraint Thomas and Sir Andy Murray on my flight home. I got the chance to chat to them and hear their stories about their experience at the Games. 
"Regardless of there being no crowd, I would still say that competing was a very special moment, especially with the support from my teammates in the stands. Diving wise, I was able to showcase my performance to people all around the world and hopefully inspire many more to have a go at diving, since I was one of those watching Tom back in 2012!"
There may not have been too much time for Eden to catch her breath post-Tokyo before climbing back up the steps of the 10m Platform and preparing her list for Elite Juniors, but there was still ample opportunity for that much-needed downtime that all athletes require, to refresh and reset at the end of an intense season. 
So what did the Lin Chen-coached diver get up to?
"After Tokyo, I was able to see my friends and family and just do things I wouldn't be able to do when I have a packed schedule full of studying and training. A big hobby of mine is shopping, and since many shops have now opened, I was able to go shopping with my mum and sister," said Eden.
"I was able to see lots of my sister, who was home from university for the summer. We went on family walks with my dog, Bailey, and we even went to watch Mary Poppins in the West End."
And as Eden hints at above, that post-Tokyo reset was not only reward for her Olympic debut and the dedication it took to get to the Games - there were also exam results to celebrate.
"In addition to trying to get on my first Olympic team this year, I was also trying to finish school and take my A Levels. I'm personally very proud of what I have achieved this year, because of having to juggle being a full-time student as well as being a full-time athlete," she said.
"I was able to achieve very good grades in my four A Levels, and even a top grade in one of them that I took in one year as opposed to two." 
Eden has moved from the metaphorical blackboard back to the diving board now, with barely a month to go before the Plymouth Life Centre hosts the British Elite Junior Diving Championships (27th-30th October). 
It will be her last at that junior level - and it is an event she is looking forward to.
"I think this year will be one of the most memorable Elite Junior Championships for me, because it will be my last. I have many memories from this competition, and they include having the opportunity to see some of my friends from all over the country, as well as meeting some new people from other countries who may come to compete as guests," said Eden.
"One of my best memories was at my first Elite Juniors in 2017, where I won my first British junior title in the Girls B Platform. Following that win, I was then selected to represent Britain for the first time at the European Junior Championships." 
Plenty of top-level international competitions have followed from there for Eden Cheng - and it looks like they will just keep coming.