Six medallists from the recent World Championships are part of the British Diving team that will compete at next month's European Aquatics Championships in Rome.
The European Championships (11th-21st August 2022) will be the conclusion to a packed trilogy of major international meets this summer, following the Worlds last month and the upcoming Commonwealth Games in Birmingham.
A 14-strong British cohort will look to round out the season in style at the iconic Stadio Olimpico del Nuoto, in a programme that features the usual individual and synchro events for men and women from the 3m springboard and 10m platform, individual 1m springboard events, plus mixed 3m and 10m synchro contests and a mixed team event.
Jack Laugher - who made history in Budapest by becoming the first British diver to win three medals at one World Championships - is part of the team and will be targeting more podium positions, both individually and alongside new synchro partner Anthony Harding, the pair having secured Men's 3m Synchro silver together last month.
James Heatly won a pair of mixed synchro bronzes in Budapest, alongside Grace Reid (Mixed 3m Synchro) and Andrea Spendolini-Sirieix (Mixed Team event), and all three of those Worlds medallists will board the plane to Rome. Noah Williams - who won Men's 10m Synchro Worlds silver with Matty Lee - is also part of the team and will have an eye on silverware in the individual competition, after an impressive fifth-placed finish in that contest just a couple of weeks ago.
There is a senior international GB debut for platform diver Ben Cutmore, who will represent Team England in Birmingham beforehand, while Yasmin Harper, Amy Rollinson and Desharne Bent-Ashmeil are all ready for more valuable experience after their senior bows at the World Championships. Lois Toulson is also included, 13 months on from earning a European Women's 10m Platform synchro silver.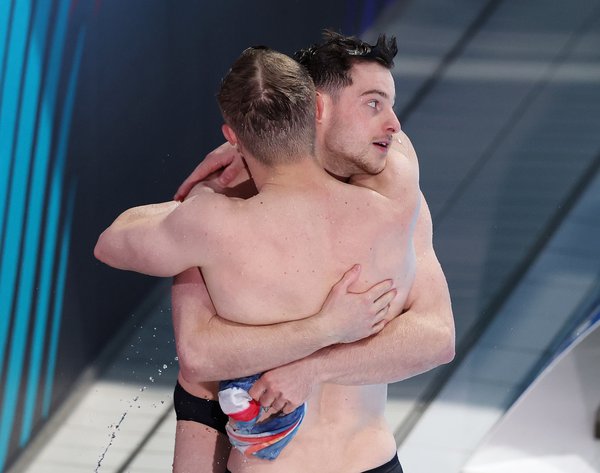 Every one of the 14 will have competed at the Commonwealth Games just ahead of the European Championships - and British Swimming Associate Performance Director Tim Jones is looking forward to seeing how the athletes can step up to such an intense period, as the three-year Olympic cycle into Paris continues apace.
"We all know this is an unprecedented period in terms of elite competition - but our divers' performances and attitude at the recent World Championships show just how resilient and committed they are," he said.
"It is another tribute to this team's desire that we have so many athletes keen to push on for a third event in such short succession, and this will stand them in good stead for any future challenges. We are very excited to see our divers deliver again in Rome, at such an amazing venue, with yet another blend of world-class experience and the talent of the future, keen to gain more arena experience and build on other recent performances.
"We know the effort that has gone into preparing for this summer for every single diver on our programme, and those who have elected not to compete at the Europeans as they take stock ahead of the 2022-23 season have done so with our full support, in the knowledge that we want every individual to do what is best for them as they gear up for another important year."
British Diving team for the European Championships in Rome (diving programme - 15th-21st August)
Desharne Bent-Ashmeil - Dive London Aquatics
Ben Cutmore - Dive London Aquatics
Matthew Dixon - Dive London Aquatics
Anthony Harding - City of Leeds Diving Club
Yasmin Harper - City of Sheffield Diving Club
James Heatly - Edinburgh Diving Club
Jordan Houlden - City of Sheffield Diving Club
Jack Laugher - City of Leeds Diving Club
Scarlett Mew-Jensen - Dive London Aquatics
Grace Reid - Dive London Aquatics
Amy Rollinson - Luton Diving Club
Andrea Spendolini-Sirieix - Dive London Aquatics
Lois Toulson - City of Leeds Diving Club
Noah Williams - Dive London Aquatics