Britain's second gold in Croatia was produced by Jorden Fisher-Eames in an impressive Boys B platform victory at the European Junior Diving Championships, with Euan McCabe and Leon Baker also combining forces for Boys A/B 3m Synchro bronze.
[Images featured courtesy of LEN / Vojislav Gelevski]
Following on from Great Britain's three medals at the start of the meet, 15 year-old Jorden Fisher-Eames executed a stunning series of dives from the 10m platform in the Boys B final to retain the title he claimed in Bucharest last year.
Also a world junior silver medallist in 2022, Fisher-Eames' triumph in Rijeka was a close fought battle with Ukrainian, Mark Hrytsenko – less than two points separating the top two qualifiers in the scores carried over from the morning prelims.
That gap closed to half a point after the opening dive of the final, before Fisher-Eames catapulted himself into the lead with the dive of the competition - an exquisite Back 3 1/2 Somersaults Tuck (207C) receiving 85.80 from the judges.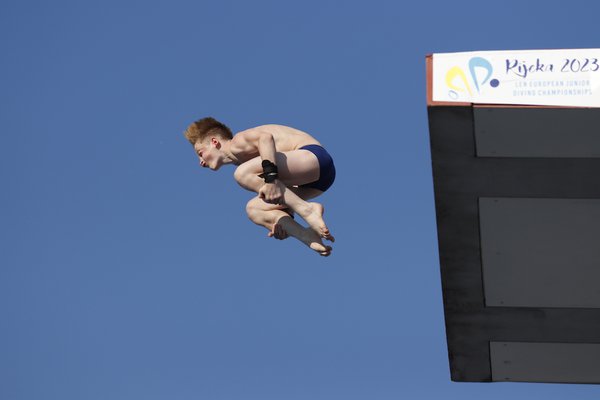 The Dive London athlete showed the great consistency in the following two dives, rounding out his list with a quality Back 2 1/2 Somersaults 1 1/2 Twists Pike (5253B) effort to take his overall total to a gold medal winning 467.95.
Sheffield Diving's Archie Biggin also contested the Boys B platform final, finishing 12th in the standings.
"I'm amazed and couldn't have done anything else today," said Fisher-Eames, who additionally won silver in the Boys A/B platform synchro final earlier in the week.
"I had a fantastic opponent in Mark [Hrytsenko] and he pushed me hard, but I did everything I could and I want to thank my coaches for all their help getting me here."
A fifth British medal of the meet was shortly after won by Euan McCabe and Leon Baker taking bronze in a nip and tuck Boys A/B 3m Synchro contest – finishing within a single point of the gold medal pair.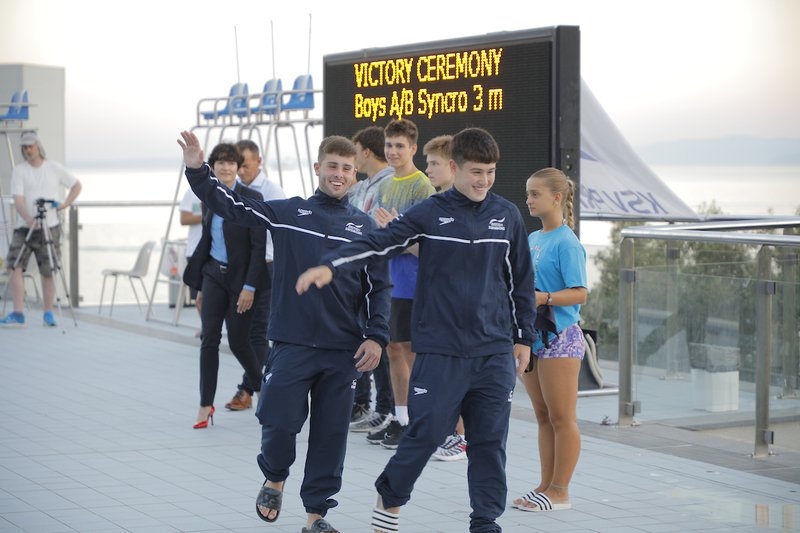 In contention throughout, the pair's best dive arguably came in the penultimate round with their Forward 3 ½ Somersaults Pike (107B) earning 69.75 points to continue the medal charge. The duo finished well, landing their hardest degree of difficulty dive – a Forward 2 1/2 Somersaults 2 Twists Pike (5154B), to close out on a score of 298.53 and be rewarded with a place on the podium.
Baker was delighted with his performance alongside McCabe; "This is our debut competition working together and what a result," he told LEN.
Meanwhile the Girls 1m Springboard for both A (athletes born between 2005-07) and B (athletes born in 2008/09) age categories additionally took place across days four and five of the championships, with three British divers going close to the podium spots.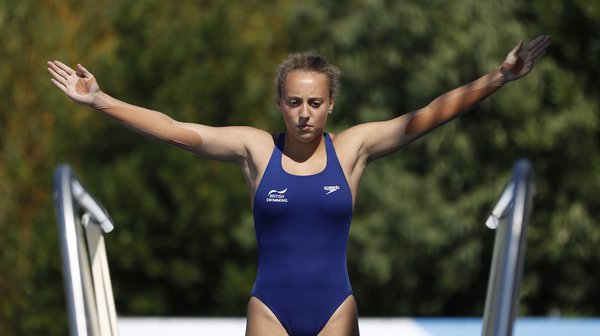 Firstly Amelie Underwood went in the Girls B final, and the Plymouth Diving junior showed a notable positive improvement on her Back 1 1/2 Somersaults Pike (103B) from her prelims effort, but was unfortunately just nudged out of the medals into fourth in the final round.

Ahead of teaming up for the Girls A/B 3m Synchro on Thursday, Tilly Brown and Evie Smith placed fourth and fifth respectively in the Girls A 1m individual contest. Brown and Smith's best scores each being recorded with 50+ point scores on their Inward 1 ½ Somersaults Pike (403B).
Further British involvement during the middle days of the European Junior Diving Championships was seen in the Boys A 3m Springboard. Returning from his synchro bronze the night before, McCabe placed 11th after a final round missed dive, with Hugo Thomas finishing ahead of his compatriot in eighth overall.
Over 300 14–18-year-old divers are participating in 17 medal events during seven days of competition in Croatia's third-largest city. Full results can be found on DiveRecorder, with live streaming of the event on LEN TV. Full event details can be found at rijekadiving2023.com.