For James Heatly, the long-awaited return to training has meant a temporary change of scenery and a few nerves as well.
(Header image credit: Aberdeen Sports Village)
But after four months away from the sport during the height of lockdown, the European and Commonwealth medallist has "got rid of the rust", in his own words, and is making the most of being back on the boards.
As James points out, diving is among the most difficult sports to recreate away from the usual facilities, as athletes from across a range of disciplines did what they could to stay both physically and mentally fit and well at home.
"You can't really dive in the back garden!" he jokes.
"Fortunately, I managed to borrow quite a lot of equipment from the pool (before lockdown), so I had a crash mat where I could do somersaults.
"Generally, it was just conditioning, fitness and a lot of stretching stuff during that time - all the sort of stuff we need to do outside of diving to make sure our bodies are ready for when we get back."
James is now "back", alongside his Edinburgh Diving Club teammates, with elite athletes in Scotland having been given permission by the Scottish Government to step up their return to training.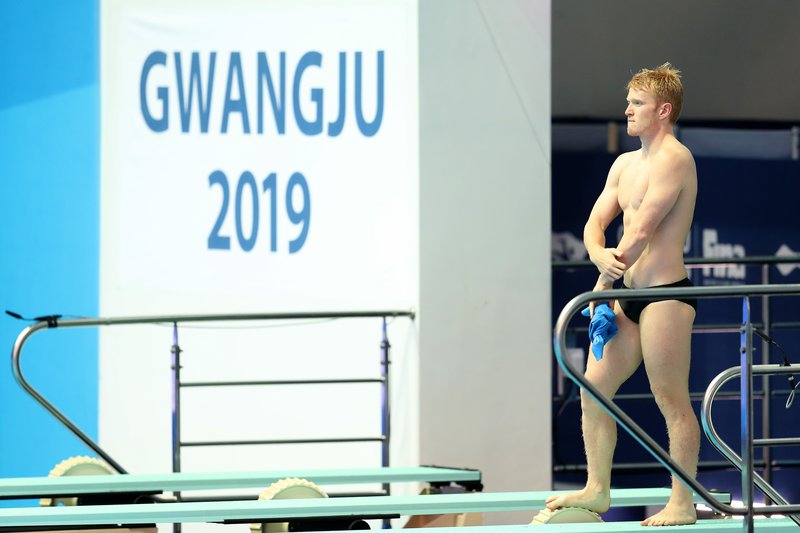 However, the Edinburgh cohort are not in their usual surroundings, their current work being done further north at the Aberdeen Sports Village, where new health and safety procedures are being followed in line with coronavirus precautions.
"Normally we train full-time in Edinburgh, but the pool there isn't due to open until 14th September, so we have been training up in Aberdeen," explains Heatly.
"It's been a bit different, but it's been good. At this point, it had been long enough away, so you'll sort of do anything to get back in the water!
"There is a big group of us training up here too, so it's not like I'm on my own, and it's quite nice to be back with the team. That's probably the best bit of it, to be fair."
As well as his Edinburgh Diving Club allies, James is training at the Aberdeen facility alongside the likes of three-time Olympian Hannah Miley and Toni Shaw - who claimed six medals at last year's World Para-Swimming Championships.
But while some swimmers had already been back into training, 23-year-old Heatly was among the very first divers to get back to the 'day job' in Britain.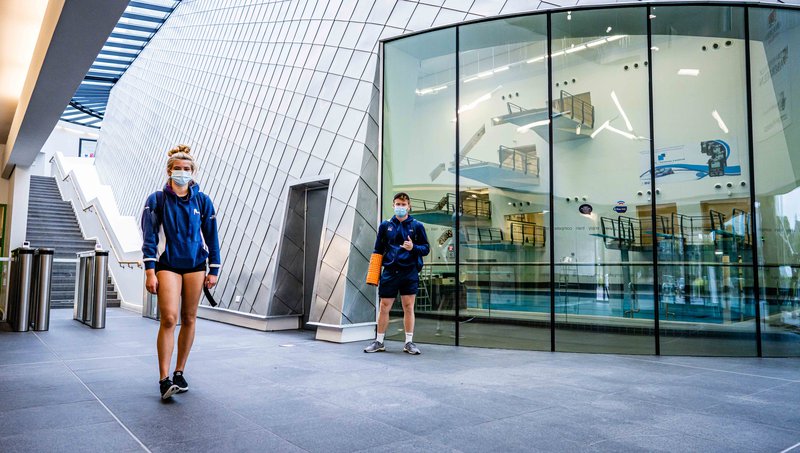 The number has since increased. The Dive London team - including Tom Daley, Grace Reid and Robyn Birch - are now back at the London Aquatics Centre, while Jack Laugher, Dan Goodfellow and Lois Toulson are part of the Leeds Diving Club members who returned at the start of the week.
"It was quite nice to be one of the first divers in the country back in training. Hopefully we can get back to Edinburgh soon," added Heatly.
"At the beginning of lockdown, I was actually quite looking forward to a three-week break. But then the three weeks turned to six, which then turned to nine and so on. It got a bit annoying, and I really realised how much I missed it and wanted to get back, so I'm definitely appreciating it more now."
That newfound appreciation for training is a message echoed by so many athletes at this time. So what did it feel like to get back on the diving board for the first time since March?
"I was pretty nervous to be fair, it's pretty scary. I'd kind of forgotten it - trying to get the timing right on the boards was difficult," he explains.
"After a session or two, I got rid of the rust, so it's been smooth sailing since the first few days and the first few hits early on.
"When I had knee surgery in 2015, I think that was the longest I was out of the pool - and that was six weeks. So 17 weeks was too many for me!"
That lengthy spell away from the pool may have felt even longer for James, given he enjoyed such an eye-catching start to 2020.
After defending his national Men's 3m Springboard title at the British Diving Championships in January, the three-time European medallist went to the FINA Grand Prix event in Rostock and won the same event.
That was his final competitive outing before lockdown - and before the news that the Tokyo Olympic Games were being moved back to 2021, a rescheduling that James is viewing philosophically.
"At first, it was pretty rubbish and wasn't what I wanted to hear, especially because everything was going so well with winning nationals and Rostock," he adds.
"But I think it was worse when we didn't know what was happening. So at one point, all the other events were cancelled but the Olympics were still going ahead, and no-one knew how we were qualifying.
"It was actually a lot better once they decided to cancel it and then announced it would be the following year, there was quite a lot of relief for me, actually.
"Things were going really well, so it is a bit frustrating. I didn't actually have a name on the team, who knows what might've happened at the World Cup event, so I'm just working towards next year. The plan has not changed."
And as for Heatly's coach, Jen Leeming, she hopes her athletes will be joined by more and more divers back in training up and down Scotland before long.
"It has been great to see the performance divers back in the pool. They have been really motivated to make the technical changes that they've worked on over lockdown and embed them into their pool work," she said.
"We really hope that the Scottish Government will open our pools to the public soon so the rest of the Scottish diving community can get back to the sport they love."