The home of Sheffield Diving was one of six locations participating virtually in the Canadian edition of the 2021 FINA Diving Grand Prix, allowing for international competition in real time from across the globe.
Conducted in a similar nature to that of April's Virtual Nations Diving Challenge, which served as warm up for some of Britain's senior diving team ahead of the World Cup and Europeans, the first leg of 2021 FINA Diving Grand Prix series took on a virtual format allowing 34 athletes from Britain, Canada, Slovakia and the United States to compete from six different locations.
Cameron Gammage (Southampton Diving Academy) headed up Britain's individual medallists as he claimed a silver medal in Saturday's Men's 3m Springboard – missing out on gold by a mere one and a half points.
Opening strongly with 69.00 points for his Inward 2½ Somersaults Pike (405B), Gammage's round by round consistency gave him a narrow lead ahead of the final dive, only narrowly missing out on victory as Canadian, Cedric Fofana, bounced back from his fifth round error to clinch top spot. Dive London's Hugo Thomas completed the podium with 369.40 points for bronze.
The weekend finals were in fact opened up by Ben Cutmore (Dive London) and Robbie Lee (Southampton Diving Academy), who went uncontested in the Men's 10m Synchro. Nevertheless they moved steadily through their list, capping the solo effort to applause from the limited staff and athletes in venue for their Back 2½ Somersaults 1½ Twists Pike (5253B) that achieved 76.80 points.
Both divers subsequently looked to carry that form into their individual 10m Platform event the next day, and it was Cutmore who prevailed in securing an individual bronze - his Reverse 3½ Somersaults Tuck (307C) the highlight as it recorded the highest single dive score of the final with 86.70 points.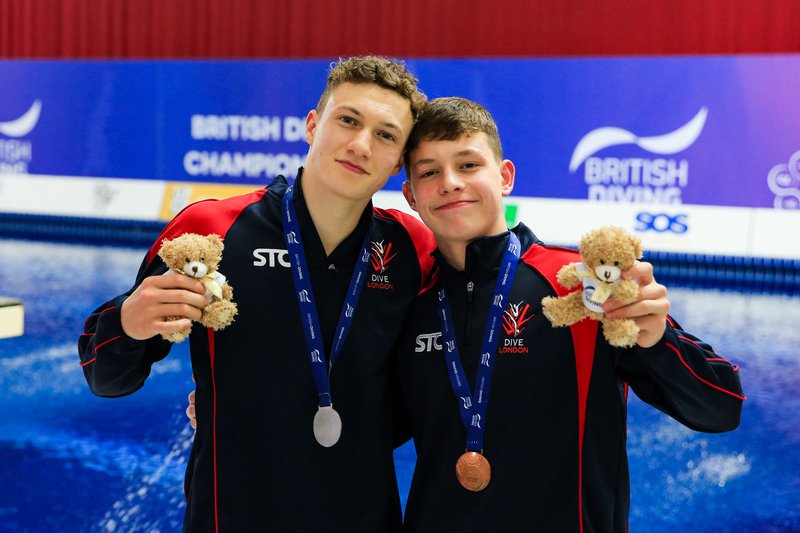 Callie Eaglestone (City of Leeds Diving Club) and Amy Rollinson (Luton Diving Club) were the only two British females in individual finals action finishing fifth and sixth respectively in the Women's 3m Springboard event on Sunday, as Evie Smith (Crystal Palace Diving Club) and Tilly Brown (Southampton Diving Academy) placed behind a pairing from Ripfest Diving Club (USA) in the Women's 3m Synchro, with Leon Baker (Southampton Diving Academy) and Tyler Humphreys (Dive London) winning the all British head to head against Euan McCabe (Plymouth Diving) and Hugo Thomas in the Men's 3m Synchro.
Speaking on the value of the competition, British Diving Talent & Development Manager, Julian Bellan, said:
"The virtual FINA Grand Prix hosted by Dive Plongeon Canada, provided a valuable sense check for Team J Divers ahead of the European Junior Championships in Croatia. For the majority of our Team J squad, lockdown has been very much locked at home with very limited pool training opportunities over the last 18 months. The divers in Team J returned to pool training back in April and have only had 6 or 7 weeks. So at this stage actual scores and places, do not really give an indicator of future potential. 
"What the event did however was provide the squad a really positive experience to come together as one, for the first time since January 2020. Since then the squad has grown, and by that we really do mean grown. 18 months for a teenager can mean 18cm and for some of the guys it is 18cm upwards. From a technical perspective its about getting the rhythm of their dives and for some developing new skills. All of our team competed at least one new skill and for some such as Amy Rollinson it was the first time doing a full senior women list, with 3 of 5 dives first time out in competition. The likes of Ben Cutmore have introduced new dives such as his 6245D at a 3.6 degree of difficulty, showing aspiration to catch up with the likes of Noah Williams his training colleague from Dive London.

"The event was transmitted via live stream from a number of sites including Sheffield UK, Montreal, Toronto and Victoria in Canada and Indiana in USA. Judges located across 2 continents in their virtual home studios submitted scores relayed to them via the dejero streaming platform. It provided hard for some of the divers to feel like they were actually in a competition, however the experience of being with their team mates reviewing their competition routine and having a system check for the Euro's in 3 weeks time was invaluable"

Scores throughout the meet were judged in real time, as transmission was sent to Integrated Sports' video-production system in Canada, with the video then sent to a website which allowed remotely based judges to input their marks as if in the venue itself.
Full results can be found HERE with action available to watch back via the FINA YouTube channel.