Andrea Spendolini-Sirieix came so close to claiming a medal in the Women's 10m Platform event at the Tokyo Diving World Cup, in what was the biggest competition of her fledgling career.
Spendolini-Sirieix had already secured Team GB their final Olympic quota spot with an assured display in Tuesday's preliminaries, and she turned in an even more unerringly consistent performance in the semi-finals to qualify second for the final, with less than a three-point deviation across her list.
After a slightly below-par opening dive in the final, the Crystal Palace diver bounced back superbly by tallying 72 points for her Inward 3 1/2 Somersaults Tuck (407C), putting her right into top-three contention.
Two more high-quality dives followed, before an eye-catching Back 2 1/2 Somersaults 1 1/2 Twists Pike (5253B) earned Andrea 73.60 points, her biggest tally of the day. That kept her in third place ahead of the final dive of the contest from Canada's Caeli McKay, who served up a stunner of her own to overtake Spendolini-Sirieix and claim the bronze right at the death.
The fourth-place finish, nonetheless, remains a fine achievement for the teenager, barely a year after she claimed her first senior national and international titles.
On her semi-final and final performances, Spendolini-Sirieix said: "Competing back-to-back was quite tiring and mentally challenging, but the experience of competing at a Diving World Cup has been amazing. I am so thankful to God for his strength and guidance, and I'm extremely proud of my performance today. It has been an incredible experience in Japan. Although we cannot explore the city due to COVID, Tokyo is so beautiful."
Earlier in the day, Dan Goodfellow and James Heatly made serene progress to Thursday's semi-finals for the Men's 3m Springboard event by recording a British one-two in the preliminary stage.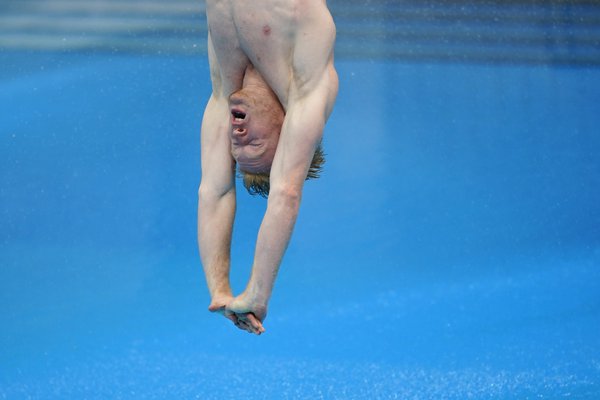 Olympic medallist Goodfellow - who took Men's 3m Synchro gold alongside Jack Laugher on day two at the Tokyo Aquatics Centre - led the way from start to finish. His fifth dive - a Forward 4 1/2 Somersaults Tuck (109C) - was the best of the lot, with the judges awarding him 91.20 points.
Edinburgh Diving Club's Heatly was never far behind, closing down to less than 10 points back on Goodfellow by the end of the prelims, courtesy of his own 109C attempt that also earned that impressive 91.20 tally.
The British pair will return for the semi-finals at 2am BST on Thursday for the semis, with the Men's 3m Springboard final starting at 8am BST to conclude the 2021 Diving World Cup, less than three months out from the Olympic Games.
Live streaming of the event is available in Europe via Eurovision Sport TV online. For more information from the FINA Diving World Cup, including full schedules, results and start lists, click HERE.