Two stunning synchro victories and a breakthrough bronze for Amy Rollinson ensured British divers kept up their record of appearing on every podium so far after two days of diving at the Commonwealth Games in Birmingham. 
Jack Laugher and Anthony Harding began Friday's medal rush with a dominant display in the Men's 3m Synchro, following up their recent World Championship silver with a glorious gold – before Matty Lee and Noah Williams repeated that feat, upgrading their Worlds Men's 10m Synchro silver to a Commonwealth title after an intriguing battle with both the Canadian pair and mid-competition cramp.
In between those triumphs, Rollinson showed composure beyond her years to pick up bronze in the Women's 1m Springboard, meaning Team England have amassed four gold, one silver and two bronzes from five events.
Fresh from claiming his third consecutive Commonwealth Games 1m Springboard gold on Thursday, Laugher returned to the boards alongside Harding in the Men's 3m Synchro to retain yet another title he has held since Glasgow 2014.
The Team England pairing set the standard with the opening two required dives as the only duo to eclipse the 100-point mark, before firming up their lead at the halfway mark with a Forward 2½ Somersaults 2 Twists Pike (5154B) of the highest quality that amassed 87.72 points.
Laugher and Harding, who are coached by Adam Smallwood at Leeds Diving Club, continued their charge for gold with their highest degree of difficulty dives at the end of their list as they landed a big Forward 4½ Somersaults Tuck (109C) in the fifth round before checking out on an unsurmountable total of 438.33 after six dives.
Scotland's James Heatly and Ross Beattie meanwhile sat in fourth after three dives and landed a number of quietly consistent dives to stay within touch of the podium places throughout, ultimately just finishing five and half points short of the bronze.
Speaking on their performance after delivering a gold medal for the home crowd, Laugher commented: "Anthony has done a massive job – it's a big ask to come out in your first Commonwealth Games, in front of a home crowd, and perform that solidly despite a lot of pressure and expectation coming in as the favourites.
"The feeling of winning is extraordinary. The enjoyment keeps the fire burning and in this new partnership now, everything clicks really well. We are two competitions down, two medals. There's still room for improvement but it's a great thing to have under our belts."
Harding's Commonwealth debut was only his second international appearance alongside Laugher, with the 22-year-old speaking highly of his dive partner's influence:
"It has been a massive opportunity for me so I'm trying to enjoy it as much as I can - there is that pressure where you feel you have to do well, he's won so many golds, so you feel you have to put a steady performance in.
"I've watched him for so many years in training, I moved to Leeds when I was 10 and for 12 years now, I've copied everything he's done. It's like copying homework from the smart kid. I'm loving the opportunity."
That was just the start of the men's synchro action on day eight at the Games, with new-look 10m partnership Lee and Williams lining up in front of a raucous home crowd, looking to back up what was a brilliant maiden international display together in Budapest only a few weeks ago.
The Dive London duo were joined by clubmates Ben Cutmore and Kyle Kothari, for whom this was a first senior international competition in any event.
Both pairs were more than solid with their two required dives, sitting first and second respectively at that stage of the competition, before the quality of the dive lists really kicked in.
In round three, a slight drop from Ben and Kyle saw them slip to fourth in the standings – but for Matty and Noah, a 3.6-degree difficulty Back 2 ½ Somersaults 2 ½ Twists Pike (5255B) allowed them to stamp their authority, the judges awarding them 84.24 to leave them in the lead, despite pressure from Canada's Rylan Wiens and Nathan Zsombor-Murray.
Round four brought some jeopardy for Lee and Williams, who were both struck by cramp after performing their Inward 3 ½ Somersaults Tuck (407C) – and while their dive was a good one, they were overtaken into first by Canada, albeit by less than a point.
But even in their young careers, Matty and Noah have shown themselves to be resilient in competition, something that was proved again in round five, when their Reverse 3 ½ Somersaults Tuck (307C) earned them 84.66 points and a return to the summit. It was the crucial move, and they secured the title by again soaring past 80 points with dive number six, a brilliantly-executed Forward 4 ½ Somersaults Tuck (109C) seeing them close on 429.78, nearly 16 points ahead of Wiens and Zsombor-Murray in silver.
Matty said: "I'm feeling very, very good. That's my first-ever Commonwealth medal and that's something I've always wanted to do. I'm just so happy we came out on top today.
"We have never competed in a crowd like that before, we might not experience it again. It was insane but we dealt with it as well as we could.
"It wasn't an easy competition. There were three of the top five in the World Championships there so we knew it wouldn't be straightforward."
Noah added: "At the last Commonwealths, myself and Matthew Dixon came second and I was really happy with that, we weren't expected to medal.
"This was a completely different feeling as we were expected to win. In front of a home crowd, it just added to the pressure."
Behind the gold and silver medal placings, Cutmore and Kothari had kept themselves in contention for bronze with a show of consistency, with three 70-plus dives in the final three rounds. However, the superior difficulty of the Australian dive list ultimately made the difference, meaning Ben and Kyle finished in fourth – on 391.35 at the end of their maiden international outing.
Kothari reflected on their display by saying: "We get to see them (Matty and Noah) in action every single day. They are spectacular to watch. They very, very rarely make any mistakes.
"It's something we aspire to be like and grow together. We went in knowing we would have to execute everything perfectly on our dives without the level of difficulty with the Canadians and Aussies being strong teams.
"We were almost there. We were 20 points away with two slight mishaps. We need to add some difficulty so next time we medal."
Amy Rollinson made it an unforgettable debut in individual competition on the international stage, as she secured Commonwealth bronze in the Women's 1m Springboard.
The Luton Diving Club athlete made a statement with her opening dive in the final, scoring 7.5s and 8s from the judges for her Inward 1 ½ Somersaults Pike (403B) for a 57.60-point reward. Two solid dives followed, leaving her sixth after three attempts and with her highest-tariff dive up fourth – a 3.0DD Reverse 2 ½ Somersaults Tuck (305C). Nailing that, Amy suddenly sat fourth and only two points off the podium ahead of the final round.
By that stage, Scotland's Grace Reid had steadily moved her way up the leaderboard with some consistent dives to lie sixth, with Yasmin Harper (England) one further back following a superb response to her second-round drop, including a score of 59.80 for her Reverse 1 ½ Somersaults 1 ½ Twists Free (5333D) in round four. Clara Kerr (Scotland) was eighth.
The final round saw Rollinson going first among those looking to break on to the podium when it truly mattered – and she showed superb composure on her Forward 2 ½ Somersaults Pike (105B) to earn 58.50 from the judging panel, leaving her on a final score of 272.00, a new personal best.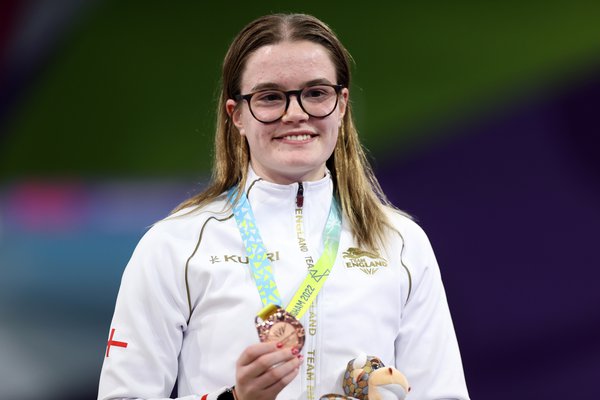 That put pressure on, among others, Australia's Fan Qin, in bronze position after four rounds. She was unable to match Rollinson's quality with the crucial final dive, leaving Amy with a stunning bronze on her Commonwealth debut.
Afterwards, she said: "It's amazing because I've not had the best preparation. I sprained my ankle about three, four weeks ago and then I got Covid as soon as I got back from the World Championships.
"I had a week off and then I was back training to try to get back to normal. I was not doing hurdles for two weeks. I've been starting gradually doing them and it is just about building the confidence to land on my ankle again, because it's the ankle that I land on that I sprained.
"I was going to change one of my dives three days ago because I wasn't as confident on the hurdle, luckily it worked today. I was turning up here for some experience because it's my first major Games and third proper international ever. This [bronze medal] is a bonus. If I got one, I got one, but I was not expecting one at all."
Behind Amy, the characteristic consistency of Reid saw her close with her best dive, a Forward 2 ½ Somersaults Pike (105B) worth 58.50 for an overall tally of 268.15, good enough for fourth and one place off the podium.
Harper's response continued all the way to the end as she finished seventh on 254.50, with Kerr closing on 239.95 for eighth.
Click here for full results and schedules. 
For full information on how to follow every big moment from the diving in Birmingham, visit our Birmingham 2022 guide here.