A quartet of British aquatics' leading coaches are gearing up for the start of a new UK Sport programme looking to boost the representation of women across top-level sport - with today marking its first official day. 
Jane Figueiredo - who has coached Tom Daley to Olympic and World Championship podiums - joins Mel Marshall as one of eight coaches who will lead the six-month project, providing key support and development opportunities for the next, aspiring generation of elite coaching staff. 
That group of 19 includes one apiece from British Swimming and British Diving. Danielle Brayson, who is Assistant Performance Coach at City of Glasgow Swim Team and oversaw Louis Lawlor's efforts to claim S14 100m Backstroke bronze on his World Para-Swimming Championships debut in 2019, will be mentored by British Triathlon's Lead Paratriathlon Coach, Bex Milnes. 
Edinburgh Diving Club's Diving Performance Coach Jen Leeming, meanwhile, will work under the guidance of judo's Kate Howey. Leeming counts European medallist James Heatly and FINA Grand Prix medal-winning duo Gemma McArthur and Lucas Thomson among her current athletes, having coached Grace Reid to the Olympic Games in 2016.
Reid now works with Figueiredo, who will oversee non-diving-based coaches Christine Bloomfield-Harrison (athletics), Jody Kime (artistic gymnastics) and Lisa Letchford (hockey) between now and the Tokyo Games.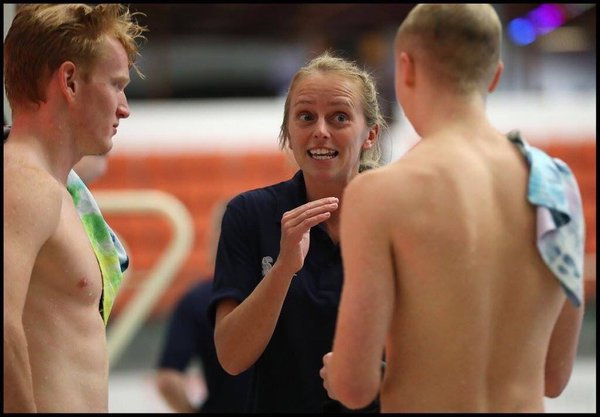 The UK Sport programme aims to be one step towards more than doubling the representation of female coaches in the Olympic and Paralympic high-performance community by the time of Paris 2024. 
That is an ambition that High Performance Centre Head Coach Figueiredo has long strived for. 
"I'm so humbled and honoured to be a part of this UK Sport leadership programme, aiming to add increasing representation of female coaches in the Olympic and Paralympic Games. It speaks to my passion for mentoring and helping female coaches, in all sports, realise their dreams of coaching at the highest levels," she said.
"I can't wait to have a positive influence with the female coaches and share my knowledge and experience with them, so they may someday be at the top of their profession." 
For Jane's counterpart Leeming, the opportunity to experience perspectives from other sporting disciplines is one she hopes to learn from.
"I'm delighted to have been picked for this female coaches leadership programme. I think it's great that UK Sport are looking at ways to increase the number of women working in high performance sport," said Leeming. 
"I'm very excited about working with my assigned coach, Kate Howey from British Judo. I hope to get an insight into other sporting environments and cultures, and to challenge my beliefs and practices along the way."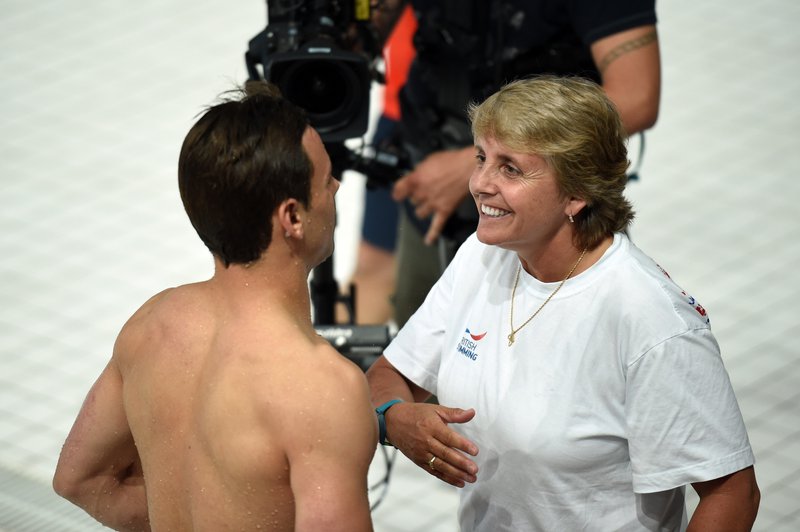 National Centre Loughborough Lead Coach Marshall last week saw two of her athletes, Adam Peaty and Luke Greenbank, named among the first four swimmers on Team GB for Tokyo 2020. She had already been confirmed as one of the UK Sport mentors for this project, where she will look to pass on guidance to climbing coach Leah Crane, Monica Greenwood in cycling, Sarah Kelleher in hockey and athletics' coach Coral Nourrice. 
Meanwhile, Brayson will hope to boost her impact as a swimming coach by learning from the world of para-triathlon, through mentor Milnes. 
"It's a real privilege to be on the programme. I strongly believe that female coaches can have a big role on the world stage, and I'm looking forward to challenging boundaries, including my own, and learning from some outstanding role models and mentors across a number of sports. This is an exciting opportunity for me and I can't wait to get started."
The programme arises from UK Sport's People Development Team, working in partnership with sports and stakeholders to address diversity and inclusion ambitions, removing barriers and introducing bespoke programmes, with gender the first characteristic and other initiatives to follow. 
At present, approximately only 10 per cent of coaching positions within the high-performance community in the UK are held by women. The first target of UK Sport's long-term plan is to ensure that by the Olympic and Paralympic Games in 2024, the number of female coaches available to Team GB and ParalympicsGB has more than doubled to 25 per cent.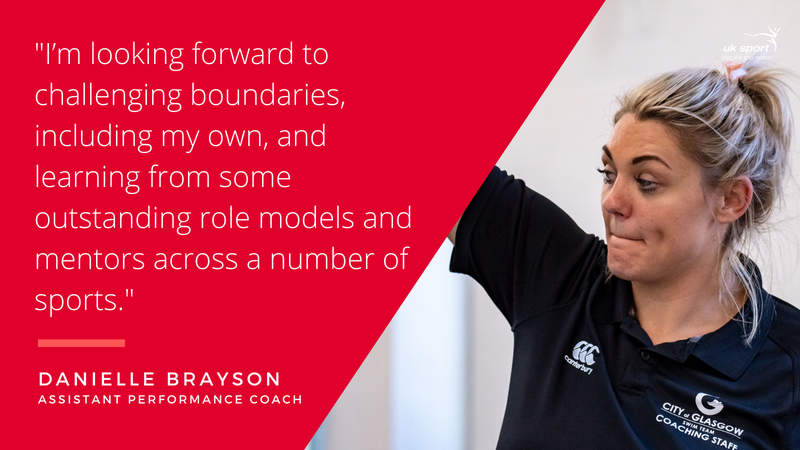 Sally Munday, UK Sport CEO, said: "It's really exciting to see such a large number of coaches from right across our high-performance community involved in this programme. We have an amazing group of coach leaders, who are the trailblazers and the people doing it now, and the opportunity for the 19 promising coaches to learn from them - as well as each other - is going to be incredible.
"UK Sport is determined to see greater diversity across the high-performance community, and I know the role that I can play in championing this programme. I believe that each of the participants will become role models for the next generation of coaches and will truly enable us to reach our aims and ambitions for female coaches.
"I want to be able to reflect back that this was a turning point of truly making our workforce, in particular our coaching workforce in the high-performance community, far more diverse and a lot more equal from a gender perspective." 
Ahead of taking her place on the programme, Jen Leeming spoke to us about what she has learned about her role in coaching over the past year - as well as why the mental health of her athletes has been at the heart of everything they have done throughout the UK lockdowns. Read that feature HERE.