Britain's swimmers secured five medals on the opening night of action at the Sandwell Aquatics Centre as Birmingham 2022 roared into life in the pool, including some emotional swims from those on the podium.

Katie Shanahan became the first GB athlete among the medals after a breakthrough swim to win Women's 400m Individual Medley bronze, before Toni Shaw held on well for a bronze in the Women's S9 100m Freestyle.
That preceded a stunning Men's 200m Breaststroke final that brought two Home Nations medals, as a statement opening 100m from James Wilby laid the platform for his spectacular silver for Team England, with longtime British Swimming teammate Ross Murdoch following in with an excellent effort - and celebration - of his own to take bronze for Scotland. 
The opening night then came to a close with Lewis Burras, Tom Dean, Freya Anderson and Anna Hopkin teaming up to great effect as England's Mixed 4x100m Freestyle Relay quartet took silver behind Australia. 
The first British medal in the new Birmingham pool came courtesy of that stunning outside smoker from Scotland representative Shanahan, as the 18-year-old claimed a brilliant bronze from lane one of the Women's 400m Individual Medley showpiece.
Katie started well and made the most of her favoured backstroke leg to put herself in contention at the halfway mark, with only runaway leader Summer McIntosh of Canada clear. 
Behind Scotland's Shanahan, England's Freya Colbert was pacing a good race, and a strong 100m of breaststroke from the Nova Centurion moved her into third with only the freestyle leg remaining.
Both Brits pushed hard throughout the anchor stroke, but it was City of Glasgow competitor Shanahan who held firm, keeping Colbert's impressive comeback at bay - a swim that included a massive personal best for Freya - to pick up her first senior medal on the international stage.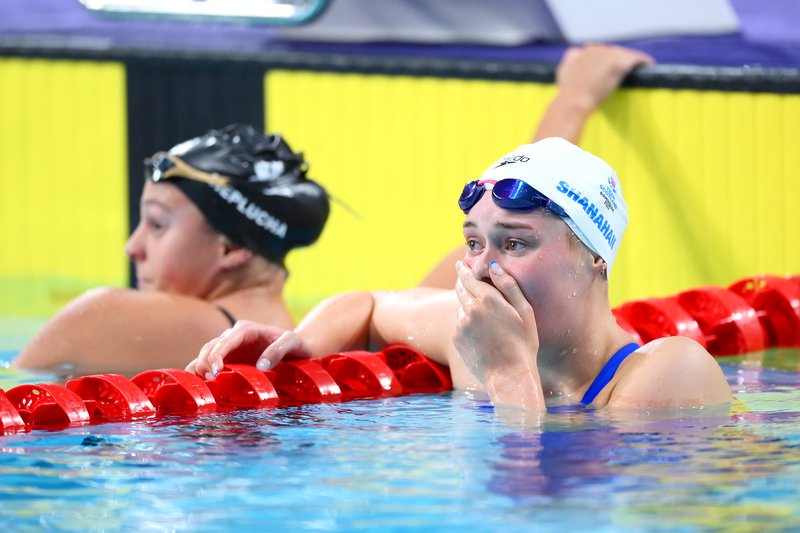 Katie said: "I'm really emotional and I cannot believe it actually happened. Now I have my medal, I have no words and I am really happy. To follow in Hannah Miley's footsteps and follow her legacy and achievements at the Commonwealth Games is really special."
The Scottish success continued with yet another battling swim from University of Stirling athlete Shaw, who backed up medals at last month's World Para Swimming Championships in Madeira with a fine opening-night salvo in the Women's S9 100m Freestyle.
Always in contention as part of a four-person race for the three medals, Shaw came through in the second 50m to touch third and ensure she now has taken to the podium at Paralympic, world, European and Commonwealth level.
Toni said: "I am absolutely buzzing and I do not have any words, I was most excited to get one of the toy bulls. I knew it was going to be really close with so many other girls with a similar time, so I am glad to be on the right side of the finish line this time.
"My family haven't seen me race in person for such a long time, so tonight was really special. It was such a competitive race and so close, but I am happy with how it turned out, and seeing Katie get a medal earlier on, really spurred me on to do well."
In the same race, Alice Tai placed sixth as she builds towards her favoured S8 100m Backstroke later in the meet. In the Men's S9 100m Backstroke final, Sam Downie placed sixth.
Arguably the race of the night was that Men's 200m Breaststroke contest, the penultimate final of the session. It was clear from the opening 25m what James Wilby's race plan was, the Loughborough Performance Centre man taking charge and going out at 50m under world-record pace.
Attacking his effort in such a way got the noisy home crowd going, and by the 150m turn, Wilby still led Olympic champion and world-record holder Zac Stubblety-Cook, holding his pace well. The Australian drew level with around 30m to go, and the final exchanges were hugely entertaining, as the pair matched each other stroke for stroke.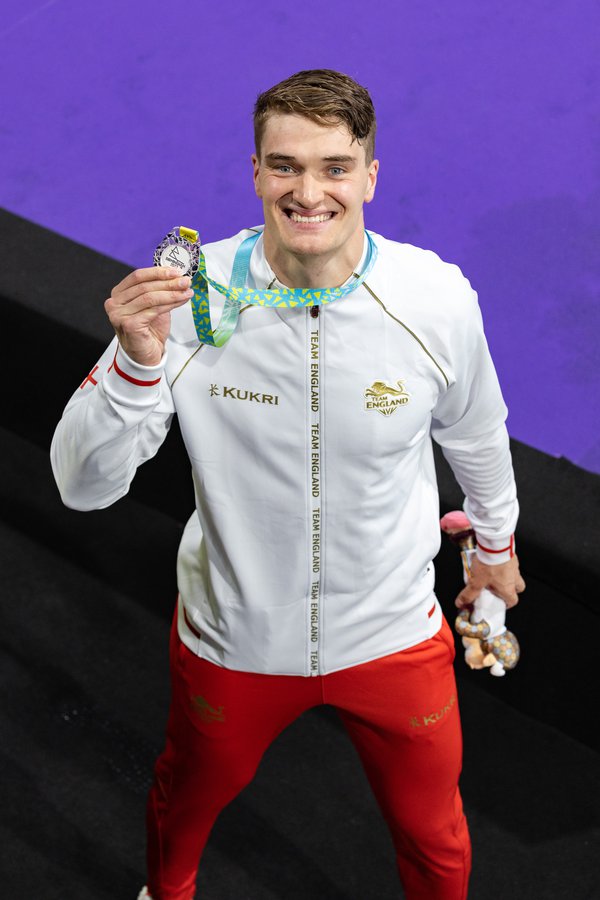 Ultimately, it was Stubblety-Cook who reached the wall first for gold, but it was a fine silver for James, who was followed in by University of Stirling man Murdoch. Ross' celebrations, at the end of a superb effort by himself, told the crowd everything they needed to know about how much the medal meant to him - and there were big cheers for the embrace between the British teammates over the lane rope.
James said: "I just wanted to get out there and be brave. I really enjoyed it, it was a really good race. I was really pushed on by the crowd.
"I was pretty aware of lane three and I could see Zac on the turns. I could tell it was pretty tight and it was a big effort on the last 50m. We had a good race.
"It's been a bit of a rollercoaster. Up against the world record holder, one of the best 200m breaststrokers in the world, I put in a good race and challenged him for that top spot."
Ross, meanwhile, added: "I was under no illusions coming into this year that I'd be capable of getting medals, going to the Commonwealth Games. The standards for the Games are difficult, but given my recent swims, it's not challenging for me to make the team - so I always thought I could get a medal and make the team, the real question was whether I wanted it. 
"When it got to February, this seed in my head started to grow and I just wanted to go back into the trenches with the guys in Stirling."
A silver for England in the Mixed 4x100m Freestyle Relay rounded out Friday's racing. Individual British record holder Burras led the team off with a pacey opening 100m to give his team the lead, before handing over to Dean, who maintained England's position at the front of the pack. 
Taking over from him was Hopkin, highly experienced in relay environments after recent years, and she produced another solid leg ahead of the anchor for Anderson, whose fast finish ensured the home team closed in slightly on eventual winners Australia, with Canada in third. Wales, meanwhile, placed an impressive fourth - thanks in part to Matt Richards splitting the fastest time in the entire race.
Speaking on behalf of an England relay that also saw medals for heats swimmers Ed Mildred, Jacob Whittle, Isabella Hindley and Abbie Wood, Burras said: "That's my first Commonwealth Games race under my belt, and to walk out to a crowd like is unforgettable. I can't complain, one race, one medal, and to do it alongside these teammates is really special.
"A mixed relay is a fantastic race to open a meet with. This has been on the schedule for the last few years, we are putting together a really strong team and that is showing."
Hopkin added: "That's the loudest crowd I've ever walked out to, so that was pretty cool. To have the first race as a relay and to get a medal, it's a bit easier to walk out to a crowd like that with your team around you, so I'm just excited for the rest of the meet now." 
In the opening final of the Games, Bath Performance Centre man Luke Turley clocked a new personal best to place fifth in the Men's 400m Freestyle.
Luke - making his Commonwealth and senior international debut for Team England - built well into the race as the final progressed, his final 100m push moving him up from seventh to fifth to touch in a new PB time of 3:48.50. 
Anderson narrowly missed out on the individual podium as her fourth-placed finish from the recent World Championships was repeated in the Commonwealth final of the Women's 200m Freestyle. 
Among other highlights on the night, Imogen Clark qualified second-fastest for the Women's 50m Breaststroke final, Brodie Williams and Luke Greenbank both secured comfortable passage to the Men's 100m Backstroke final, Holly Hibbott reached the Women's 100m Butterfly final and a quartet of Brits - Ben Proud, Jacob Peters, Lewis Fraser and Adam Barrett - all flew through to the Men's 50m Butterfly finale. 
Click here for full results and schedules. 
For full information on how to follow every big moment from the pool in Birmingham, visit our Birmingham 2022 guide here.