Daniel Jervis is one of the elite swimmers heading back to Manchester for this weekend's British Swimming Invitation Meet, after making the long-awaited return to competition in February's Manchester International. 
But what exactly is life like for an athlete inside the bubble environment set up for such DCMS-approved, COVID-secure, new-look events? We asked two-time World Championship squad member Dan to write up his own 'bubble blog' on his experiences from last time in Manchester as he looks ahead to another crucial competition opportunity ahead of April's Olympic trials… 
---
Arrivals and catching up with Adam 
It's about a five-hour drive from Swansea to Manchester, but it's an easy route. Manchester is a stunning city and one I don't know very well – obviously we didn't get to see much of it on this occasion! I'd only ever competed in that pool once before back in 2014, so it had been a while.
When we got to the hotel, we checked in and then straightaway had to go up for our COVID test. The waiting room was good because, while you're all socially distanced, you're able to see people you hadn't seen in ages.
I was sat quite close to Mel Marshall and Adam Peaty, actually, so I got to speak to them a little bit – and it was really nice to see how they were and everything. Obviously it was quite brief, then I went to have my test and head to my room until the negative result was confirmed, which thankfully was the case for everyone.
To be honest, there wasn't a moment that first day or across the whole weekend where I thought to myself, 'this is a bit risky, I feel as if I'm putting myself at risk here'. One thing I have been dead certain on since the start of the pandemic and then with training starting again is that, as much as I love swimming, my family is more important to me. My mum is in a vulnerable category because she is diabetic, so I said to my coach back home: 'if there's going to be one moment where I'm not feeling entirely comfortable and I feel as though I'm putting my family at risk, I'm going to stop and I'm going to make sure I put them first'.
But in Manchester, I felt 100 per cent comfortable with everything. British Swimming and the City of Manchester Swim Team really put into place all the safety precautions and protocols, and everything ran well from there. 
Where's the warm-up pool again?! 
Some parts of the experience at the pool were the same as always, and then some were completely different. 
I'm used to two warm-ups. So I'll get in at the start of a warm-up session and be in for 25 minutes, and then I always get in for a second warm-up, about 20 minutes before my actual event starts.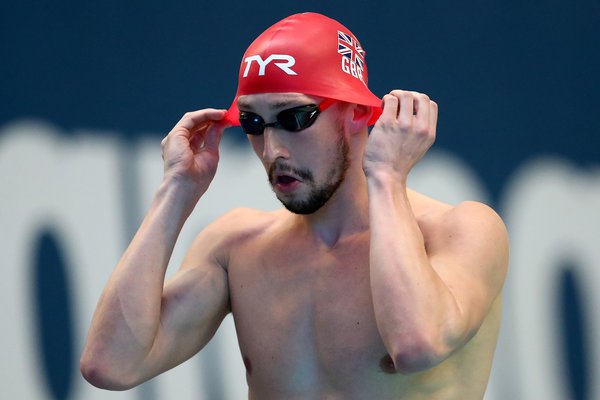 This time, it was totally different. You had to sign in to warm up – and you got one warm-up. Actually, on the Friday morning, I got lost! So I ended up with 12 minutes to warm up! Then once my warm-up slot was over, I had over an hour before my race, and I was thinking, 'this is a disaster!' Fortunately it wasn't my main event, it was the 400m Freestyle.
Going through that, I really had to take ownership over my preparation for the race. I had to do a lot of land warm-up, I had to take ownership of what it was I was doing. 
Before I went to Manchester, I had no idea how the warm-up pool would be, because warm-ups in a normal competition are chaotic. It was interesting to see how it worked here – because it did work. There were two separate 25m pools and there could only be four people in the lane at one time. 
It was all very socially distant. The only time across the whole weekend I saw people without a mask on was in the pool – either the warm-up pool or the competition pool – and standing behind the block. 
Feeling responsible for swimming's return
Talking of standing behind the blocks, it was strange to have no swimming fans in the stands for the races.
I think I speak for everyone when I say that I feel so privileged to be able to get in the pool at the moment. There are so many athletes out there, young athletes, who aren't able to swim right now. I don't want to sound too cheesy, but as professional swimmers who were allowed to be there in Manchester and will be again this weekend, I feel like it's our duty to represent those athletes.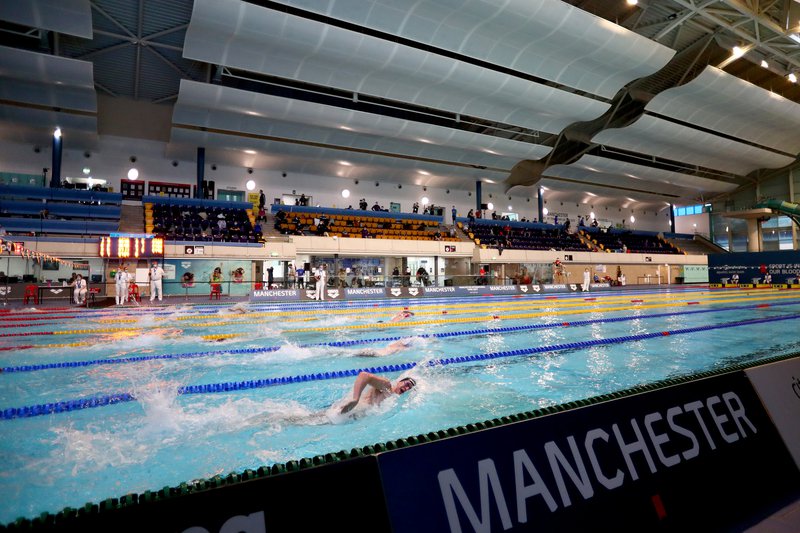 I've spoken to a few people over Zoom since the meet, and getting to see a competition streamed online that is actually happening, it made it feel to them as though a bit of normality has restarted. Even though it was completely different to normal, it was something of normality to them. 
I actually prefer there not to be a massive crowd. Every time I've swam in front of a massive crowd, apart from the two Commonwealth Games I've been to, I get really nervous. So I used this Manchester weekend to my advantage, because I was thinking quite far ahead and thinking, if I hopefully get to Tokyo, what is the crowd going to be like at the Olympics and what are the rules going to be like? Are they going to be allowed a big stadium full of people, or will it be like Manchester where it's just athletes, coaches and staff?
So when I walked out to my races and was competing, I was visualising those scenarios. 
I'd have been greedy to want any more from my first swims back! 
I was really happy with how my performances went. I did the 400m Freestyle heats on the Friday morning, then the Friday afternoon I had the final – and then 1500m Free (which went straight to final) was on the Saturday morning. 
When I found out on the Friday that the 1500m was going to be the next morning, I was a bit like, 'oh man, that might not be the best thing!' First of all, because I was coming off the back of a 400m Free final, I was always going to have some fatigue, and then it was a morning swim as well.
That is something, as athletes, we have to get used to because the finals in Tokyo are morning finals. That was the way it was with the 1500m for me here, so it was a case of taking that as the situation. 
The 400m actually went really well. The heat was strong, I felt, and then the final was better – I had Max (Litchfield) and Felix (Austrian Felix Auboeck) to race against, who are two amazing athletes. 
Then going into the 1500m, I was quite anxious about it. I am someone who does get very nervous, I get extremely anxious over things. That has, in the past, been detrimental to my performances, especially at World Championships and things like that. 

So my aim here was just to enjoy the moment, because there have been too many opportunities in my career that I've let pass because I've been so nervous. My training has been going better than ever, I've been more focused in training – so it was just about bringing that into the race environment. 
I think I did that very well. My turns were executed well, except one that I remember where it was one long glide into the turn – that shouldn't have happened!
But to go under 15 minutes in the morning, in the first race of the year, if I'd asked for better than that, I'd have been being a bit greedy. I was really pleased with it. The response from my coaches and a lot of the other coaches was really positive, so that was really nice. 
It was really good to see everyone else doing really well too.
Netflix in the downtime – and quick queue chatting!
Before I drove up to Manchester, I was thinking, 'right, I'm going to be spending a lot of time in my room', so I took a book with me, I made sure I had loads of series ready to go on Netflix, as I didn't know what it was all going to look like.
As it was, I actually didn't feel like I was in my room as long as I thought I would be. It was mainly the period between lunch (at about 12.30pm) to 4pm, when I headed back over to the pool. We had to eat all our meals in our rooms, so you'd go down, grab your food, head back up to your room. 
Outside of swimming, I work with my dad as a painter and decorator, so I don't really get time to sleep in the day and it's not something I'm used to, so I wouldn't normally do that at a competition. 
I tend to watch Netflix. I didn't really touch my book, because I'd have read two pages and then fall asleep! It was resting with a bit of Netflix, I think Riverdale was my main thing over that weekend. 
The only time you'd really get to see people at the hotel is when you went down for food and if they happened to be in the queue at the same time as you. 
On the Saturday lunchtime, I was next to James Wilby (pictured) in the queue, so I got to speak to him for a little bit. I obviously congratulated him on making the Olympic team already (with a bit of jealousy!) and then it was great to speak to him about that and how he has coped with everything over the past year.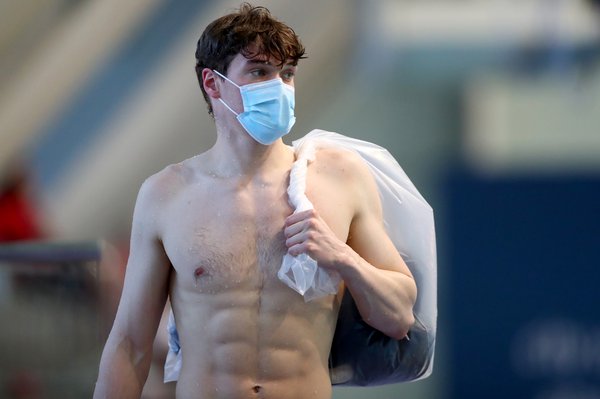 Now I'm ready to get back into the bubble 
There are a lot of things I learned from going to Manchester. I've done hundreds of competitions in my life, but none have actually been like that – so I took a lot in, and I was trying to absorb the feeling of it all. 
Going into the British Swimming Invitation Meet back there this weekend and then trials in London in about six weeks, I feel really confident about heading into those. 
I think it was on everyone's minds before that it was going to be different: 'how will we adapt to it?' Well now we know how to adapt to it. So I can go up at the weekend and know x and y are going to happen, this is how it will look. I can forget about those bits a little and go into it at ease.