Tom Dean and Duncan Scott blasted Britain to their first gold and silver medal double in more than a century of Olympic swimming as their 200m Freestyle performances ensured another remarkable morning at Tokyo 2020 for Team GB's aquatics athletes. 
Less than 24 hours after Adam Peaty opened the British gold haul for the Games, teammates Dean and Scott will both have harboured hopes of matching that result – but neither will have foreseen quite how it unfolded.
Sunwoo Hwang of South Korea took the race out at sub-world-record pace, flying clear of a strong field, with Bath National Centre man Dean tracking him well from one lane inside. Scott, meanwhile, managed his race with the composure we have come to expect of the University of Stirling athlete, waiting to make his move down the final 50m.
By that stage, Hwang was tiring, and it became clear that the British pair were going head-to-head for the ultimate sporting glory, with both finishing at incredible speed.
In the end, it came down to a mere four hundredths of a second, with Dean touching in 1:44.22 to break Scott's existing British record and clinch gold, Scott also going well under that previous best mark for silver.
Not since the 1908 Olympic Games in London have Britain managed a one-two in the pool – and the names of Henry Taylor and Thomas Battersby (1500m Freestyle) and Frederick Holman and William Robinson (200m Breaststroke) are now joined in that achievement by two of the current generation. It is also the first time since those Games, 113 years ago, that two different swimmers have claimed gold in the pool for Britain, with Rebecca Adlington claiming both of GB's triumphs in Beijing in 2008.
On his Olympic victory at the first time of asking, Dean said: "It's amazing. I said it before, to have two Brits on the podium and coming one and two shows dominance in this event and how far British Swimming and Team GB have come, I couldn't have asked for any more, it's amazing. 
"I can't thank my coach David McNulty enough for what he's done. He said, 'we're writing an amazing story', with the COVID situation, I had six or seven weeks out of the pool during an Olympic year. He brought me through it and here we are, and I can't thank him enough for it – we couldn't have had a better ending to the story.
"I knew it was going to be a dogfight, I didn't know how people would swim it. I just want to say thank you so much to everyone back home, my mum, my family, my girlfriend, all the boys back at Maidenhead, thanks for staying up – I can't say thank you enough."
Scott, meanwhile, has earned his first individual Olympic medal after two relay silvers in Rio – and there still may well be more to come. For now, though, the humble Scotsman rushed to praise his British teammate before anything else.
"Massive credit to Tom Dean, that was unbelievable. Olympic champion, to come along so far in the last 18 months, it's a pleasure to watch. It's great to be able to say he's a good mate out of the pool as well," he said.
"I'm delighted with that, for me, I've got to give massive credit to my coach Steve Tigg, I wouldn't be standing here without him. The journey I've been with him since I was eight has been phenomenal. I'm just buzzing for Deano, to be honest.
"To come first and second now shows we've got great depth in the 4x200m Freestyle Relay too, our 200m Free final at trials was really stacked as well. It's a bit of a weird one, with finals in the morning, the 4x200m is actually this afternoon. It'll be interesting to see what we do. We've got a great opportunity in that, but you can't write off some really competitive nations, it's going to be really difficult so we can't get complacent. We're looking forward to it, for sure."
Kathleen Dawson was looking to immediately add to that growing medal tally when she took on a field dubbed as the strongest ever in the Women's 100m Backstroke final.
Dawson trains under Tigg and Bradley Hay at Stirling, and brilliant form throughout 2021 saw her head into the race as the European record holder in her maiden Olympic Games.
She turned sixth at halfway and maintained her pace throughout, ultimately touching sixth at the wall – Australia's Kaylee McKeown broke the Olympic record to claim victory. The result left Dawson with mixed feelings, although her ambitions remain unbowed, especially with big medley relay events to come.
"I can't help but feel a little disappointed, especially having gone faster in the heats and the semis. It felt like the best race I could've put out, so I can't dwell on it too much – I just have to look forward to the relay now," she said.
"I also can't help but feel proud that I'm a part of this part of history, five of the fastest all-time swimmers were in that race. Even though I didn't put up a time that matches, that was the fifth-fastest time in history to win, it's such a stacked event to be in.
"[Looking ahead to the Mixed 4x100m Medley Relay event] I'm just going to look to get as big a gap between myself and the next person so that Adam can take over and feel pretty confident! I managed to watch Tom and Duncan's 200m Freestyle final before my race, it was amazing to see the boys do so well. They both deserve it so much so it was amazing to see."
Freya Anderson was the first Brit in action on the fourth day of swimming action at the Tokyo Aquatics Centre, lining up in the second semi-final of a stacked Women's 200m Freestyle programme.
The Bath National Centre athlete – a relay finalist earlier in the week in the Women's 4x100m Freestyle event – held her own throughout the opening half of the race, but she slipped back over the third 50m, giving her too much to do to claw things back down the home straight, despite her characteristic back-end speed.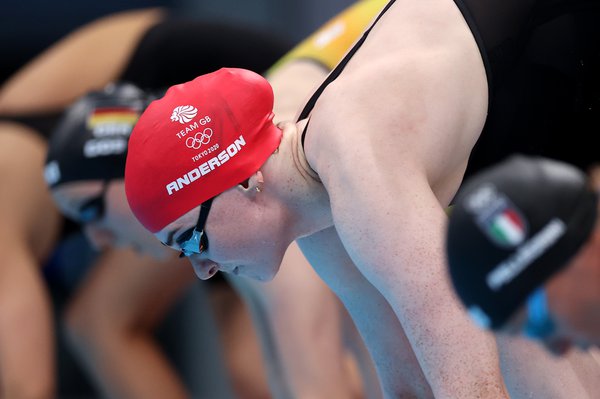 Anderson placed 12th overall at the end of her first individual Olympic event. She will go again in the Women's 100m Freestyle later in the meet, as well as being in contention to help Britain's medley relay hopes.
"I didn't have the race I wanted, but then seeing Deano do what he did, I'm so happy for him. I've never, ever seen him do a bad session – I can't think of anyone who deserves it more.
"I'm not sure what it was for, I just don't think I had it in me today. I've had a bit of a disrupted year, it just wasn't in there for me today."
The morning session was rounded out in fine style by Abbie Wood and Alicia Wilson, who both secured their place in Wednesday's 200m Individual Medley final – the latest showpiece that will feature more than one Team GB representative.
Wood endured an ongoing battle with centre lane rival Kate Douglass of the USA throughout the contest, keeping tabs on the American after the butterfly and backstroke legs, before moving to the front down her impressive breaststroke length.
While Douglass just inched ahead to touch first, Wood – who trains under David Hemmings at the Loughborough National Centre – was comfortably second fastest in the semi and secures a central lane for the finale.
Wilson, meanwhile, set her stall out early with a quick butterfly leg and some eye-catching breaststroke, holding on as competitors closed in to make sure she will join compatriot Wood in the final and a shot at more medal moments for this British team.
On the atmosphere at the Tokyo Aquatics Centre on a unique night and the building British momentum, Wood said: "It wasn't a slow start to the Games for us, I really enjoyed the Women's 4x100 Freestyle, we did way better than we'd ever think we would've. But Adam getting gold, we hoped that would set the team up, that really showed with the boys, and now me and Alicia making the final. It just keeps the ball rolling, it's really exciting and I don't think there was a dry eye in the house with Deano and Duncan. Getting one-twos has never been a thing for Britain!
"It was really special, Alicia and I were tearing up during the warm-up. It's been a really good morning for Team GB, I'm glad I did my job as well and hopefully tomorrow I'll be going in a bit more clear-headed and can keep the energy going."
Wilson added of her swim: "For me, it's about getting your hand to the wall first, as quick as you can and try to out-touch the people around you because it's definitely a race against people. These Games are wide open, it's not really about the times – it's hard because it's a race against people."
To check out when Wood and Wilson will go in that Women's 200m Individual Medley final - and plenty more besides - head over to the British Swimming 'What's On?' page, updated daily