Duncan Scott obliterated his own British record in the Men's 200m Individual Medley to claim a brilliant silver and become the joint-most decorated Team GB swimmer of all time at Olympic Games, while Luke Greenbank sealed a superb Men's 200m Backstroke bronze.
The University of Stirling man already had a Men's 4x200m Freestyle Relay gold and individual 200m Freestyle silver to his name at Tokyo 2020, heading into the finale of an event in which he first competed at World Championship level as recently as 2019 – and he began well over the butterfly leg.
A strong showing down the backstroke straight saw Scott turn fifth but within close range of the leading athletes, knowing composure on the breaststroke 50m would set him up for a flying freestyle finish.
That was exactly how it proved, the 24-year-old surging back into contention with every stroke of the final leg and going past three rivals at stunning speed to touch the wall in 1:55.28, a mammoth 0.62 faster than the mark he lowered at April's British Swimming Selection Trials and just off winner Wang Shun of China.
Scott's performance makes him the first man since Henry Taylor in those now oft-mentioned 1908 Olympics in London to win three medals at one Games – and he now has five to his name from two Olympics after Men's 4x200m Freestyle and Men's 4x100m Medley Relay silvers from Rio 2016, with the latter event still to come in Tokyo.
"It was always going to be a tight race, an exciting race. The winner did a big personal best as well, it's probably a lot quicker than people anticipated the final to be going in, so credit to everyone in the race," said the versatile, Steven Tigg-coached man.
"I had to try to commit a bit more to the 150m because I know I'll come back strong. I've done that and I'm really happy with the swim, it just wasn't quite there. It's only three years to Paris, I might hit puberty before then! I'm happy with that race – it's my first international medal in that event. It's a big personal best again, I think I've taken well over a second and a half off that this year, so I have to hold my head up high with that.
"This isn't just a one-meet thing for British Swimming, it's been going on for a while. It probably started with Adam Peaty back in 2015 when he first won the World Championships and then all the way through, his mental drive and the way he dominates races, it rubs off on people. On top of that, there's also some excellent coaches in British Swimming who always strive for more and manage to get the best out of their athletes day-to-day, it's a collection of things."
On another memorable morning for Team GB at the Tokyo Aquatics Centre, Luke Greenbank delivered the moment of his promising career to date by securing a brilliant bronze in the Men's 200m Backstroke.
In the biggest individual race of his life, the 23-year-old went out well with Evgeny Rylov and Ryan Murphy, fellow medallists from the 2019 World Championships, turning second at 50m and holding stroke rates with the other two as the central lanes dug in for an intriguing battle.
Greenbank's growing experience showed as he kept his technique steady despite late pressure from Bryce Mefford of the United States, putting in a fine final turn and then surging clear of the man in fourth to pick up a maiden Olympic bronze in another sub 1:55 time – his third such result of the meet.
The smile on the face of the Loughborough National Centre man as he looked up at the clock told it all, with Greenbank continuing the eye-opening momentum of the British team at the Tokyo Aquatics Centre and emphasising his genuine world-class ability.
"It's amazing. It's a dream come true, I'm so happy, over the moon, I'm a bit lost for words, to be honest! My first memory of swimming was watching Beijing in 2008 and it's always been a lifelong ambition of mine – so to come away with an individual medal is absolutely amazing," he said.
"Mel Marshall and I get on really well, we bounce off each other and she has helped get the best out of me. Hats off to her, and Sean Balmer and Eleanor Walsh as well, my old coaches at Cockermouth, my parents, all those people, this medal is with them in mind. I hope I've made them proud.
"We've made some great progress this year but there's definitely more in there still. I can't wait to get back in the pool!"
Anna Hopkin's impressive debut Olympics continued with another fast time on her way to a seventh-placed finish in a fierce Women's 100m Freestyle finale.
Up against yet another packed field, Hopkin – fresh from a British record in the heats – was unfazed and took the race out hard, turning just 0.06 seconds down on her 50m start from that opening round.
The back 50m was just as good from the 25-year-old Ealing athlete, another of Marshall's team, and she did not let up down the home straight, staying strong to finish narrowly outside that British best and hold her own on the sport's biggest stage, ahead of more important swims in the upcoming medley relays.
"That was a big goal, to get close to what I did in the heats – that was an out-of-the-blue swim. To back that up shows how consistent I am. Obviously you always want to go faster, but I think I've showed I can cope in this arena and put out those swims," said Hopkin.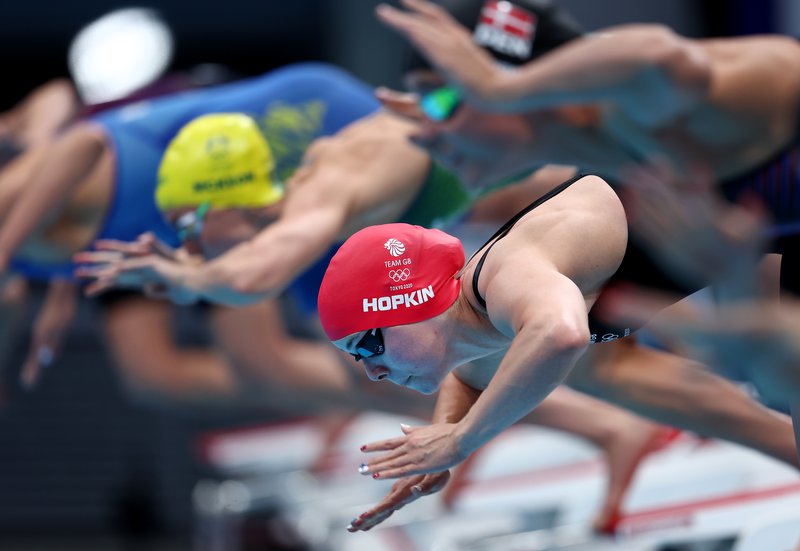 "It's been an amazing year for me. I was in America and then made the move to Loughborough to train with Mel. The belief in myself has grown so much from working with Mel and Neil Harper [before that], I feel in a great spot. The mixed medley relay is going to be an exciting race, the guys did an amazing job yesterday. I've got to bring my best tomorrow and hopefully we can get a medal there.
"I'm so happy for Luke too. I was in the call room watching that race, I was more nervous for him than me! To see him get that medal gave me motivation for my event."
Earlier in the session, Loughborough National Centre training partners Molly Renshaw and Abbie Wood placed sixth and seventh respectively in the Women's 200m Breaststroke as Britain lined up two swimmers in an Olympic final for the fourth time so far at Tokyo 2020.
In a race that saw South Africa's Tatjana Schoenmaker break the world record to take gold, Renshaw looked to keep herself in contention from lane one, with Lilly King of the United States just inside her and flying out of the blocks.
The David Hemmings-coached athlete remained composed across four lengths of swimming but was unable to claw back the early advantage of the leaders, ultimately touching sixth.
Wood, meanwhile, was on the other side of the pool and put together her own race in her second final of the Games. After agonisingly finishing fourth in the Women's 200m Individual Medley on Wednesday, she bounced back brilliantly to make another final and swim through for seventh.
After her swim, Renshaw said: "I'm not quite sure what happened this week. My season has been going so well and I swam consistently faster than that this year throughout the whole year. It's disappointing, but it's about coming out here and racing and I didn't do that today.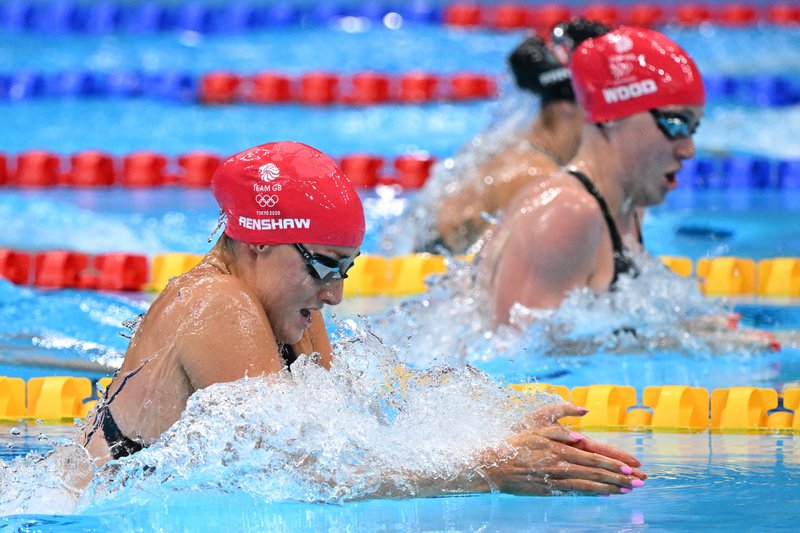 "The team is doing amazing. The fact we can't have our families here, we're trying to use each other as the closest family we have. We all get on so well, it's such a close-knit team, we've been so emotional all week at the boys swimming so well, it's amazing to be a part of."
Wood added: "I've been happy with my swims this week. I obviously wanted to finish on more of a high because we are both so much better than those swims, but that's how it goes. We're just going to keep going.
"The ISL is kicking off pretty soon after we get back, I want to enjoy that and get more confidence because it really boosted me last year, so to get the same out of it this year going into long-course season with Worlds, Commonwealth Games and Europeans next year, it's going to be race after race so hopefully we can build confidence as we go and we'll keep getting stronger."