Anna Hopkin set a blistering new British record in the Women's 100m Freestyle as Team GB's swimmers continued their fine form in Wednesday's heats session, with seven qualifying semi-final berths.
Hopkin was the first Brit in action at the Tokyo Aquatics Centre this time around, and she was quick to make a statement against a packed field in the sixth 100m Freestyle heat.
The Mel Marshall-coached sprinter got off to a strong start and turned second, before keeping the hammer down and touching third in a time of 52.75, knocking 0.12 seconds off Francesca Halsall's 12-year-old record in a race that also saw Australia's Emma McKeon break the Olympic record.
"I was looking at the names in my heat, that could've been an Olympic final, it was that stacked!" said Hopkin.
"I didn't really focus on what anyone else was doing, I just swam my own race and felt really good coming down the second 50m. I was pretty surprised with the time, though, but it was amazing."
Freya Anderson also booked her place in Thursday's 100m Freestyle semi-finals, when she admits she wants to build on her heats effort.
"It's quite a relief to get in, knowing I have another chance is a relief. Hopefully I can improve on that time and the tactics of the race, there's a lot of stuff to improve, hopefully. The heats are pretty stacked, especially the one before mine, so I knew I'd have to do a good time to even make it back," she said.
The fast heat swims kept coming from the GB cohort, as Luke Greenbank – another of Marshall's Lougborough National Centre athletes – blasted to the quickest time in the heats of the Men's 200m Backstroke.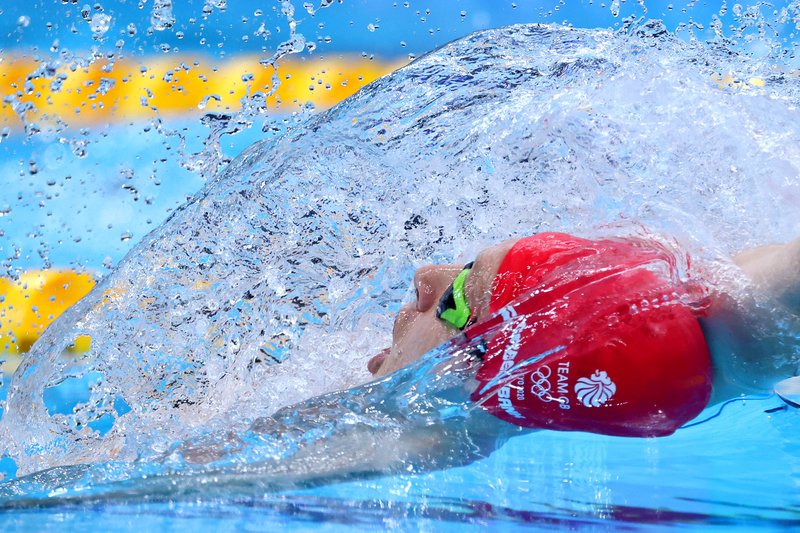 Greenbank took things out at pace to establish dominance in his race, and the lead steadily grew across four laps of strong technique and excellent underwater work, ensuring his rivals will be well aware of the threat he can pose in the semis.
"I'm really chuffed with that – it felt really controlled, comfortable and there's definitely more in there, I'm looking forward to the semi tomorrow. The mood in camp is incredible at the moment, it has really made me want to get out there, get in on that and hopefully come away with a medal," he said.
" I don't think we'd be as strong as we are today without The National Lottery support, and I certainly wouldn't be in the position I'm in without that funding and help from The National Lottery, it's so important."
Bath National Centre man Brodie Williams went in the 200m Backstroke heat after Greenbank and did what he needed to do to earn a return in Thursday's next round. Williams, who trains under Jol Finck, said: "It was really good, I think there are a lot of positives I can take from that and move on tomorrow. Coming in 12th, get an outside lane, no-one will see me, will they?!
"It's nice to do my main event here at the Olympics. It's really inspirational being part of this team, watching the boys do what they do is incredible. To even share an apartment with them is a privilege, I'm all for them."
Molly Renshaw got her Tokyo 2020 campaign underway by comfortably moving into the semi-finals of the Women's 200m Breaststroke.
Having seen many of her teammates blow the cobwebs away in previous days, the European champion put together a controlled race to build her way into the meet. Abbie Wood, who missed out on a 200m Individual Medley bronze by an agonising 0.11 seconds in the morning finals, came back for the 200m Breaststroke heats and also qualified for the semis.
"It's nice to get in and race. I think the heats so far have been quite fast, so I knew I had to be on it this evening to a certain extent. I'm really happy, it's a solid swim and my counts were quite low, so there's definitely room to push on tomorrow," said Renshaw of her performance.
The final Brit in the pool on the fifth day of swimming competition was Duncan Scott, fresh from standing atop the podium as part of the victorious Men's 4x200m Freestyle Relay team a few hours previous.
The University of Stirling man was this time going in the Men's 200m Individual Medley heats, and he was fresh enough to get through fifth fastest into the semis, thanks in part to a characteristically effective freestyle finish.
"It was always going to be a tough turnaround after this morning, an emotional thing but also because it's a lot of 200m races on the trot. I didn't want to be complacent and be on the wrong side of the cut. I'm happy with that swim, it's going to be hard tomorrow morning!" said the Steven Tigg-coached swimmer.
"After the 200m Freestyle final, I shifted towards the 200m IM – the 4x200m Freestyle Relay was really good fun, but it's easy to get up to being a part of a great relay. The number of times at international meets I've done tough back-to-backs, it's been a great experience for a week like this. I've got to treat every swim in this Games like it's my last from now on in, because I don't know when that'll be."
Joe Litchfield also went in the 200m Individual Medley heats, although he was unable to secure a semi-final spot.
"Both races this week, I've not really felt my best, I've not felt like I've been in the race. I don't know what it is, I'll go back and look at it. I'm going to use this as a learning curve – I've made it to an Olympic Games, I've had a great season, it's not quite paid off here yet. We'll see how the rest of the week goes, whether I've got any more swims, I've got to learn from this and build for the future," he said.