Great Britain's Marathon Swim Olympic hopefuls will get their first test in the build-up to the delayed Tokyo Games this week.
Travelling to Qatar for the opening leg of the FINA/CNSG Marathon Swim World Series 2021, a four-strong GB squad will take on the world's best, as 109 swimmers from across the globe assemble for the first time since the global pandemic began.
The event, which takes place at Doha's Katara Beach venue on Friday 13th March, is a key stepping stone on the road to the Olympic qualifying event in Fukuoka at the end of May – and then hopefully the Olympic Games two months later.
Alice Dearing and Danielle Huskisson are set to line up in the women's race, with the duo having performed impressively at this event 13 months ago in their previous competitive 10km outing. Dearing led the way in 10th positon as part of the front pack, whilst Stirling-based Huskisson was just 10 seconds further back in 14th place. Both women will look to pick up where they left off last time around in Doha. 
In the men's race, Hector Pardoe and Jack Burnell will be in action. National Centre Loughborough man Burnell (pictured, top) was the highest-placed British finisher in 2020 after touching ninth, with rising star Pardoe just one place behind. 
Ahead of the Qatar event, British Swimming Marathon Lead Bernie Dietzig said:
"This meet is really important for the guys and girls to get back into competition – in the pool you can set up time trials and small-scale meets, but for the marathon, given it's so dynamic, you need to be in the pack, with the flow of the race. This could also potentially be our last and only chance to get a high-quality racing opportunity before Fukuoka.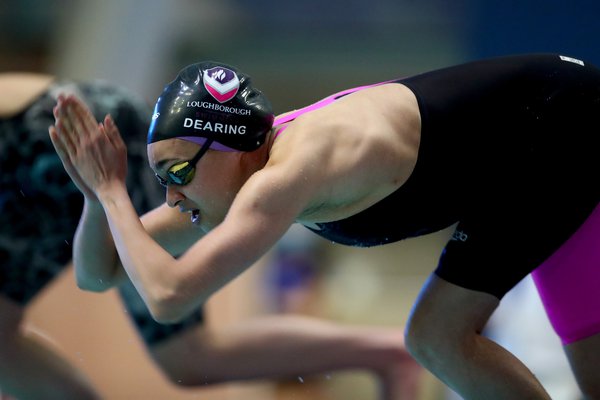 "Everything is new in terms of COVID and travelling for international competition, but that being said, everyone readily accepts that. Masks, sanitisation and social distancing will be in place at all times, but everyone is used to that from day-to-day living."
Burnell – who recently returned to indoor competition at last month's Manchester International Swim Meet, alongside Dearing – added: 
"It's a weird one, because obviously no-one has really raced for about a year, so it's all a bit of an unknown. There are still risks in going out to Doha, but we made the decision that the reward outweighed the risks in terms of not going into that Olympic qualification race unprepared. 
"We want to get this key opportunity in before Fukuoka so that when we do go out there, we know we've at least done a little bit of racing and are tuned back into that race feeling. I always want to go there and perform and podium, that's always the aim, but it's such an unknown where we're at at this stage. It's not just where I'm at, it's where the world scene is it. That'll be interesting to see."
The event is being organised by the Qatar Swimming Association, in conjunction with the Ministry of Public Health and FINA, and will be run under strict COVID protocols, to ensure the health and safety of athletes, officials and all other stakeholders. The athletes will remain in 'bio-secure zones' throughout the event.
Great Britain have yet to qualify any places in the Marathon Swim events for the re-arranged Tokyo 2020 Games, but will hope to do so at the Olympic qualifier at the end of May – a top-nine finish (limited to one per nation) in the male and female races will earn Team GB one spot in each race at the Games.