A career 'golden slam'-completing victory for Adam Peaty and a maiden senior international title for Brodie Williams spearheaded a stunning night for British athletes on the penultimate night of swimming at Birmingham 2022. 
On top of those golden moments – both hugely meaningful for the respective swimmer in different ways – there were a trio of eye-catching medal butterfly swims. Laura Stephens (in the women's 200m event) and James Guy (in the men's 100m) claimed silvers, before James Hollis flew to bronze in the Men's S10 100m Butterfly.
Rounding out the night, there was the latest addition to Team England's relay tally, as the Mixed 4x100m Medley Relay – featuring Lauren Cox, James Wilby, Guy and Freya Anderson – took bronze at the end of a thrilling contest.
One of the loudest noises of the entire meet greeted the result in the Men's 50m Breaststroke, as Peaty powered to the only senior international gold medal he had yet to secure in his glittering career.  
The field had a heavy British influence, with Peaty joined by new 100m Breaststroke champion James Wilby and fellow England team member Greg Butler, alongside Team Scotland's Craig Benson and Ross Murdoch.
Adam attacked the race early on before putting in what has become a trademark drive down the back end of the length to get to the wall ahead of Australia's Sam Williamson and Team Scotland's Murdoch, who put in an amazing performance from lane eight to take the bronze medal.
Team Scotland's Craig Benson managed to come in for fifth place, with Team England's Wilby and Butler touching in sixth and seventh respectively.
Reflecting on his latest feat, Peaty said: "I'm a much happier man. I had two options this morning, fight or don't fight. If anyone knows me, I fight. That means so much to be because of what I've been through the last few months, the last year, the last five years.
"I lost my spark at the start of the week but to have it back now, this is what it's about.
"It's the only one that I haven't won in my whole career. I knew this was going to be my last Commonwealth Games so today was the day to do it. I've completed the whole collection now; I've just got to do short course. That is it for me, that is what it is about. It's a sweet victory for me and it is great to be in front of that amazing crowd."
Murdoch, meanwhile, provided an emotional response to his long-sought-after 50m medal.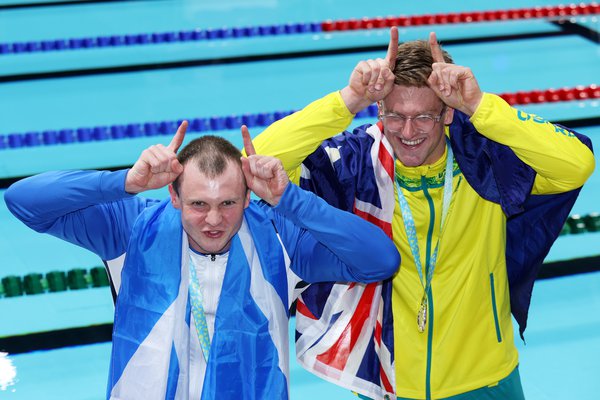 "I sat for a bit earlier playing on my guitar, with tears in my eye, thinking 'this is it; you can do it - go out there, stand up and do it.' I'm absolutely buzzing that I've done it, it's the only medal I've never had. I've had a 100m medal, I've had a 200m medal and now I've got a 50m medal. All I ever wanted to be was a 50 breaststroker, so this is a poetic end," he said.
Earlier in the night, Team England's Brodie Williams took his first individual international gold medal as he improved on his 100m silver performance to take victory in the Men's 200m Backstroke final.
Half of the field in the contest were from the Home Nations, as England's Williams, Luke Greenbank and Jay Lelliot joined Team Scotland's Craig McNally.
Greenbank started at a strong pace, having led qualifying from the semi-finals – and it was he and Williams who held first and second place respectively at the halfway stage. This continued at the 150m mark, before Williams, pacing his attempt brilliantly, made a late surge in the final 30 metres to claim the Commonwealth title, an incredible one one hundredth of a second ahead of Australia's Bradley Woodward in second place. Greenbank fell just outside of the medals on the touch to place in fifth, with McNally and Lelliot taking seventh and eighth respectively.
"It's amazing. It's the first time my family have watched me race since Covid-19, so it's a big moment for me and a big moment for my family," he said.
"It means a lot. I won my first senior medal in the 100m but to get gold means so much to me and my family.
"It gives me a lot of confidence. I know I can perform on this stage now and I'll take that with me.
"It's just so good we've great British backstrokers at the moment, hopefully we can keep pushing each other and get the best out of each other.
"Everyone is pushing each other. He has been the British standard for a while so I've always been aiming to get close to him. Now I'm at the ability to maybe push him on and he'll push me on. It's a great little double act. I said to him at the end 'you're Olympic bronze medallist, you'll come back stronger and we'll keep fighting together'."
The Women's 200m Butterfly final was not short of action either, as Laura Stephens (England) took the silver medal in a swim of huge importance for the Loughborough Performance Centre athlete.
With Team Wales' Alys Thomas looking to retain the title she won in fine style four years ago on the Gold Coast, and Keanna MacInnes (Scotland) and Holly Hibbott (England) also involved, it was another race where half the pack hailed from British Swimming.
All four swimmers were practically level at the first turn, with MacInnes doing just enough to touch ahead of the field, with Stephens in third. It was Stephens who made a move down the second length, though, as she took the lead at the halfway mark. This then continued as she was involved in a battle for first place with Australia's Elizabeth Dekkers, with the pair separated by a hundredth of a second at the final turn. It was Dekkers who ultimately powered through for the win, with Stephens holding on to take the silver medal. The next Home Nation finisher was Hibbott who touched fifth, with Thomas and MacInnes following in sixth and seventh respectively.
Speaking on her achievement, Stephens was ecstatic with the result.
"That means the world to me, honestly! It feels like I've been scraping so many finals and not quite being able to make those individual medals so to come away with my first major meet individual medal I'm over the moon," she said.
"So much has gone into this, it's been a really big season for me. I've switched programs and I'm now working with Dave Hemmings and he's been absolutely key to all of this, I think it shows a really promising future.
"I've done all levels of competition so it feels like I'm coming back round to my second Commonwealth Games. I am a lot more relaxed and confident in my abilities and that definitely made a difference tonight."
James Guy added another medal to his ever-growing repertoire as he won silver in the Men's 100m Butterfly final, following his bronze in the 200m event earlier in the meet.
Team England brought all three representatives to the final, as Guy, Jamie Ingram and Jacob Peters were all behind the blocks for what was a knockout of a race.
Peters had the best start of the field as he came up half a body length ahead of the field to touch second at the halfway point. Guy then made his charge, as he levelled himself up with the leaders, a dash finish resulting in Guy sharing the silver medal with Australia's Matthew Temple. Peters was not able to hold onto his early advantage as he finished in sixth position, with Ingram touching eighth.
Guy was happy with his performance, as he spoke after the race.
"It was a really good race, 51.40 is the fastest I've been all season. The 200m fly hasn't really been there all season, my main goal has been the 200m fly, but I'll take a silver at a home Commonwealth Games," he said.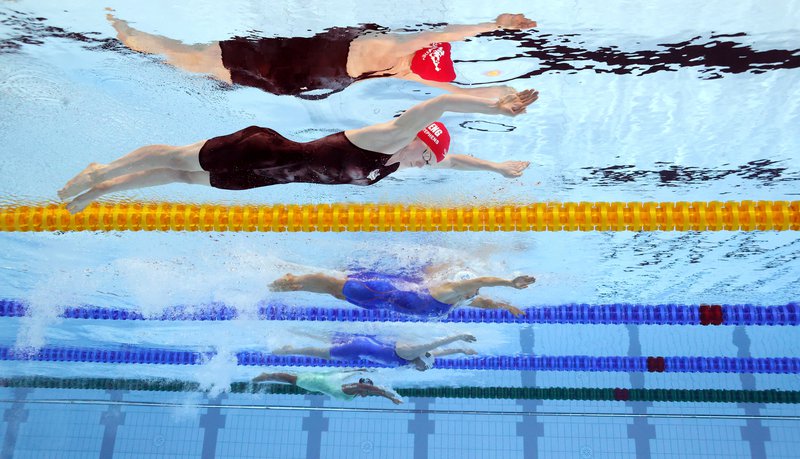 "The meet so far has been quite different. The times haven't been that fast to win but I knew tonight I'd have to come out like a steam train. That was the plan and it worked.
"I love putting my team and my country before myself, I'm known as being a relay man. It's nice to get on an individual podium and hopefully I can carry that on into the Europeans next week."
The butterfly successes continued on day five, as Loughborough University man Hollis secured a brilliant bronze in a hugely-competitive Men's S10 100m Butterfly.
Joined in the final by Scotland's Oliver Carter, Englishman Hollis made a promising start, coming up with the front leaders, before the field began to break up after the halfway mark.
James kept himself in the mix, thanks in part to an eye-catching turn, and he did just enough down the home straight to hold off William Martin of Australia, with the pair locked in a nip-and-tuck tussle for the bronze. Carter placed seventh.
Speaking after the race, Hollis said: "It's my first ever individual international medal, so to do it here in front of a home crowd, I couldn't have asked for much more.
"My coach Gareth and I have had a pretty tough year, so to come together and get a medal has made it better. I knew it was possible and I knew that I was never going to give up with the crowd behind me. I'm happy, and I love the para stuff being involved.
"I was too young in London to take it all in and understand what was happening so my goal was to come here, take it all in, learn from it and grow from it. Like Ben Proud said earlier in the week, you can actually hear them (the crowd) when you are swimming, I've never had that before. In that last 10 metres when my arms stopped working, I thought 'I can't let them down, they're cheering louder!'"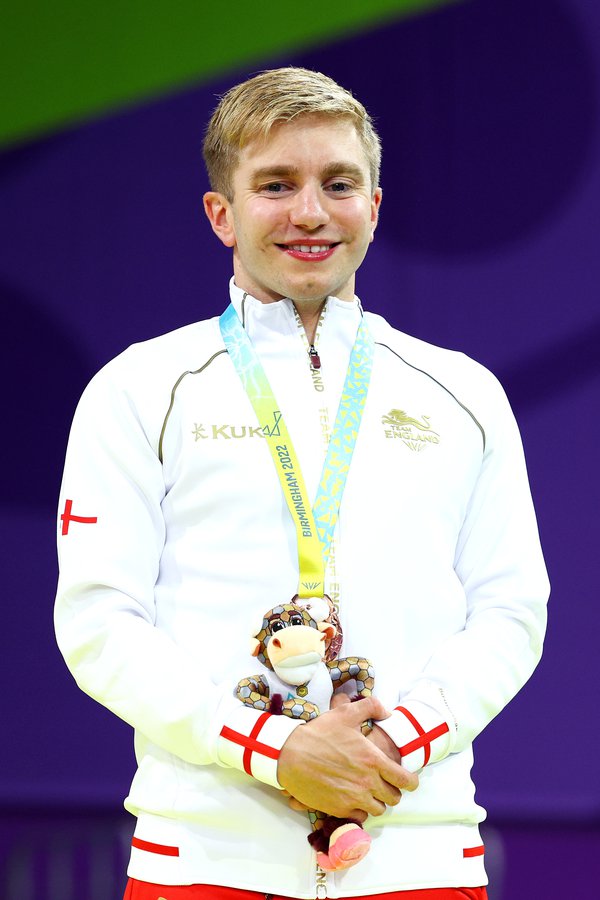 Team England were back in the medals with the final event of the night, as they took the bronze in the Mixed 4x100m Medley Relay final.
Team Wales and Team Scotland joined in on the action, the latter getting to the first changeover in second place after using Craig McNally on the backstroke. The breaststroke saw the Scots power in front as Ross Murdoch sped ahead of the field, after the team used both of their male swimmers on the first two legs. It was the butterfly leg where the field began to level up, as Keanna MacInnes of Team Scotland was passed by a number of male swimmers, including Team England's James Guy, as he inherited third place ahead of the final leg, after a solid platform from Lauren Cox on the backstroke leg and the hard work of James Wilby on breaststroke to get them into contention.
Freya Anderson was tasked with maintaining the position as Canada's Ruslan Gaziev looked to overhaul their buffer in second. charging to the front with their final male swimmer. Whilst Anderson was unable to hold back the challenge right on the touch – despite a tenacious display of relay anchor swimming – she was able to pass the South African team to finish on the podium in third. Wales produced a stunning fightback as they touched in fifth, with Scotland ending up in sixth.
Speaking on Team England's achievement, Anderson was in a reflective mood after the race.
"I'm a bit annoyed but a medal's a medal and I'm glad we could do it in front of a home crowd. We're a bit annoyed to be pipped by that much but the whole team did amazing. I knew I just had to get my head down. I raced in individual today so I was tied up a bit. I didn't know where we'd come but to get a medal is amazing," she said.
"I just wanted to do the crowd and my teammates proud. This team has always done so well, it's definitely an accomplishment we should all be proud of."
Wilby added: "It's challenging, we've all had individuals this evening but we're here, we're putting in a big effort for the team and that's really important. Freya put in an absolute champion back 50m even though she might be a bit gutted about it but, it's putting in that last little bit of effort, right when it really matters, for the team and getting on that podium and we should be really proud of that in front of a home crowd."
As well as a first international medal for Cox, the relay brought bronzes for heats swimmers Alicia Wilson, Greg Butler, Ed Mildred and Abbie Wood.
Anderson had already been in individual action on the day, as she and Anna Hopkin lined up in the Women's 100m Freestyle showpiece.
It was Hopkin who had the better start, up and level with the leaders down the first length, taking it out well to turn in third place. The three Australians began to make their move down the last length, though, as they managed to touch in a one-two-three finish. Hopkin was edged out but finished well to touch fourth, with Anderson just behind in fifth.
Both Team England's Molly Renshaw and Team Scotland's Kara Hanlon were in action in the opening race of the night as the Women's 100m Breaststroke saw a close battle for the win among the top seeds. Renshaw started the better of the British pair as she kept with the chasing pack to South Africa's Lara van Niekerk out in front, before keeping on the shoulders of the medallists to ultimately come up just short in fourth place. Hanlon put in a solid performance to keep with the field as she finished in eighth, with an impromptu group hug over the lane ropes between all eight swimmers following, as one of the images of the Games so far.
In semi-final action, Ben Proud and Lewis Burras both looked in ominous form as they qualified first and third-fastest respectively for the Men's 50m Freestyle final. Dan Jones (Wales) and Adam Barrett placed 13th and 16th respectively.
In the Women's 50m Backstroke, Welsh competitor Medi Harris' impressive summer continued as she secured a top-two qualifying slot for Wednesday's final. Cox of England was sixth overall to make another final, with Isabella Hindley missing out in 13th.
Click here for full results and schedules. 
For full information on how to follow every big moment from the pool in Birmingham, visit our Birmingham 2022 guide here.