Britain's swimmers notched double figures of medals in one night at the Commonwealth Games in Birmingham - with Ben Proud and Duncan Scott sealing first Home Nation golds of the meet. 

A powerful Proud performance in the Men's 50m Butterfly was followed up by Scott's signature back-end speed to take the Men's 200m Freestyle title ahead of British Swimming teammate Tom Dean, on an evening where the noise in the Sandwell Aquatics Centre helped roar GB athletes on to podiums time and again. 
There were further individual silver medals for Imogen Clark, Stephen Clegg, Hannah Russell and Brodie Williams, plus second-placed finishes for England's relay teams in the Women's and Men's 4x100m Freestyle Relay events. On top of all that, Duncan backed up his 200m Freestyle title by getting back in to win Men's 400m Individual Medley bronze in the same session. 
The eagerly-awaited Men's 200m Freestyle final did not disappoint, as Scott and Dean delivered another British one-two - although this time, it was Scott who got the better of his friend and teammate Dean after a thrilling showdown reminiscent of last summer's unforgettable Olympic contest. 
Dean, coached by David McNulty, took it out hard down the first 100m, as he did on his way to World Championship bronze last month, and he led from Scott at the halfway stage. 
Duncan's back-end speed was in working order here, though, as he reeled Tom in just before the 150m turn. From there, it was a 50m showdown, with the Scottish man easing just ahead of his English counterpart to secure the second British gold of the night, with Dean touching just behind for his second silver of the meet.
Matt Richards (Wales) swam well for fifth, with Joe Litchfield (England) eighth.
Fresh from the medal presentation in that one, Duncan then dived in for the Men's 400m Individual Medley final. Going in lane one after a steady heats swim, the record-breaking Olympian put together a controlled race across the strokes, with an impressive 100m of backstroke lifting him to third. From there, he was not going to drop out of the podium reckoning, seeing his second medal of the night out with another strong freestyle anchor.
Touching in third, Scott made it a bronze to add to his 200m Freestyle gold in the space of a breathless hour. He said: "We knew the schedule a while out. I've done doubles like that many times and if I didn't think I could manage it I wouldn't have done it. Yes, I knew it was going to be hard, the 400IM is always tough. But, I trust my own ability, I trust myself, I trust the process and I trust my coach.
"The 200m race went well, it wasn't about fast times, it was about racing. I love racing Deano and the other British guys in there. I think there were five Brits in that final, which is great for British Swimming. There's always been great rivalry in this event, and with it always being on the last day of the trials, we not only fight for the top two places, we also fight to secure a relay spot too. It is such a good team to be part of."
On silver behind Duncan, Tom added: "Obviously I wanted that gold and I knew it was going to be a tight race with Duncan but we're one-two at a major international competition again. It's just how we like to do things, just like the Olympics last year, so it was always going to be a good race.
"The friendship comes before the rivalry. We're great pals in and out of the pool, it's a healthy competition which is going to be good for the sport, good for Great Britain when we do come together and good for the Commonwealth sport showing what we're capable of.
"We push each other on and I can't seem to get away from him. And while that can be annoying sometimes, it's only a good thing and I'll look back on it with fond memories." 
Kicking off the night, Proud continued his stunning summer of sprinting with the first British gold in the pool at these Commonwealth Games, powering to the Men's 50m Butterfly title - eight years after first winning the crown at Glasgow 2014.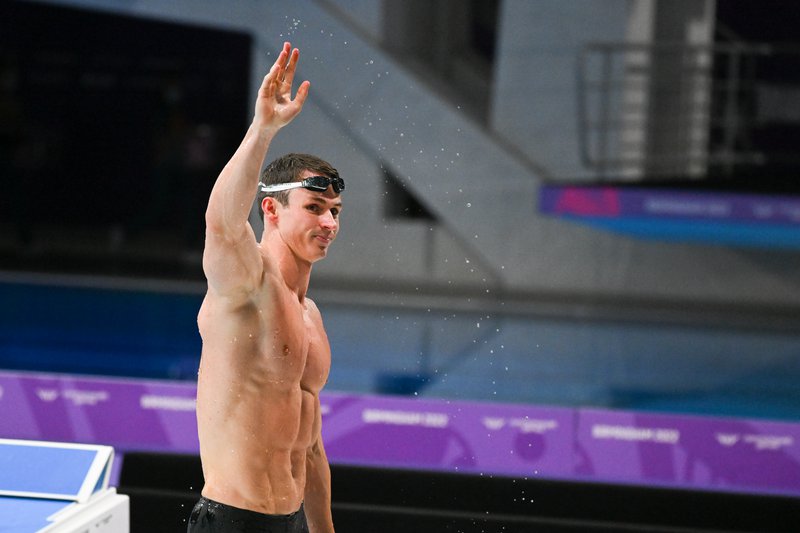 Ben became world champion in the 50m Freestyle in Budapest a month ago, but it was the butterfly event that brought him his first individual world title in 2017 - and it was this one again that lifted him to the top of the podium.
After a pacey semi-final earned him lane four, the 27-year-old took control from the start, a powerful opening 15m setting the scene and ensuring he held the chasing pack at bay with a well-timed finish that also earned him a Commonwealth Games record.
Speaking on his victory, Proud said: "It's a weird one, on paper it's just another gold medal but to me this is an eight-year legacy that I've just completed. I walked into this event eight years ago and almost walked away with the gold not knowing what I'd done. Four years later I got disqualified and felt like I was held back from retaining that title, so to be able to come back four years later after a lengthy career, after some highs and lows, and take that gold back into my hands that's something that I'm extremely grateful for."
Behind Ben, in a race packed with Home Nations competitors, Bath Performance Centre man Jacob Peters (England) missed out on bronze by an agonising 0.02 seconds as he placed fifth, with Adam Barrett (England) seventh and Lewis Fraser (Wales) eighth.
The early-session momentum set by Proud had a galvanising effect, as the next race saw Imogen Clark secure a superb silver in the Women's 50m Breaststroke.
Imogen - who trains at Derventio Excel - took the race out hard in the opening 20m as she looked to get the better of top seed Lara van Niekerk of South Africa. That tactic saw Clark leading the way past halfway at a fierce pace - and while van Niekerk overtook in the closing stages, a new British record of 30.02 saw Clark pick up the silver, add to England's growing medal tally and secure what she ranks as among the best moments of her career to date.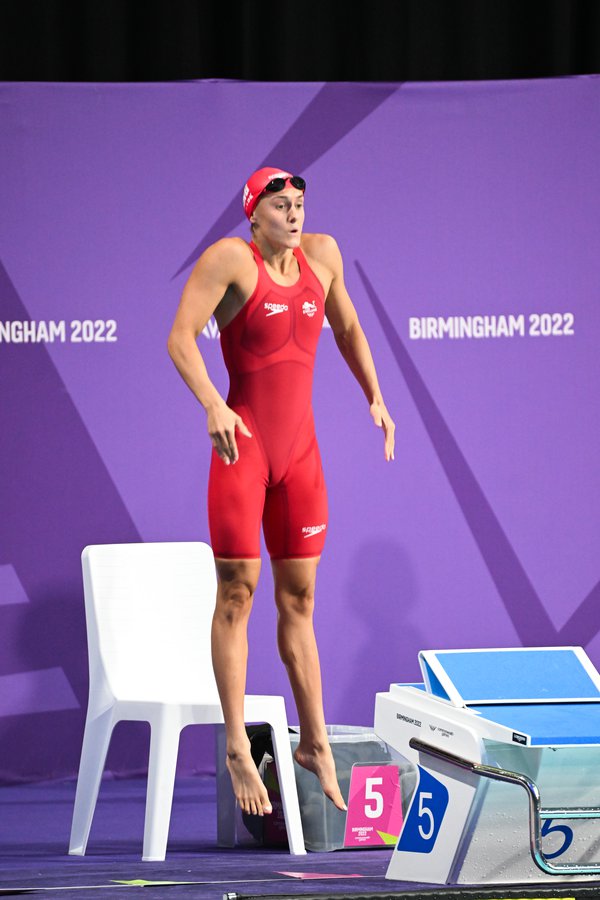 "It's the best thing I think I've ever done and ever achieved in my whole life. It's an absolute dream come true for me to medal on my home turf at a Commonwealth Games. It's the biggest event I've ever been too and it's the fastest I've ever swam so I'm buzzing," she said. 
In the same race, Kara Hanlon (Scotland) placed eighth.
A further brace of British medals swept in in quick succession in the debut showing of the S13 50m Freestyle at a Commonwealth Games. In the men's contest, Stephen Clegg burst out of the blocks to place himself at the sharp end of the pack in a breathless sprint showdown – ultimately finishing within one hundredth of the title despite competing up a classification. The Edinburgh University swimmer took down his own British record in the process having stopped the clock in 24.33 seconds.
"I'm a fly swimmer so it has been difficult to adapt to this event." said Clegg, representing Scotland in Birmingham. 
"The balance of the stroke is very different on freestyle and it has been challenging to get the technical side of it down. Fitness wise I'm always going to be in good shape and this season I have made huge leaps and bounds so I'm pleased with that."
Hannah Russell and Becky Redfern (both England) towed the start line in the respective women's encounter, with the former adding a Commonwealth silver to her expansive collection of Paralympic, world and European medals, whilst breaststroke specialist Redfern took fifth overall.
Delighted with the silver medal in a race category above her classification, Russell commented:
"As soon as I found out there was a visual impairment classification race [at the Commonwealth Games] I was absolutely ecstatic - I turned my focus straight away to the 50m Freestyle after the World Championships to really target this event. 
"Having my family and close friends here supporting me with the Home Nations, it's one of those experiences that doesn't happen too often and it does give me that buzz and I really did get that boost from the atmosphere."
Brodie Williams claimed the first individual international medal of his career with silver in the Men's 100m Backstroke, at the end of a tight race that saw him within inches of the Commonwealth title.
Williams had secured a central lane after notching a new personal best in the semi-finals on Friday, and after a solid foundation over the opening 50m, he produced what is becoming a characteristically strong turn.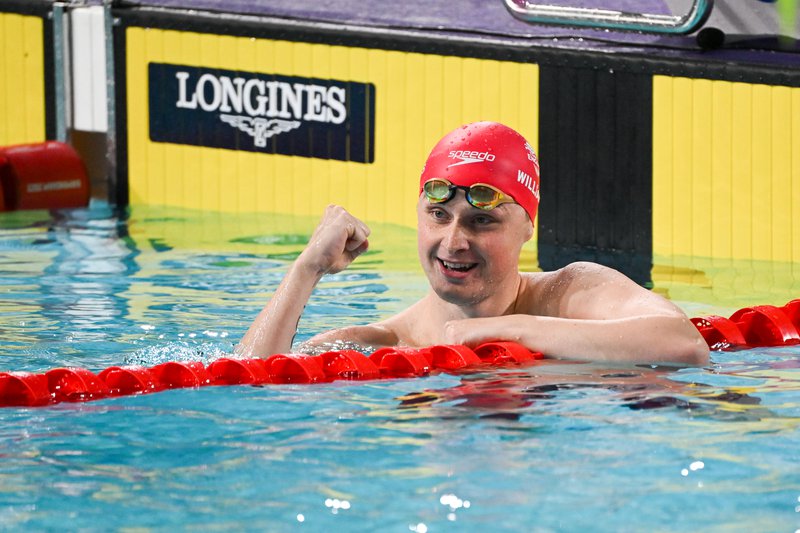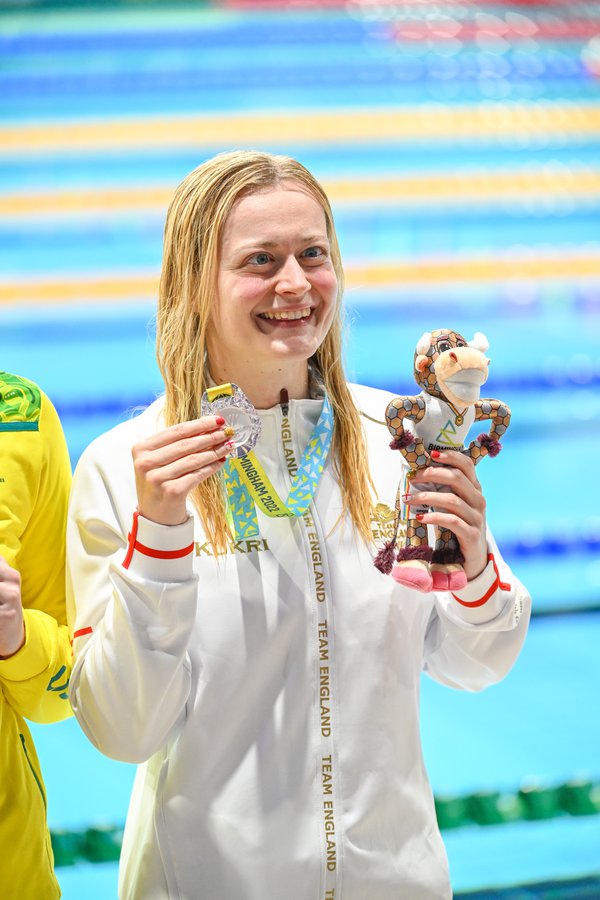 That moved him into first down the home straight, and a good stroke rate kept him there until the final stages, when Pieter Coetze of South Africa nipped in front to get the touch. 
Still, it was a special moment for Brodie, who said: "That was a bit of a shock. I thought I'd be doing the 400m IM today, but we'd got to take our chances in that 100m Back, it was wide open and I took my chance. 
"I saw on the replays that the finish was tight. It's my first senior medal, I'm happy with that and a new PB, so I've got to take that."
Luke Greenbank was in contention at the turn, too, sitting in the top three at that stage before fading to finish fifth, with his favoured 200m event - which has brought him Olympic and world medals - still to come.
A night of non-stop medals concluded with successive silvers for the England's Women's and Men's 4x100m Freestyle quartets. 
First up, the foursome of Anna Hopkin, Isabella Hindley, Abbie Wood and Freya Anderson teamed up to great effect, holding off the Canadian four with a strong effort, typified by Hopkin's explosive opening leg.
Team England debutant Hindley did well on the second leg, with the versatile Wood then handing over to Anderson on the anchor to hold off a late charge from Canada as England finished second, behind only Australia.
"We're happy to come away with the silver, it was always going to be a tough battle between us and Canada for it, so I'm pleased we got our hands on the wall first," said Anderson.
"The boys have just gone and got silver as well, so hopefully we can keep building this momentum and see if we can pick up some golds later in the week, that would be exciting."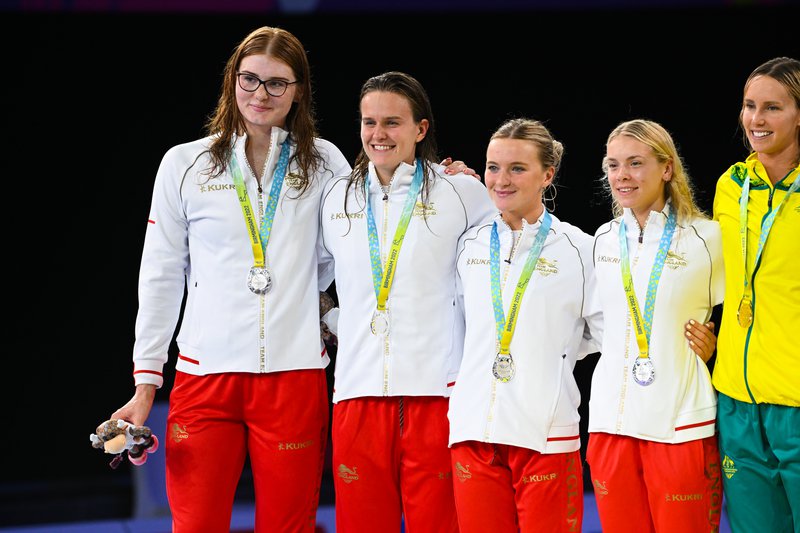 Behind them, the Scottish quartet of Lucy Hope, Emma Russell, Tain Bruce and Evie Davis set a new national record time to place fifth, with Northern Ireland sixth. 
Straight afterwards, the English men followed the example set by the women. Lewis Burras, Jacob Whittle, James Guy and Tom Dean were up - after the heats team of Ed Mildred, Joe Litchfield, Jamie Ingram and Cameron Kurle got the lane booked - and started promisingly against their Australian rivals, Burras quickly showing the experience he has gained in his debut international season.
Whittle delivered a sub-48 swim to keep England right in contention for the title, before Guy dived in for his first swim of the meet and handed over to Dean with England in second. Dean showed no fatigue from his exerts in the Men's 200m Freestyle finale, delivering an incredible 46.70 anchor-leg split to haul 
Dean reflected on his swim, saying: "I was aware of that, it's a bit of a surprise actually - my fastest ever relay split right after a 200m Freestyle final. 
"Sometimes you just have those swims with the energy of the crowd, the energy of the event, chasing down an Aussie, with these boys behind me, it just carries you to something special that you wouldn't otherwise be able to do."
Burras added: "I led off both the relays and I'm so proud to say I get the opportunity to lead these boys into battle.
"Tonight it's bigger than myself, it's bigger than my team, it's about inspiring the next generation. If there's at least one person in that crowd that goes back tonight with a dream of being where we are one day, we've done our jobs."
Wales' men produced a brilliant swim of their own, missing out on the podium by one place as they finished fourth. Dan Jones, Matt Richards - in a 47.49 split - Tom Carswell and Calum Jarvis placed fourth. 
Meanwhile, earlier on in the programme two Team England swimmers sealed their progress in the Women's 50m Freestyle. Hopkin, who trains under Mel Marshall in Loughborough will aim to be the biggest threat to an Australian podium lockout tomorrow night with a confident second place swim in her evening race as compatriot Hindley got her hand to the wall in the single length sprint of the pool to take the last lane draw available for the final. The young Team Scotland pairing Emma Russell and Evie Davis also built upon the experience of their debut Commonwealth Games with a semi-final showing.
A rapturous noise filled the arena for the Men's 100m Breaststroke as James Wilby took the touch in the first semi-final, before Team England teammate Adam Peaty stamped his authority on the qualifying rounds on his competitive return from the injury that forced his absence from the recent world championships. Team Scotland duo Ross Murdoch and Craig Benson additionally added their names to the start list for the final with the sixth and seventh fastest respective times, with Archie Goodburn, Greg Butler and Kyle Booth bowing out at the semi-final stage.
Meanwhile Harriet Jones and Holly Hibbott received home crowd support as they flanked differing outside lanes of the pool in the Women's 100m Butterfly final. Neither were able to impact the podium positions but both increased their qualifying ranking by one place apiece.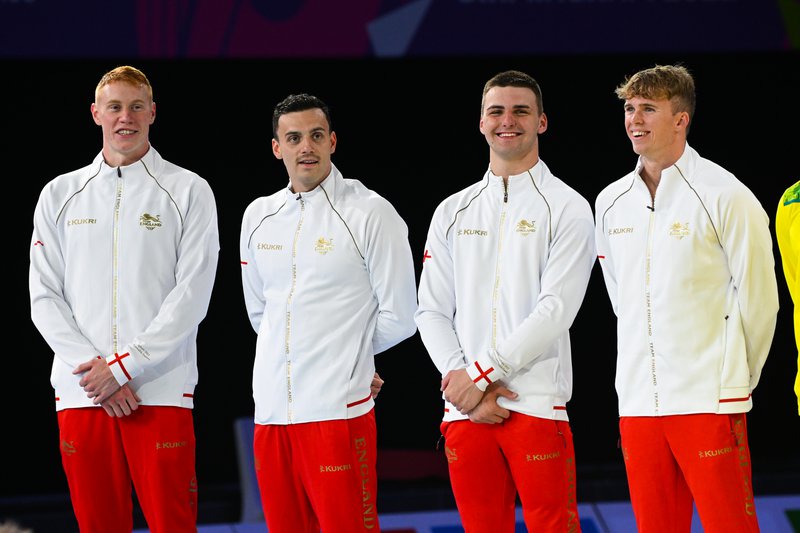 With Team Wales yet to register on the swimming medal table, Medi Harris will bid to break that duck as she transfers her blistering form displayed a month ago in Budapest into the Birmingham pool, nipping in ahead of Lauren Cox (England) to progress as the third fastest seed. Katie Shanahan (Scotland) earnt her Women's 400m Individual Medley bronze medal from an outside lane, and will occupy such a position once again in qualifying seventh, whilst Cassie Wild, Holly McGill and Charlotte Evans were short of the top eight on this occasion.
Click here for full results and schedules. 
For full information on how to follow every big moment from the pool in Birmingham, visit our Birmingham 2022 guide here.