The most dramatic of relay victories secured Great Britain's third gold on Friday night, following emphatic individual wins for Tully Kearney and Maisie Summers-Newton at Madeira 2022.
The penultimate night of action at the Penteada Olympic Swimming Complex in Madeira was an absolute thriller, with Great Britain winning a gold in the Mixed S14 4x100m Medley and bronze in the Mixed 4x100m Freestyle 49pts relays at the climax of the session - this after Tully Kearney and Maisie Summer-Newton had already stormed to individual golds on a record breaking day for the pair.
Spectators were treated to the most exhilarating of sporting contests with the debut showing of the Mixed S14 4x100m Medley at the Pars Swimming World Championships coming down to 0.01 seconds between Great Britain and Australia.
The British quartet was led out by Poppy Maskill on the backstroke, with Scott Quin taking over on the breaststroke to provide a solid opening platform for the team, however the Australians appeared to have amounted an unassailable lead for gold at the halfway point after front loading their relay team.  
In dived Reece Dunn, who cut the deficit down to three and a half seconds, before Bethany Firth set about chasing down the competition in the finest of anchoring performances. After first picking off the Brazilians to move up into second, Firth was hauling in the Aussies with every stroke and had just enough pool to do so as she got to the wall in a time of 4:09.29 - taking gold by a mere hundredth!
Dunn who has excelled in his relay contributions this week said:
"You always swim well for relays, they're a bit more exciting and give you a bit more adrenaline. We knew it was going to be close coming into the finish but Bethany on that last leg was amazing. When I saw the touch it was pandemonium."
The winning moment was magical for Quin, who added:
"I'm quite emotional - for me and Poppy we're less experienced in these relays so to have these two [Firth and Dunn] there, and to see Bethany coming in at that last stroke we've found a bit of fairy dust there to bring it home!"
Firth was full of humility after securing the win that secured her fifth gold of the event, voicing her praise for the three swimmers alongside her:
"This team is amazing, we have so many S14's so just to make the team is amazing, I didn't want to let them down and we got the gold. I was so glad to touch first, I didn't have a clue we had won until Reece started screaming!"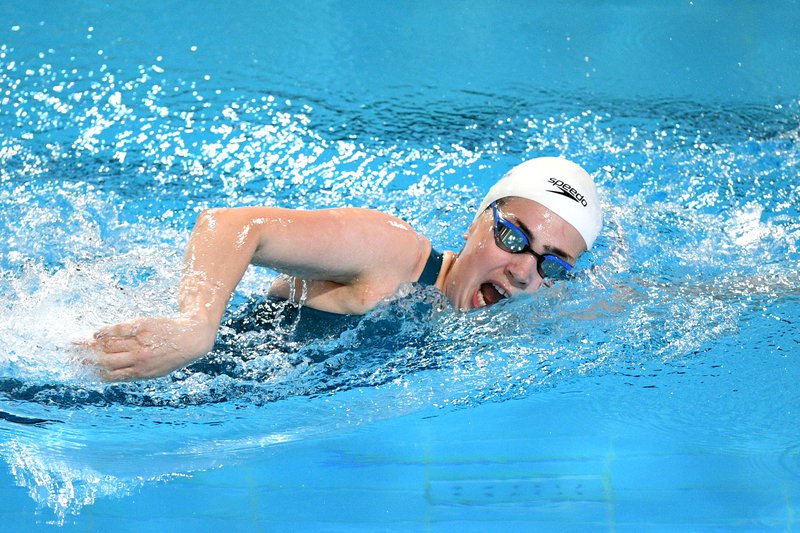 Meanwhile it was Tully Kearney who produced the first gold of the evening, taking down a 22-year-old World Record in the process in a dominant performance in the Women's S5 200m Freestyle.
Leading from the front, Kearney looked to banish any demon from her silver medal at the Tokyo Olympics in this event last year. Going out slightly slower than in that aforementioned Paralympic final the Manchester Performance Centre athlete was always in control right from the early stages, but it was the impressive endurance to maintain the pacing over the final length the saw Kearney take over 2 seconds off the previous World Record, stopping the clock at 2:42.36.
With the previous World Record being set in the year 2000, this was one of the oldest records in world para-swimming to still be standing. After the race, the 25 year-old was delighted with her showing, shining some light on how she made the difference following the Olympics last year.
"That is just absolutely insane obviously, I've been adapting my training a bit because of my shoulder. We kind of changed it up and did something slightly different to Tokyo with less miles but more intensity so I wasn't quite sure what would happen over the longer distances but obviously it's paid off and I just can't believe how quick I went.
"I've got so many people to thank but the British Swimming physio and soft tissue therapist's Sam [Baldwin] and Ritchie [Barber] have worked really hard on me tonight, I've really struggled recovering between heats and finals and if it wasn't for them I wouldn't have of been able to do that so I really grateful to them."
Kearney will carry confidence from such a performance into the final day of competition on Saturday, where she will look to triumph in the S5 100m Freestyle and complete the set of world titles she secured back at these championships in 2019.
The success continued in the Women's SB6 100m Breaststroke, with Maisie Summers-Newton dominating from start to finish to claim her third world title in Madeira. With every stroke the Northampton swimmer pulled further clear of her competition to come home in a time of 1:32.19, just a few hundredths off her own European Record which was set in heats earlier on.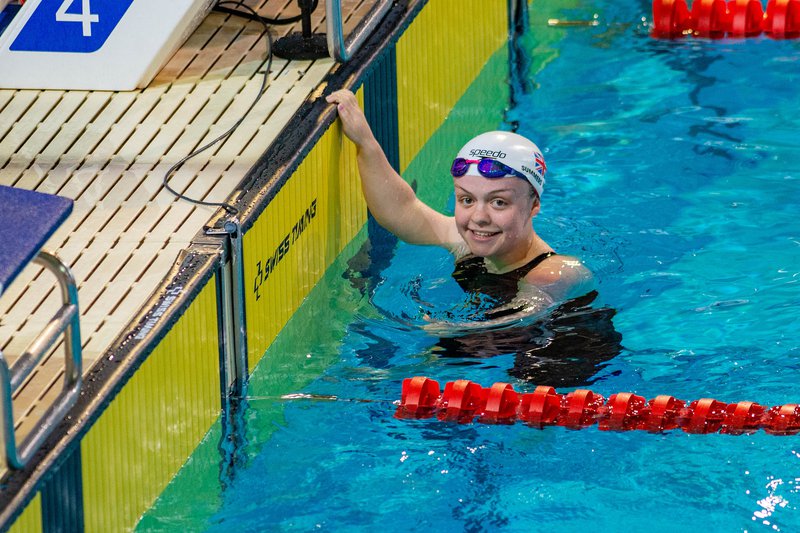 "Obviously I wanted to retain my title in the Individual Medley and I did that, but to get these last two [in the 400m Freestyle and 100m Breaststroke] is a bonus. It shows I'm in a good place a year on from the Paralympic Games and I'm really happy." said Summers-Newton
"I wanted to just go out there this morning, give it my all and try to go faster tonight but to go practically the same time, I'm really happy with that."
The final medal of the day was won by the Mixed 4x100m Freestyle Relay 49pts team as Hannah Russell, Matthew Redfern, Scarlett Humphrey and Stephen Clegg combined forces for bronze.
The mixed element of these relays adds much excitement, as with teams formulating their race strategies in different ways it creates a fascinating spectacle by the nature of how the positions frequently change hands.
Russell led the team out superbly to hand over to Redfern, who was persuaded to return the sport competitively for nights such as these, commenting:
"I've come back from retirement and I couldn't really ask for much more. The feeling when you're stood on the podium is unbeatable, I was close to tears. I'm very emotional but it made it all worth it 100%."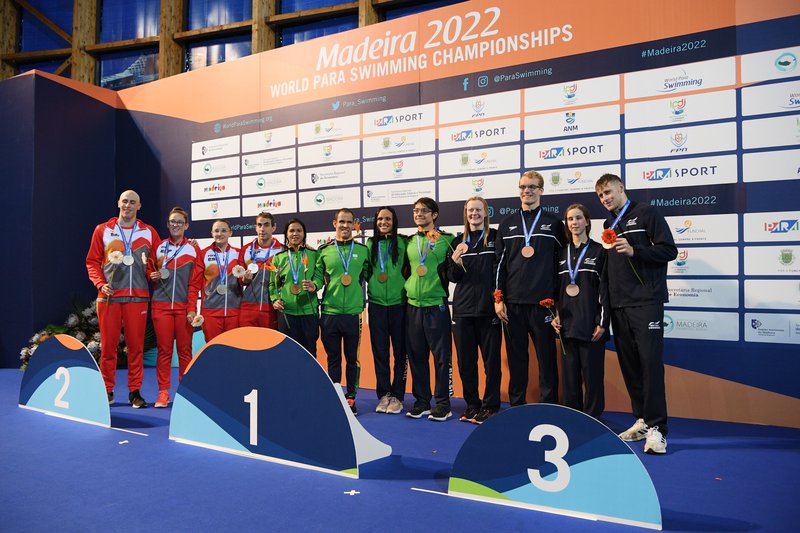 Clegg provided the anchor to the team, and provided encouraging word on the quartets accomplishments and potential.
"That relay was something special. Every single member played their part very well and it was a close fight for that bronze, not a single one could've done it without any of the other members. I can only say a big thanks to Scarlett for giving me such a good leg, I was full of confidence going in - I've said before that these two Humphrey girls are going to be our secret weapons for Paris and I standby that."
Elsewhere, Will Perry was in action as he took down the British Record on his way to a fifth place finish in the Men's SB6 100m Breaststroke final. After the heats he spoke of his desire to continue his form, and his finals time of 1:25.93 saw another drop remarkable to lower his personal best by three seconds over the course of the day.
Commenting after the race, he was happy with his progress in the event:
"It can feel a bit of a shame to miss out on the podium but you can't control what others do. I've knocked time off which is what we wanted. Last year I was going 1:31, at Tokyo I went 1:30 and this year I've swam in the 1:25's. The work I've done with Andy [Sharp] and Northampton Swimming club this year is just fantastic, I owe this progress all to my coaches and teammates - bring on the next few years!"
Continuing the night, a solid swim from Zara Mullooly saw her touch sixth in what was stacked field in the Women's S10 100m Freestyle final. In what has been a transitional year for the athlete; starting university and a new program, amongst other elements, Mullooly gave a bit of insight into how her regime has changed since the Paralympic Games last year.
"It's completely different training that I'm doing this year. I've always trained for long distance so this year has been about the transition into speed training so I'm still getting used to it. Hopefully over the next year I can improve on the things I've got to work on from this."
Prior to her relay involvement, Scarlett Humphrey contest the straight-final of the Women's S11 100m Backstroke. After a solid start, the Northampton swimmer was on the hips of the front three swimmers in the middle lanes to the halfway point, and came back homebound to be rewarded with a valiant fifth place finish for her efforts.
Find full schedules and results on from Madeira 2022 here, with details of all the British athletes in action and where to watch on our 'What's On?' page.