The legendary jump jockey Sir AP McCoy won many accolades during a glittering career that spanned more than two decades. 
He was named champion jockey on 20 occasions, rode 4,357 winners, claimed the iconic Grand National title on Don't Push It in 2010 and was ultimately knighted for his services to horse racing in 2016.
Now, five years after his retirement, he may also be playing a small part in Suzanna Hext's dreams of Paralympic success. 
Double World Para-Swimming Championship medallist Suzanna - who claimed Women's S5 50m Freestyle silver and 100m Freestyle bronze in London last September - is counting down the days until she can return to training at Swindon ASC in the week commencing 10th August, while a chance to get back to work at the National Performance Centre (NPC) in Manchester is due to follow next month. 
But in the meantime, a casual enquiry to friends-in-equestrianism AP McCoy and wife Chanelle has given her a unique opportunity to get back in the pool. 
"The whole family have been extremely generous and incredibly kind to give me this opportunity. I knew the McCoys before, but I never thought I'd need to ask to use their pool, to be fair!" explains Hext.
"I messaged Chanelle in lockdown, saying, 'I don't suppose when I move back (from her family home in Cornwall) that I could use your pool?' They were more than happy, and over the moon for me to do that.
"It's been really lovely. Having their support, as well as, knowing they are always there if there's a problem, it has been really special.
"I feel like I'm living there at the moment! I'm literally there every morning, I quite often pass AP on the drive, and then after my session, as it has been such amazing weather, we've sometimes been sat outside, just chatting.
"Their support has been immensely helpful, because without them I may have been left just watching people in the pool elsewhere. At least I can still swim this way. 
"I've had the Zoom coaching sessions in their pool with the NPC team - Lauren Jocelyn, Graeme Smith, Jonathan Fox and Rob Aubry. I genuinely never thought it was going to work. I thought the coaches would never be able to see me to the end of the pool on a small camera. But it has worked, it's really helpful and it's definitely filled a gap, that's what I needed.
"I feel like with my open water swimming (which Suzanna does every Saturday, alongside Swindon coach Dean Fouracre), my sea swimming in Cornwall and AP's pool, they have all held me in good stead during lockdown, because I've been able to basically continue my swimming throughout." 
Suzanna has felt support from elsewhere, too, during an uncertain period for the whole of the country and beyond.
That goes for her continued training efforts, away from Swindon and the NPC in Manchester, as well as in day-to-day life.
"The whole team at British Swimming have been so supportive. I've honestly been slightly blown away by the phenomenal support we've had from the coaches, practitioners and support staff," she adds. 
"We've had lots of sessions and catch-ups put on via Zoom - strength and conditioning, shoulder and core sessions, mobility, Pilates, mindfulness, yoga, talks, the list goes on.
"We even had a sign language session, put on by fellow teammate Brock Whiston, which was extremely helpful, especially for me as I have a severe hearing impairment. We've had coffee catch-ups, just chatting about where you're at mentally and how you're feeling about the situation at that present moment in time. 
"Being honest has helped, because you can offload on each other. I've found that really helpful.
"The team have been really supportive, which has meant a massive amount to everyone. Okay, you're not with each other in the pool environment, but you've seen each other's faces a bit more, which I think is important when you all feel a bit isolated and there's so much unknown.
"I think the COVID pandemic has brought people closer together, and more people are helping each other out. That's certainly what I've noticed.
"My family have been amazing at supporting me, and now to have AP and his family helping me, means the absolute world to me. 
"When I moved back up to Cirencester from Cornwall, it was amazing the amount of neighbours who'd noticed I'd not been around and wanted to help me once I got back.
"I've noticed that COVID has given many people time to reflect, and allowed people to step off that continuous hamster wheel that we end up on in life… I think a lot of people will learn something from the time we have all spent in lockdown." 
Suzanna was back at her family home in Cornwall during the height of lockdown - but even then, she continued to get in the water by swimming in the sea, a pastime she has long taken part in. 
As some level of normality resumes, the freestyle specialist is gearing up for that return to the Swindon pool, and then subsequent stints back up in Manchester, as focuses start turning towards the build up to next summer's rescheduled Paralympics in Tokyo.
"I'm someone who likes a plan, so I am looking ahead. But it's fairly hard to plan too far ahead at the moment, because we really don't know even what it'll be like at Christmas," she adds.
"Obviously my aim is the same as it was this year, which is to be at the Games. Hopefully I can do stints in Manchester and then some here as well, training with Dean in Swindon, and strength and conditioning at Bath University with Mike Peacock.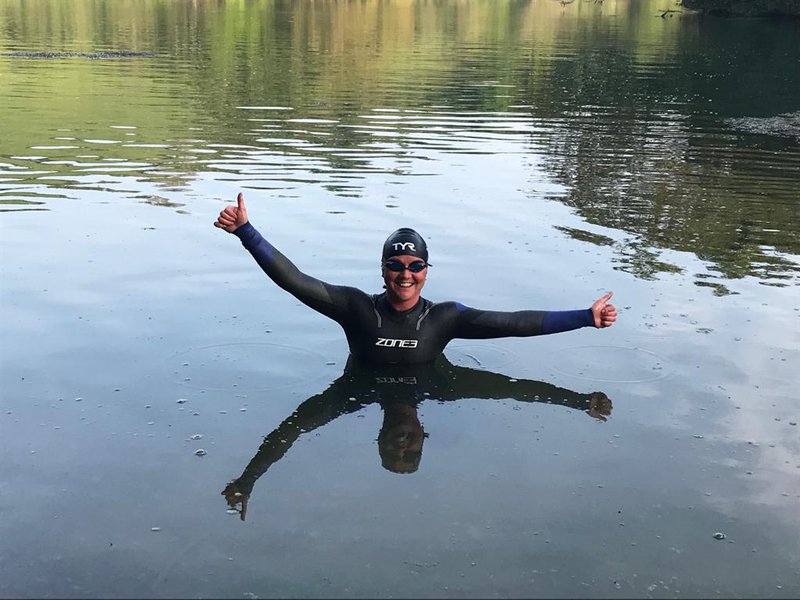 "They coordinate the two really well. Because I'm a very outdoorsy person, I don't think I'm a person that could be in a city the whole time, if I'm honest - but they have been really good at coordinating the two and making sure it works.
"I do get a lot out of the blocks at Manchester in terms of moving my training forward, and the trip to Japan back in January was immense. 
"The biggest step forward I've taken was probably in Suzuka training with Rob Aubry, which was then followed by training with Lauren Jocelyn in the NPC Manchester straight afterwards ahead of trials. I felt in a good place.
"I would love to repeat that! Obviously we won't be going to Japan again, but if I can feel like that, as I was when I thought I was going into trials, then that would be incredible. 
"But you just never know. That's the thing with everything in life. You just don't know what is around the corner. The key is to enjoy and treasure every moment and to make the most of every opportunity in life. This is certainly something my accident has taught me along the way. 
"I have come off social media at the moment, I want to live in the moment a bit more, have time to process some tough decisions and enjoy what I'm doing. Less scrolling, more living, as they say! I will come back to it, but now I've done it, I feel like it might be a good idea to do every now and then going forward.
"I feel like I'm in the right place to up my training again. I'll probably be like a little kid the night before getting back in at Swindon and Manchester, I'm already super excited!"
When it comes to excitement and focusing on things she enjoys, Suzanna has a passion beyond swimming.
She is a keen rider, having picked up a trio of gold medals at the European Para-Dressage Championships in 2017. Indeed, she was back on a horse within a day of returning to Cirencester, at her trainer Pammy Hutton's yard. 
So, after lengthy breaks from the pool and riding, what took longer to get used to again?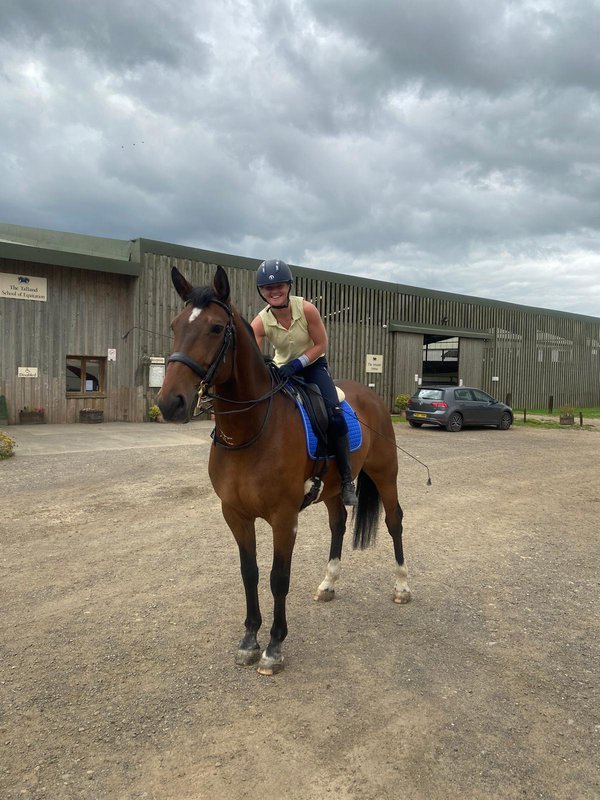 "I was quite surprised. I think because I hadn't really stopped swimming, it felt pretty good, I've just got a couple of habits that have crept in from my open water swimming, which I am in the process of trying to get rid of!" she explains.
"It's a 12-metre pool at AP's. So if I don't get good at tumbleturns by the end of lockdown, there's something wrong! 
"Because I'd been swimming in open water and the sea, I hadn't done any tumbleturns for ages. Then suddenly I'm doing them every 12 metres. So, that was probably the biggest thing to get my head round again. One of the areas I struggle with is perception of where my body is in the water, so I had to almost retrain my brain again to remember how to do that. It's back on track again now.
"Riding-wise, it uses a lot of core. People think the horse does everything, but that is definitely not the case! We've had quite a lot of core sessions with the NPC team during lockdown and in my strength and conditioning programme, which has been fantastic, as it's not only helped me in the pool, but it has also helped me get back in the saddle at Talland, without feeling too unbalanced and out of practice!"
We also caught up with Suzanna's National Performance Centre teammate Hannah Russell recently, to find out how she has been getting on since returning to the pool in Manchester. Read that feature HERE.
* lead image courtesy of Harry Wallis