The World Para Swimming Championships in Madeira are fast approaching - and the bulk of our British team have been continuing their final preparations for the competition experience and environment with a valuable warm-weather camp. 
A strong section of the Worlds outfit, along with a team of staff, headed out to Lanzarote for a two-week block of outdoor training, as the countdown continues to the first day of competition at the World Championships on 12th June - nearly three years since the last such event, when London played host to a memorable competition. 
As well as providing the swimmers with a focused schedule of pool and land work, the Lanzarote camp also allowed those involved to concentrate on areas such as nutrition and recovery, which play a key role in the build-up and duration of major meets. The value of the team building that occurs on such trips can also not be overstated, something a quick glance at any number of athletes' Instagram pages will attest to. 
For Rob Aubry, British Swimming's Head Coach for Paralympic swimming, the camp had a multitude of benefits to all involved.
"The Lanzarote camp was designed for the last block of hard work going into the World Championships. Now we're back, we've got about three weeks before we lead into Madeira, and it's just given the athletes the opportunity to train hard, while maximising nutrition and recovery, when the athletes don't have to do all those area themselves - that is provided for them, so they can focus on their swimming and recovery, with a bit of vitamin D as well," he said.
"We chose Lanzarote due to the location, the accessibility across campus and also the exposure to outdoor training, which the majority of our athletes really enjoy. Some of them do find it a little difficult in the backstroke, without having a ceiling to follow."
"On campus, we had use of all the other activities, so the swimmers can unwind by doing some yoga, pilates and other water-based activities if required too."
One key part of this camp was the chance for staff to rehearse with tappers, the long sticks that are used to alert S11 athletes when they are needing to turn or stop. This is crucial for international debutants Scarlett and Eliza Humphrey, with the Northampton Swimming Club pair both competing in S11 events. 
"This was the first camp in around 10 years where we've got S11 swimmers involved, so the staff have been practising using the tappers at either end, and the athletes have been getting used to us tapping them, getting ready for the race environment out in Madeira," added Rob.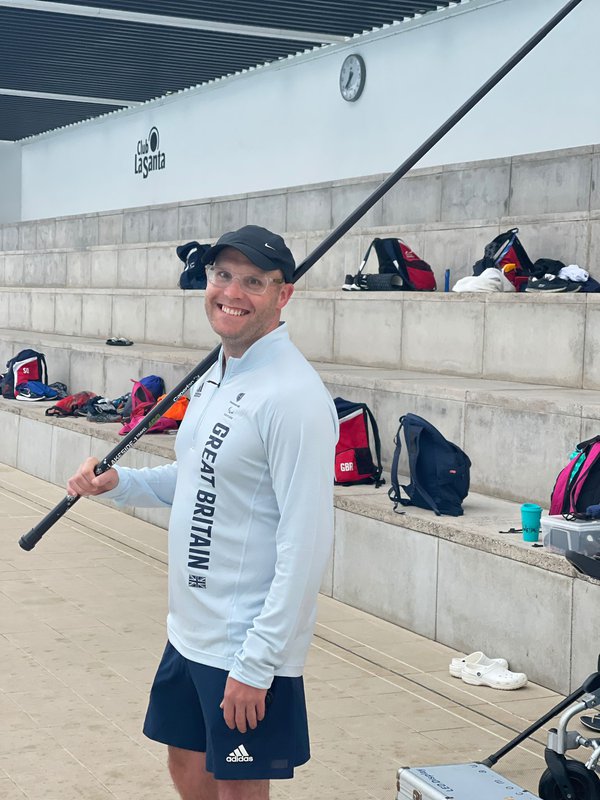 All in all, the fortnight on camp has got Rob looking forward to what is around the corner in Madeira, as a 30-strong British team prepare for their first major competition since last year's Paralympic Games in Tokyo, when GB cohort returned with 27 medals - including eight golds - won in the pool.
"The camp was a really good one with great value for both athletes and staff - and we're now in a great position to look forward to the final block of preparation into the World Championships," he said.

To remind yourself of the full team heading to Madeira, click here. Catch up on an in-depth feature with Oliver Carter, who is set for his World Championships debut, here.