It has been an unprecedented year, defined by a global pandemic, lockdowns and uniquely difficult circumstances for everyone.
In the world of elite sport, the postponement and rescheduling of the Olympic and Paralympic Games in Tokyo was a big moment - and one that athletes have been adapting to ever since, in many cases with positive mindsets towards the prospect of another year of training before the Games. 
When it comes to positive mindsets, look no further than Stephanie Millward. The double Paralympic champion knows nothing other than staying upbeat and making the most of any situation, even if refocusing from the summer of 2020 to one 12 months down the line meant quite a change for her plans.
"It just means that somebody doesn't want me to quit!" she explains. 
"I was all ready to retire after 2020, but now I've got another year of training, so therefore another year of staying fit and another year of swimming.
"I love swimming. I love the training, I love racing, I love everything about it - apart from getting wet right at the beginning! I absolutely love it, so this is just another year of it. I'm happy, and the rescheduling has worked in my favour, definitely.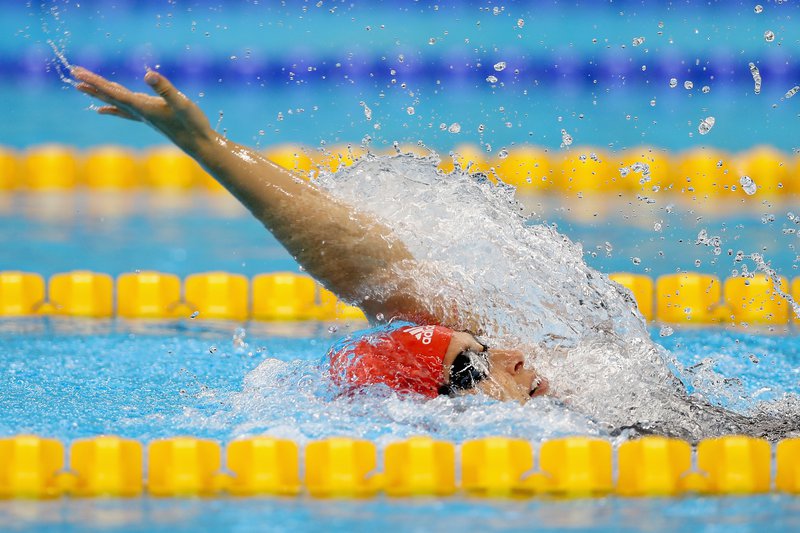 "For me, the whole situation of this year made me stop and think about priorities. I'm doing really well, actually. 
"I have managed to get everything well organised so it's all 100 per cent. Training-wise, throughout lockdown earlier in the year I was able to swim with the able-bodied team at Bath University, which was fantastic. Then I'd got yoga, we had yoga sessions over Zoom, and gym sessions which I do at home - I've got a static bike, so I keep myself busy on the bike and going for a walk every day. I do meditation every morning. I feel very lucky, very happy and very chilled."
A new addition to Stephanie's routine ahead of what could be her fourth Paralympics, practising meditation seems to have played an important role in helping her remain so composed and content over a turbulent 10 months. 
"It's something I took up for this four-year cycle towards Tokyo. I find it very beneficial, because it puts your head in the right place," she says.
"So I do it in the morning before I start doing anything, and the whole day is then set - you're ready for whatever comes. It can even help you be ready for the lockdown or anything else. I think it's a fantastic thing to do. Everyone should do some form of meditation."
Being able to manage one's mental wellbeing, an ever-important quality, has been particularly crucial given the unusual circumstances of recent months. 
While the relaxation of meditation is one way that Stephanie has maintained an internal equilibrium, the freestyle specialist - who won two relay golds at last year's World Para-Swimming Championships in London - also gets plenty from throwing herself into her work, out of the water as well as in it.
"I love swimming, and then I love being in the garden, I love flowers and beautiful things - but I'm also passionate about my work," says Millward.
"I work as a part-time book keeper, and I absolutely love that. I love numbers. Numbers are good, because with numbers, you always get a correct answer. I'm studying as well, some part-time study from home at the moment.
"I really enjoy learning, I really enjoy being active and keeping myself quite busy. I'm not one of these people who likes to sit down in front of a television and just watch TV shows all day, I prefer to be doing something and keeping myself busy." 
The TV screen might not be a preference for Stephanie, but as with most other athletes during the time of coronavirus, the shiny surface of a laptop screen has become a big part of her at-home training.
"I don't know who invented Zoom, but what a good thing it is and what a good way to do it all!" she adds.
"The Zoom sessions have been fantastic, because even just chatting to the rest of the British team once a week or once every few weeks, I think it makes such a difference to everybody.
"You don't realise it until you start chatting, but you're able to get rid of any fears or any thoughts you need to. It's like chatting to your friends whenever, and I think that's wonderful."
Nine-and-a-half months out from the rescheduled Paralympic Games in Tokyo, Stephanie and London 2012 teammate James Hollis have both decided to run for election to the British Paralympic Association's (BPA) Athletes' Commission. 
Given how much 10-time Paralympic medallist Millward values that communication and virtual bonding, it comes as no surprise to hear how passionately she speaks about representing her fellow athletes in the best way possible. 
Indeed, the advisory role may be more important now than it ever has been.
"The Athletes' Commission has been so outstanding. I've been to three Paralympic Games and they were wonderful - the help they gave, everything was outstanding," says Stephanie.
"We were looked after so, so well, in the best possible way going into the Games. I've witnessed how well things have been done by them that I feel it's my turn to give back. I would like to see if I can try to do the same for this Games and more in the future.
"A lot of people have had their mental health hit and felt a bit of loneliness, a bit of uncertainty. Everybody needs all the help they can get.
"I think being a face for the athletes would be very good and I would be honoured to represent them. I think I'm an approachable person, so hopefully people would come and speak to me if they need to.
"So I feel well-suited and well-connected in the para-sport world. I am so grateful for everything the Athletes' Commission has done, and I think I can do something more.
"With James running as well, working together would be great, so it'd be good if we both got a part on the Commission, because swimming is such a big sport as well." 
Hollis retired from competition in 2018, having represented Britain at every senior international level. 
Now a strength and conditioning coach, the former Loughborough University athlete has shown the value of skills learned throughout his career in the sport - and that is something he is keen for all British Paralympians to be in a position to do moving forward.
"I am running for the Athletes' Commission as I believe that, as one of Britain's leading Paralympic sports, we must do everything we can to help support and grow the Paralympic movement," explains James.
"I am determined to support all athletes in achieving on the greatest of all stages, as well as in all other areas of their lives, allowing for a greater appreciation of their exceptional achievements. I believe that transitioning post-sport and having the support to be successful in the world after their athletic career is so important and would allow for athletes to be comfortable having a longer, more successful career.
"Finally, with current affairs that transcend sport, we must allow Paralympics GB athletes to have a voice to promote better futures for all." 
Voting for the BPA's Athletes' Commission is now open until Wednesday 25th November. All people eligible to vote in the election will receive an email with more information about how they can vote. For further details, contact athletescommission@paralympics.org.uk.
To view Stephanie's campaign video, click HERE. To view James' video, click HERE.