In many ways, Toni Shaw's last competitive event in a swimming pool was a completely new experience. For one crucial reason, though, it all felt very familiar to the six-time World Para-Swimming Championships medallist. 
Freestyle and butterfly specialist Shaw was one of 72 athletes from across the globe who took part in the inaugural Lebara's Race The World heats last month, as the brand new virtual event, hosted by British Para-Swimming, allowed athletes to get a taste of top-level competition again after months of lockdown and coronavirus-related disruption.
Such was the quality of Toni's swims, she is now preparing for December's final, in which she will go for the multi-classification Women's 50m Freestyle, 100m Freestyle and 100m Butterfly crowns. 
So just what does it feel like to stand on the blocks with no rivals alongside you, a camera focused on every stroke of your performance and having no idea how your competitors are faring in the very same race - potentially on a different continent?
"It was definitely different, but I really enjoyed it!" says the University of Aberdeen athlete. 
"Obviously we haven't raced for so long, and even if it's not quite the same as racing is normally, you still get the pre-race excitement and nerves, even if it's in a different way.
"I really enjoyed it. You don't want to forget what it's like to have those race feelings! 
"Because you're not racing against people, it is a bit different preparing for these finals - but you still obviously want to swim as fast as you can.
"I swim with Conner Morrison at Aberdeen, and he has also qualified for a couple of finals (in the Men's 50m and 100m Breaststroke events), so we have little competitions among ourselves as to who can go faster and get the most points. That adds a little bit more competition for us as well!" 
The unique events of 2020 mean that virtual events such as Lebara's Race The World are only one of a myriad ways in which technology and online connections have played a key role in elite sport.
Shaw and many of her club and national teammates have benefitted from the creative approach that has been taken, both when it comes to training and the more social side of aquatic sports.
"I think Zoom has saved everybody! At my club, we did Zoom workouts every day, we did quizzes and other things like that too," adds the 17-year-old, a reigning world and European champion.
"Scottish Swimming and British Swimming put on activities as well, so you were seeing lots of people and it kept you busy. They have put on so much creative stuff, and that was really great. 
"They could've just left us to our own devices, but they organised so many different things to keep us chatting to each other, and also to keep us active at the same time." 
If any of Toni's teammates do catch up with her over Zoom or FaceTime in the coming weeks, they might spot a new trophy on her mantelpiece. 
Shaw was named Young Sportswoman of the Year at the Scottish Women in Sports Awards - another virtual event - last week, a year on from making the 10-person shortlist for the BBC Young Sports Personality of the Year, alongside fellow World Championship star and friend Maisie Summers-Newton.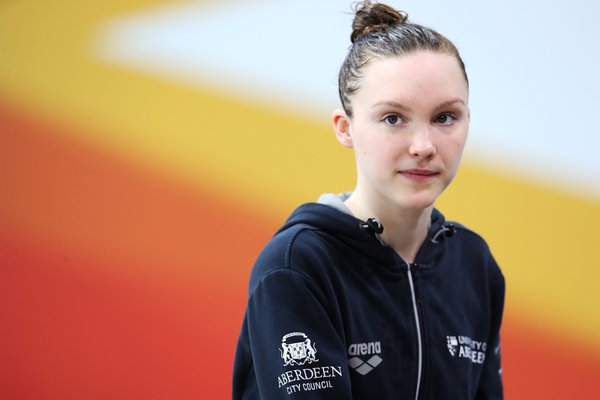 "It was crazy to win the Scottish Women In Sport award last week, I was not expecting it, but it was so nice," says Toni.
"Award events would normally be happening at this time of year, so it was great that they still put it on, even if people haven't performed this year because they weren't able to. It was really nice." 
Toni is grateful and excited that her training in Aberdeen is able to continue apace at the moment, in line with all relevent government guidelines and social distancing measures - factors that the Team Scotland Commonwealth Games competitor admits now feels like "the new normal". 
Her focus is very much on qualifying for next summer's rescheduled Paralympic Games in Tokyo, where she will be looking to make her Paralympic debut.
Before then though, are those three final swims in Lebara's Race The World, before she sits down to find out how she got on and watches the results unveiled on the livestream, which will run across British Swimming's channels from 16:00 GMT on Wednesday 16th December.
"It'll be so exciting to see it - especially because there are obviously so many swimmers from across the world involved. It'll be great!"