World champion Brock Whiston has thanked British Para-Swimming for the support they have shown through the COVID-19 pandemic, helping her stay on track towards the rearranged Paralympic Games in Tokyo.
Discussing the support on offer during the lockdown period, Whiston explained:
"There's always contact, even if it's just through a weekly email letting us know what's available that week.
"I'm very independent and don't like to ask for help, but if I don't message any of the team, after a couple of weeks they are straight onto messaging me to check I'm ok. In fact they're just very proactive in coming to me, more so than I am in terms of asking for help, which is great. They could easily just let me get on with it but they always check in to see if I'm ok."
Over the last six months of this strange year, British Para-Swimming have offered no fewer than 156 hours of virtual support, encompassing a whopping 162 different activities. Ranging from the essentials, such as strength and conditioning sessions, to team quizzes, mindfulness sessions and Feel Good Fridays, Whiston explained there was something for everyone.
"It was really nice that there was such a variety of options. I'm not going to lie, not all the sessions appealed to me, because everyone has different things they enjoy, but the variety was great and you could choose to do them – it wasn't like it was forced upon you.
"I particularly used it on the down days to pick me up."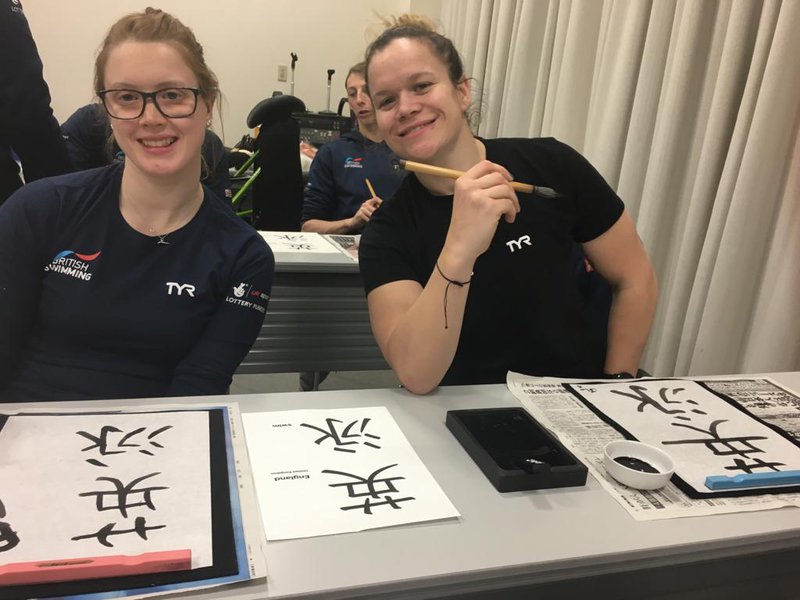 So what did appeal to the Essex swimmer?
"I loved the Feel Good Fridays – I enjoyed hearing from different speakers outside of the sport, hearing about their experiences. But my favourite session was definitely the katsu curry session! It brought all the aquatics sports together, which was really nice – it was nice to do something with able bodied swimming and diving as well."
The aforementioned session, brought together with the help of Connect with Japan and Yutaka, saw some 80 athletes take part in a virtual cooking class, as they learned to create a traditional Japanese dish. Whilst undoubtedly a lot of fun, the session, with its Japanese twist, will help our athletes keep one eye on the Tokyo Games next year.
It got even more hands on for Brock during the lockdown period though, as she delivered a sign language lesson for her peers, as she explains.
"I spoke to Justine, our Performance Lifestyle Advisor, about the sessions that were being done. In Japan, Tully [Kearney] ran a lot of sessions and I thought it would be good to run a session for the athletes. I decided to go for sign language, as Suzanna Hext said she wanted to learn it and so I thought it might be nice to do it as a team.
"I did the session over Zoom and we just did some basic sign language, such as greetings and some swimming terms.
"It was quite nerve wracking, as I'm obviously not a teacher, but it was actually really fun and once you're actually doing it with all the other athletes, and they're learning it wasn't quite as scary as I thought it would be. It was actually quite enjoyable and a lot of fun to be with a group, rather than just being on your own during lockdown."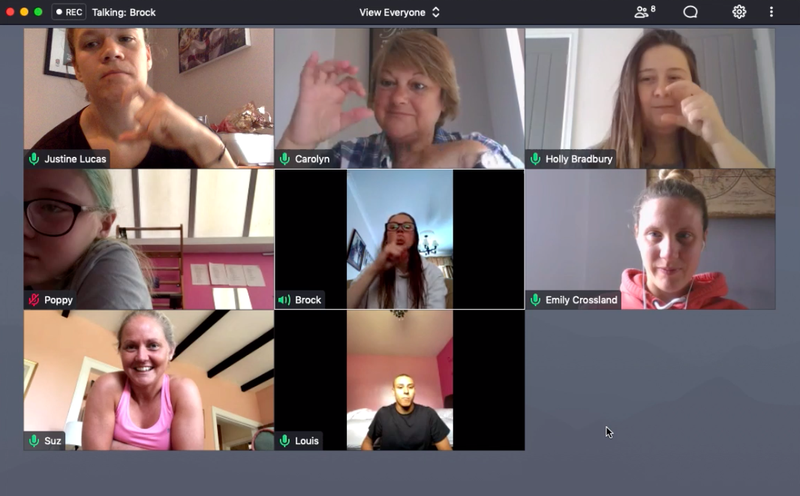 Now back in the pool and back to full training, Brock and her teammates have endured a challenging six months, however National Performance Director Chris Furber notes how they've all learnt a lot about themselves.
"When the pandemic started the whole team responded amazingly well. It was challenging to go from our 'normal' planning and preparing for Tokyo, to supporting all our swimmers and their coaches and parents in a new way, almost overnight. The staffing team spoke frequently and worked tirelessly to ensure we delivered not just an engaging programme of activity but also maintained the enthusiasm and momentum throughout the period the swimmers were out of the water. It was also really pleasing to see swimmers like Brock and Tully really taking ownership for supporting their peers.
"Consistency of contact and ensuring the information was relevant were critical but we also wanted to make sure that the information was accessible to all the differing impairment groups we work with. Those are elements we've learned a lot about and we'll look to keep moving forward."
So what will Whiston be keeping as part of her 'new normal' routine?
"Stretching is the big one for me! Before lockdown I didn't care about foam rolling or anything like that, but during lockdown I've stretched a lot more after sessions and I've learnt it's not as bad as I thought it would be! I've basically just learnt to think about rest and recovery a bit more."
It'll be all about dotting the i's and crossing the t's over the next 12 months, with recovery clearly key, as our para-swimming stars gear up for Tokyo once again.