Duncan Scott and Adam Peaty picked up their first individual International Swimming League (ISL) victories of 2020 to round off an excellent afternoon for British athletes in Budapest that saw London Roar clinch a convincing match win.
Roar duo Scott and Peaty had played their part in helping the UK-based franchise into a dominant lead by the end of racing on Sunday – and they backed it up in the Duna Arena on Monday afternoon, with Anna Hopkin, Kathleen Dawson, Emily Large and Aimee Willmott also contributing well. 
Three-time world champion Scott recaptured the form that saw him anchor London's Men's 4x100m Freestyle Relay team to first a day earlier in powering to an impressive 200m Freestyle triumph. The win owed much to a brilliant middle 100m, before the University of Stirling man held on well as DC Trident's Zach Apple powered back late on. 
Within 20 minutes or so, Britain had their second individual victor of the session. This time, it was the turn of Peaty to secure his maiden ISL win of 2020, touching first in the Men's 100m Breaststroke to make it four wins in that event since the start of last year's championship. 
On the success, the Olympic champion and world-record holder said: "It's always hard coming in against world-class guys, especially when they're short-course swimmers – but it's all part of the training, I guess. 
"I know on top of the water I'm confident. Around the turns, especially with no races since February, those race skills have just dropped back a bit – but I'm happy with that swim. Everyone's in different places and it's great to come back with a win." 
This was arguably the best ISL session so far this season from a British perspective – and National Centre Loughborough newcomer Hopkin made an early statement with a brilliant swim in the Women's 100m Freestyle opener. 
Hopkin started well to finish second in that one, before going on to produce a big effort in the third leg of the Mixed 4x100m Freestyle Relay, setting teammate Marie Wattel up to bring her Roar quartet home in second. 
"I had so much fun racing tonight, and especially being part of London Roar and for the team to do so well on our first match - it's exciting to see where we can build from here!" said freestyle specialist Hopkin.
"It definitely took a few races for me to blow away the cobwebs but it feels so good to be back racing and hopefully we can only get better from here." 
Shortly after Hopkin's first success of the night, Emily Large caught the eye in a brilliant Women's 200m Butterfly race. Pushing Olympic legend and home favourite Katinka Hosszu all the way in a nip-and-tuck affair, Large – who trains under David McNulty at the National Centre in Bath – earned London six points towards their massive final tally by finishing third, having vied for the lead with Hosszu for much of the contest. 
Stirling-based Kathleen Dawson also enjoyed a memorable evening in the short-course pool by helping Roar to a one-two finish in the Women's 100m Backstroke, teammate Kira Toussaint the only person to touch ahead of her. 
In the Women's 400m Individual Medley, Aimee Willmott – a busy swimmer across the two-day event and another trained by Stirling's Steve Tigg – led after 300m of an intriguing race, before eventually finishing third.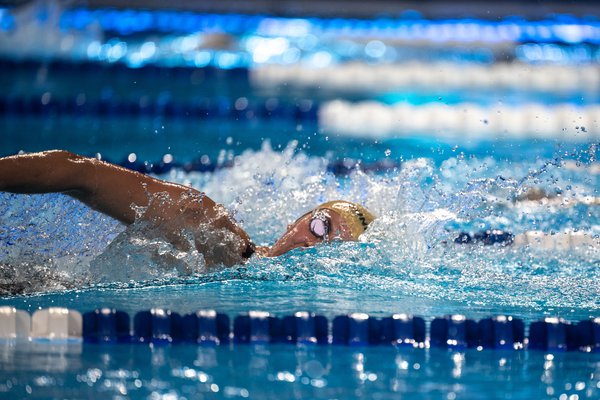 The overall result saw London well clear at the top of the standings with 609.5 points to their name. Team Iron (392.5) took second, with DC Trident (350.0) third and Aqua Centurions (344.0) fourth. 
A four-day break in the season now follows, before the Centurions and LA Current do battle with ISL newcomers Tokyo Frog Kings and Toronto Titans at the weekend. London Roar, meanwhile, return to action in match five on 30th and 31st October - with Emily Large looking forward to that after a promising start. 
"Being back racing was such a good feeling and one that we've all been waiting a long time for!  I can't wait to race again in a week's time and just get more race practice under my belt. We can only get better!"
Images courtesy of ISL.