Tully Kearney and Maisie Summers-Newton both set eye-catching world records on their way to maiden Paralympic titles as Britain's swimmers enjoyed a stunning session at the Tokyo Aquatics Centre on Thursday. 
Kearney produced a dominant performance to smash the Women's S5 100m Freestyle world best and claim Paralympics GB's first gold medal in the pool at Tokyo 2020 to kickstart day two's finals, before Northampton Swimming Club athlete Summers-Newton dived in less than half-an-hour later to double that golden tally at the culmination of a stacked Women's SM6 200m Individual Medley showpiece.
Kearney had already taken her place on the podium at these Games after claiming silver in Wednesday's S5 200m Freestyle finale – but after being pipped to the title at the touch in that race, she was not going to let anyone beat her to the wall over half the distance.
A strong heats swim secured centre lane for the seven-time world champion, and she quickly moved into the lead to take control by the turn. From there, Kearney's advantage just continued to stretch as she powered down the final 50m, moving ever further clear of nearest rival Li Zhang of China and the yellow 'world record pace' line.
No woman had ever gone under 1:16.00 in this event in the S5 category – but Kearney went even better, going inside 1:15.00 to clock a breath-taking 1:14.39. It certainly was not a time Kearney expected to see flash up on the scoreboard herself.
"I don't think I have words to describe that, I'm in shock really. I didn't expect to be able to go that quick," she said.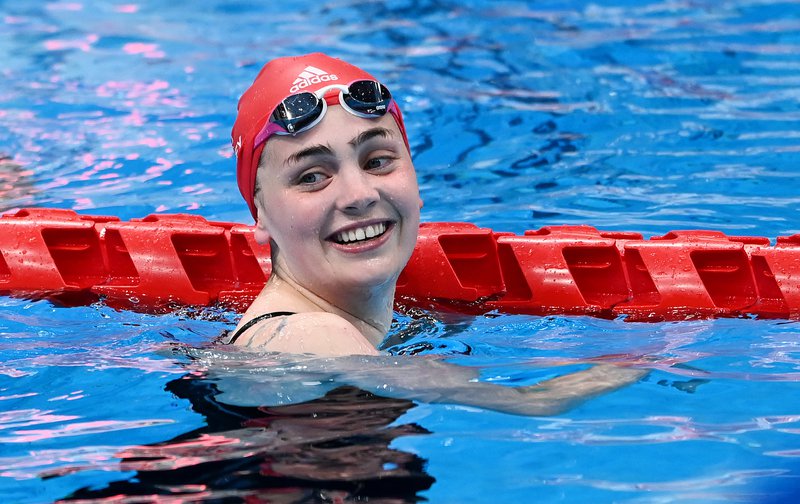 "I was quite frustrated with myself with how I swam the race yesterday. I was aiming for the world record in the 200m, but unfortunately through the injuries, I just don't have the fitness to hold on and obviously I just missed the gold. Today, I was absolutely determined that no-one was going to beat me, that I was going to go out there – I felt rubbish but I decided I was going to leave it all in the pool and see what I could do, and it worked!
"It's so worth it. I have so many people to thank. Firstly my mum, if it wasn't for her, I wouldn't have been able to push and get back to this level after 2016, it's something no-one ever thought would be possible. It's absolutely incredible. Even 19 days ago, I was in so much pain with my shoulder, we didn't think I'd be able to race. So the fact that I've been able to get here, it's all credit to the British Para-Swimming physio Ritchie Barber, who has spent so many hours on me. I owe this to him, my coach, the medical team from Paralympics GB, everyone who has helped me to get to this point. It's incredible."
Suzanna Hext, meanwhile, also secured final berths across both the 100m and 200m Freestyle. Incredibly, the 32-year-old recovered from an asthma attack after Wednesday's 200m final to come back and put together a strong display in the 100m, with Hext ultimately touching an agonising 0.06 seconds off a bronze medal in a fine fourth-placed finish.
One gold in the pool quickly became two for the British team on a memorable evening, as three Paralympics GB athletes lined up in the Women's SM6 200m Individual Medley – Summers-Newton, Grace Harvey and Opening Ceremony flagbearer Ellie Simmonds, who won this event at London 2012 and Rio 2016.
Summers-Newton went in fastest and as world champion, but with her world record having been taken in the heats. The Andy Sharp-coached athlete, who has also worked with Jacquie Marshall throughout her time at Northampton, found herself fourth at the halfway stage after the butterfly and backstroke legs – but a dominant 50m of breaststroke saw her overhaul all three of the swimmers in front of her to take a two-second lead at the final turn.
It still required a strong finish on the freestyle to see the 19-year-old home, and that is exactly what Maisie delivered, dropping a time of 2:56.68 to clock the new world record and ensure a place on the top step of the podium.
"I'm absolutely speechless. Paralympic gold is what I've dreamt of since watching Ellie in London, so to do it now, it definitely hasn't sunk in yet. It's incredible, I'm so happy," said Summers-Newton.
"I knew how badly I wanted it, so tonight I just thought, 'try your absolute best, put everything you've got into it'. On the breaststroke leg, I knew that was my strongest leg and where I could pick it up a little bit. When I saw how quick they were, I knew I just had to go for it. On that last length, I thought, 'just put your head down and go!' It obviously worked, it's incredible, I can't believe it!
"Thank you so much to everyone. Firstly, my mum, my grandad, my sisters, my nan, all my friends and family at home – without their support, I wouldn't be here at all. The National Lottery as well, behind the scenes, they definitely really helped me try to get here. It's incredible, I'm lost for words. Thank you everyone so much for watching, it just shows what Paralympic sport is becoming now."
Behind her, Simmonds and Harvey served a reminder of just how much quality there is in Britain's SM6 ranks, placing fifth and sixth respectively. Simmonds was brilliant over the final 100m, while Hoddesdon swimmer Harvey – making her Paralympic debut in Tokyo – pushed things well over the butterfly and backstroke sections.
Simmonds said: "I was pretty relaxed tonight, I wasn't feeling the nerves, the pressure was off me, I just wanted to enjoy it. I am so buzzing for Maisie, to be honest! I'm happy with my time, it's faster than I've been this year – but I'm so happy for Maisie, it's amazing. All together, it's really nice to be in the call room. The call room can be really nerve-wracking, but to have three of us in there together, it makes it a lot easier as well."
Harvey added: "We've got such a great team around us. Seeing Ellie and Maisie smash their finals this evening, it's amazing."
In between those two world-record shattering efforts, Derwentside Swimming Club's Lyndon Longhorne continued his now customary habit of breaking British bests as he finished seventh in the Men's S4 100m Freestyle.
Longhorne's time of 1:33.30 was enough to secure him seventh place in his maiden Paralympic final, as well as taking him under his own previous British record for the S4 classification – the latest sign of this athlete's ongoing progression.
Day two at the Tokyo Aquatics Centre was rounded out with the Mixed 4x50m Freestyle 20pt Relay, with Britain's quartet made up entirely of Paralympic debutants.
The foursome of newly-crowned Paralympic champion Kearney (S5), Longhorne (S4), Ellie Challis (S3) and Will Perry (S6) combined to finish eighth in the final, in a time of 2:48.34. Ellie Robinson (S6) and Andrew Mullen (S5) played their part in the heats to qualify the team's place in the final. 
On being part of the relay team, Longhorne said: "It means a lot, to come out here and do a relay, it's great to be part of a team. Yes, you have your individual races, but to be part of a team relay gives you extra to go and do it, and do everyone in the country proud, especially people with meningitis and things like that, we want to inspire them to go and get into sport and that it's not just about disability, it's ability."
Seventeen-year-old Challis added: "It was great, it's great to be in the call room with your teammates. We just want to promote the lower classes going into Paris. There aren't that many of us, it'd be lovely in years to come to have other people there with me – hopefully this can help."
Earlier in the day, Perry – another of the Northampton SC cohort – made his Paralympic debut in the heats of the Men's SM6 200m Individual Medley, placing 13th overall ahead of his role in the Mixed 4x50m Freestyle 20pt Relay final. 
Stay on track of all the action across the Tokyo 2020 Paralympic Games by visiting our 'What's On?' page.