Matty Lee is one of the most promising young divers in Great Britain and recently competed at his first senior World Championships in Kazan in July. This year he's on the road to Rio and will be looking to secure an extra spot for Great Britain in the 10m Platform at the World Cup in February 2016.
I started diving in 2005 at the age of seven. My older brother Tom used to dive so my mum, dad and grandparents would drag me with them when they took him training.

I was three and so I guess I sort of grew up with it, and watching my brother dive inspired me. I wanted to do it like him. I also used to do gymnastics, I was a Yorkshire medallist, and I also studied the martial art of Aikido. But in 2007 I had to decide which sport to concentrate on and diving won, so here I am.
I train six days a week with the City of Leeds Diving Club at the John Charles Centre for Sport. It's a big club with over 130 divers and at the moment over half of the national team train here. 
My coach is Peng Li who took over from Jenny Leeming when she left for Edinburgh three years ago. When Peng moved here he saw the potential in me to be a platform diver, before then I was more successful on 3m.
My main training group are Lois [Toulson], Anthony [Harding] and Ruby [Bower] and of course my current synchro partner – James Denny. There is also Jack [Laugher], Chris [Mears], Yona [Knight-Wisdom], Becky [Gallantree] and Alicia [Blagg]; an inspirational bunch.
The last couple of years have been a bit of a rollercoaster with injuries and really great results.
It sort of started at a very low point when last summer I'd qualified to represent England at the Glasgow 2014 Commonwealth Games on 10m platform but two weeks before the Games I had to officially pull out due to an elbow injury. 
This injury, which meant I had small bits of bone floating around in my elbow, needed surgery. It was really painful and sometimes prevented my elbow from locking straight, which isn't good when you're a diver. 
I could have risked competing at the Games but with help and advice, I decided to look at the bigger picture and have the surgery and miss the Games. I was gutted though. The surgery, which led to five keyhole entries in to my elbow joint, thankfully went well, which is no doubt down to the skill of my surgeon Professor Adams.
The road to recovery was well managed and I was determined to come back stronger and more focused. Recovery and rehab went well and I was ready for my first major competition, the senior British Championships in January 2015. 
That was followed by my first international competition, the FINA Grand Prix in Canada and the highlight of that was winning a silver medal in the new mixed synchro event with my mixed synchro partner Georgia Ward. Also we were the first GB athletes to ever compete in this event and the first GB athletes to ever win a medal in it too – a bit of history in the making.
We also went on to compete in the FINA World Series in London and we won silver again. But this time it was in front of a home crowd, which was simply an amazing unforgettable experience. To have a home crowd behind you is just such a buzz. I also competed in the 10m individual and 10m synchro with James Denny in London too.
One of the biggest moments for me this year was competing at the World Championships in both the 10m individual and 10m synchro. James and I were ninth in the synchro, which we were really happy about, and in the 10m individual I got through the prelims and into the semis. My highest position was 14th; I was just going for the experience and never expected to get into the semis so I was really happy with myself.
But as an all-round unforgettable experience this year it must be winning gold on 10m platform at the first ever European Games in Baku. This is something I will never forget – the whole thing from the Olympic village to the venues, to the other athletes and the city.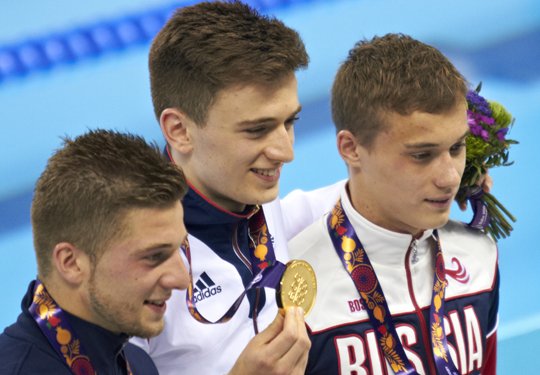 It all was just an incredible eye opener and an unbelievable experience, even having my dad came over and watch me live and I know how proud he must have felt when I won. The whole thing was just so amazing. 

After a short holiday, it's back to training and training hard in preparation for the very challenging year ahead. That's all from me for now; I'm currently in Florida for a training camp. I'll let you know how it went in my next update.