Learn more about the nominees across the 'Outstanding Para-Swimmer', 'Para-Swimming Emerging Athlete' and 'Outstanding Para-Swimming Coach' of 2021-22 categories at the British Swimming: The Awards, Supercharged by Speedo.
Outstanding Para-Swimmer of 2021-22
Sponsored by Speedo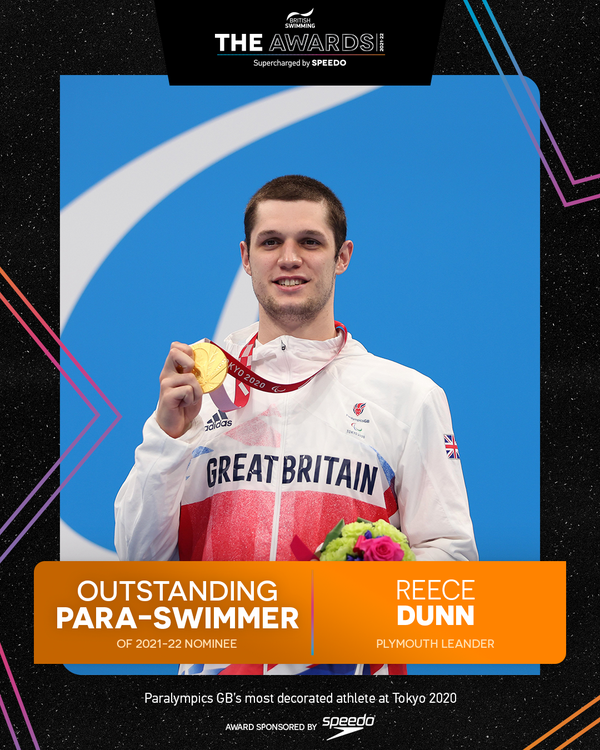 Reece Dunn MBE
Plymouth Leander
Reece's Paralympic debut at Tokyo 2020 was simply outstanding, the Plymouth Leander competitor finishing as Paralympics GB's most decorated athlete at the Games. He took five medals, including a hat-trick of golds and world records in the SM14 200m Individual Medley, S14 200m Freestyle and the Mixed S14 4x100m Freestyle Relay. This year, the 27-year-old contributed to mixed freestyle and medley relay triumphs at the World Para Swimming Championships, as well as an individual butterfly silver.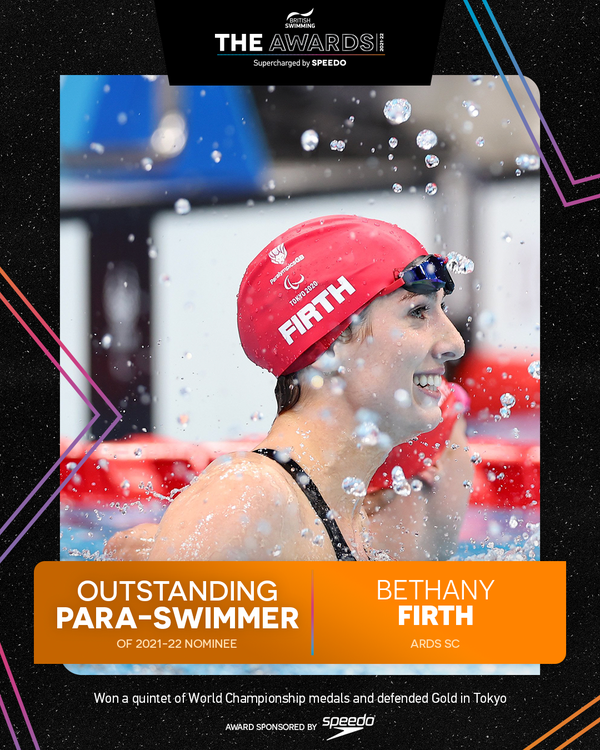 Bethany Firth OBE
Ards SC
Bethany's gold-laden career showed no let up across 2021-22 with highlights including completing a Paralympic S14 100m Backstroke hat-trick and winning a quintet of World Para Swimming Championship medals. At Tokyo 2020, the versatile competitor defended her backstroke crown and was also part of the world-record breaking Mixed S14 4x100m Freestyle Relay
title winning quartet, as well as winning two further Paralympic silvers. Bethany won gold in every event she entered at Madeira 2022, before ending the season as Commonwealth S14 200m Freestyle champion.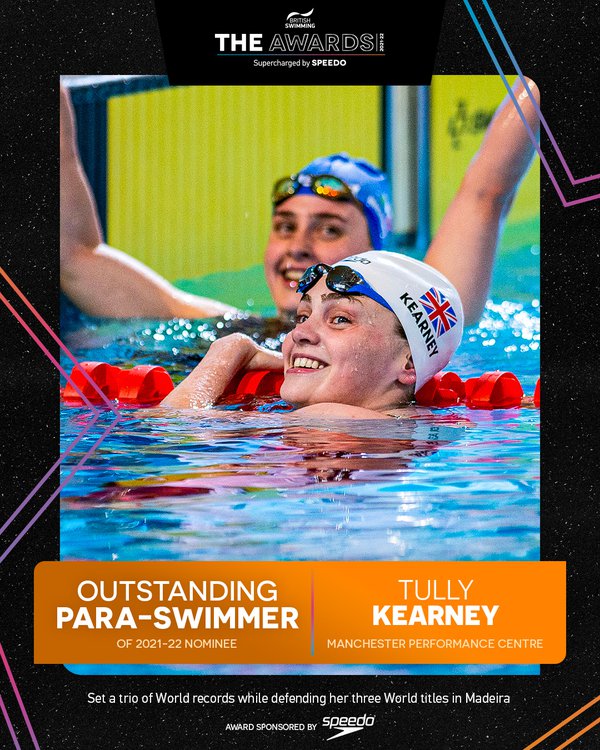 Tully Kearney MBE
British Swimming Performance Centre, Manchester
Tully defended a trio of world titles in 2022 and broke world records in each - all after winning a maiden Paralympic title the previous year. In 2021, she opened her Paralympic account with S5 200m Freestyle silver and then smashed the world record over half the distance to claimterrific Tokyo gold. Tully then went on to record a stunning S5 50m-100m-200m Freestyle hat-trick at the World Championships in Madeira this year.
Maisie Summers-Newton MBE
Northampton SC
Maisie was barely off the podium's top step during a brilliant 2021 and 2022. At her maiden Paralympic Games, she sped to SM6 200m Individual Medley gold in a new world record and also clinched the SB6 100m Breaststroke title to end the Games with a pair of golds. Maisie won a hat-trick of world titles in 2022 in dominant form, before rounding out a memorable 12 months by easing to SB6 100m Breaststroke gold for Team England at the Commonwealth Games.
---
Para-Swimming Emerging Athlete of 2021-22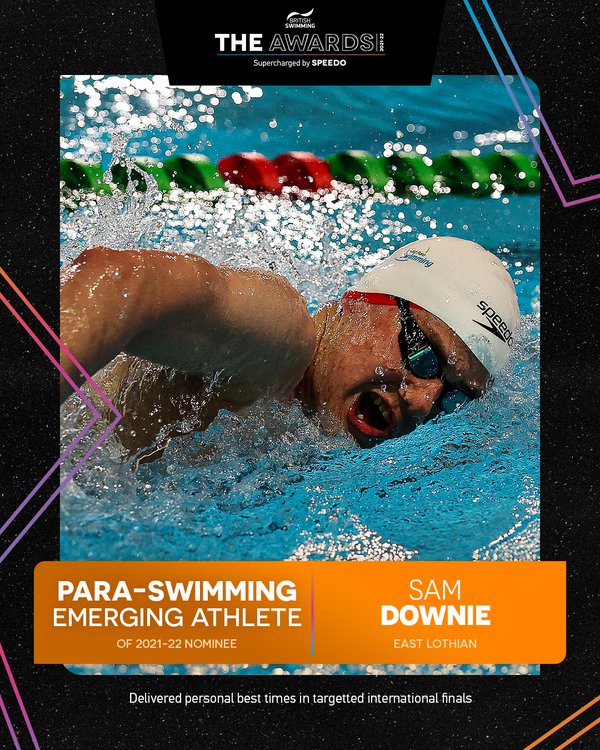 Sam Downie
East Lothian
Sam earned a first senior international team selection in 2022 as a mark of his impressive progress with the East Lothian Swim Team. Strong displays at February's British Para Swimming World Series event saw him on the plane to Madeira for the World Championships, where Sam finished seventh in both the S8 100m Backstroke and 400m Freestyle contests, recording a personal best in the latter. A maiden Commonwealth Games for Team Scotland followed, with Sam - coached by Jamie Ward - dropping a PB in his favoured S8 100m Backstroke event as he placed sixth while racing up a classification. Every race will have provided the 16-year-old with invaluable experience as he builds towards Paris 2024.

[Photo credit: Ian MacNicol for Scottish Swimming]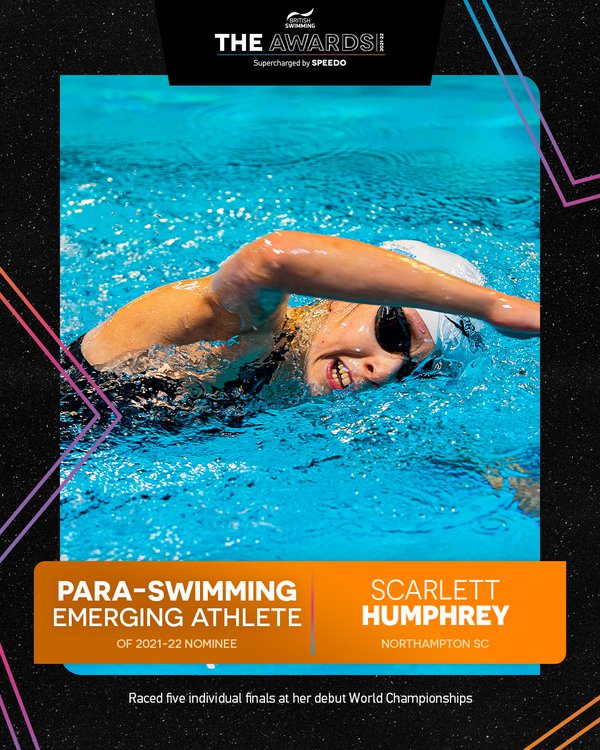 Scarlett Humphrey
Northampton SC
Scarlett was one of the busiest members of the British team at the World Para Swimming Championships in Madeira in June 2022 - and she finished the meet with a first major international medal to her name. The Andy Sharp-coached athlete contributed to a memorable bronze medal in the Mixed 49pt 4x100m Freestyle Relay with a brilliant leg, joining Hannah Russell, Matthew Redfern and Stephen Clegg on the podium. She was also part of Britain's first-ever Mixed 49pt 4x100m Medley Relay team, which came fourth. Individually, Scarlett (Northampton Swimming Club) raced five individual finals, with fourth in the SM11 200m Individual Medley and fifth in the S11 50m Freestyle among her standout results.
Poppy Maskill
Alsager SC
A marvellous breakthrough season for Alsager Swimming Club's Poppy Maskill saw her collect a full house of World Para SwimmingChampionship medals in Madeira, as well as making her Commonwealth Games debut for Team England. Poppy took the step up to World Championship level brilliantly, with her backstroke leg laying the foundations for a thrilling gold for the Mixed S14 4x100m Medley Relay team, completed by Scott Quin, Reece Dunn and Bethany Firth. That was far from it for the Phil Balcombe-coached athlete, though, as she added superb silver in the S14 100m Backstroke and a bronze in the 100m Butterfly event. Poppy narrowly missed out on the Commonwealth podium in Birmingham, finishing fourth in the S14 200m Freestyle.

---
Outstanding Para-Swimming Coach of 2021-22
Robin Armayan
Plymouth Leander
Under Robin's guidance from their Plymouth Leander training base, Reece Dunn went on to become Paralympics GB's most successful athlete across all sports at Tokyo 2020. Reece's hat-trick of gold medals were all won in new world record times, while he also added S14 100m Butterfly silver and bronze in the 100m Backstroke. Reece followed up his Paralympic successes with two relay golds and individual butterfly silver at the World Para Swimming Championships in Madeira in 2022, with Robin helping him back to the world summit after a spell out of the pool earlier in the year.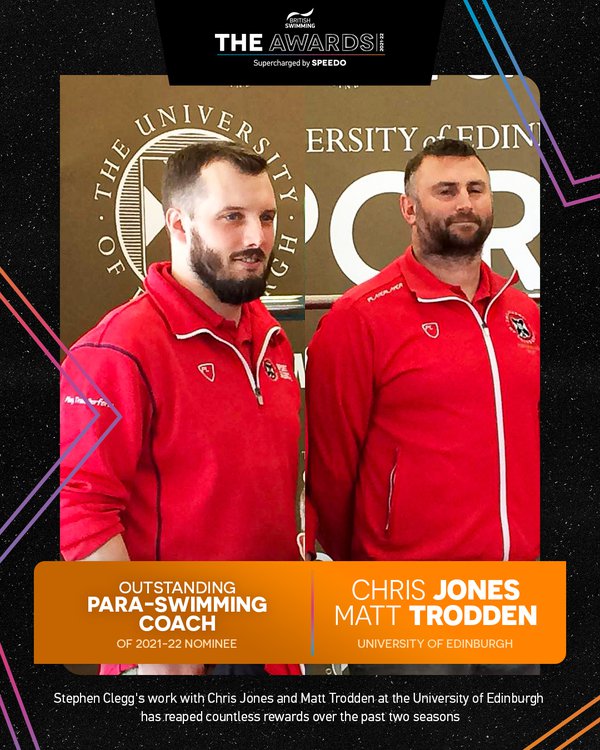 Chris Jones and Matt Trodden
University of Edinburgh
Stephen Clegg's work with Chris Jones and Matt Trodden at the University of Edinburgh has reaped countless rewards over the past two seasons, as Stephen has become a regular feature of Paralympic and World Championship podiums. In 2021, Stephen sensationally broke the S12 100m Butterfly world record at the Para Swimming World Series meet in Sheffield. In Tokyo, he went on to win medals in all three of his events - silver in the S12 100m Butterfly, and bronzes in the 100m Freestyle and 100m Backstroke. Chris and Matt continued to play an important role for Stephen in and out of the water into 2022, when the 26-year-old secured the first world titles of his career, winning brilliant S12 100m Butterfly and 100m Backstroke golds.
Andy Sharp
Northampton SC
As a part of the British coaching team at the World Para Swimming Championships in 2022 and in overseeing Maisie Summers-Newton's journey to becoming double Paralympic champion the year before, it has been a busy couple of seasons for Andy Sharp. Northampton Swimming Club contributed three athletes in the GB Class of 2020, with Will Perry and Zara Mullooly also making their Paralympic debuts in Tokyo - while Maisie went on to win SM6 200m Individual Medley and SB6 100m Breaststroke golds, breaking the world record in the former event. A year on, and Andy saw even more of his athletes involved in Madeira. On top of a brilliant double gold for Maisie again and more top-level experience for Will, there was a first Worlds for twins Scarlett and Eliza Humphrey, with Scarlett winning a Mixed 49pt 4x100m Freestyle Relay bronze. Both sisters broke British records earlier in the year too.