Learn more about the nominees across the 'Outstanding Swimmer', 'Swimming Emerging Athlete' and 'Outstanding Swimming Coach' of 2021-22 categories at the British Swimming: The Awards, Supercharged by Speedo.
Outstanding Swimmer of 2021-22
Sponsored by Speedo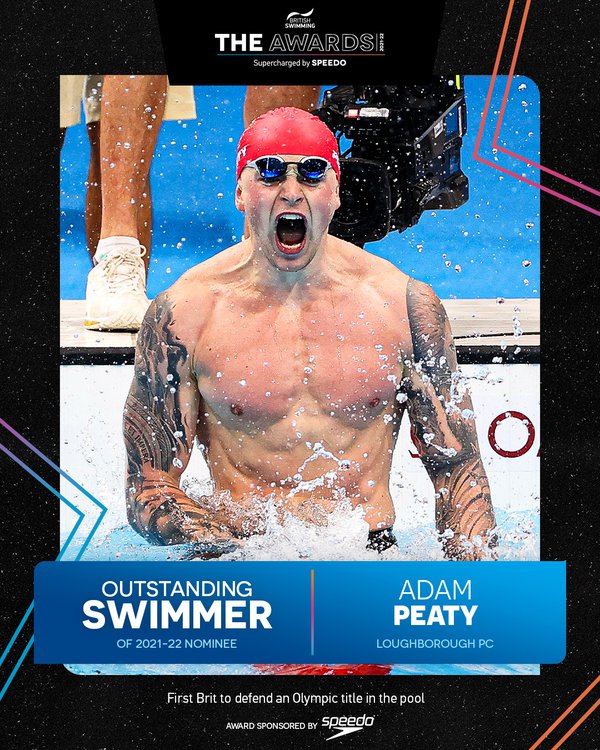 Adam Peaty OBE
British Swimming Performance Centre, Loughborough
Adam's time at Tokyo 2020 saw him make history to defend his Olympic 100m Breaststroke title and secure another in the Mixed 4x100m Medley Relay, as well as silver in the men's equivalent. Budapest's European Championships preceded this, with the Mel Marshall-coached athlete taking four more gold medals. Peaty made a sensational comeback for his third Commonwealth Games in Birmingham with Team England following injury – a competition which saw him triumphant in the 50m Breaststroke.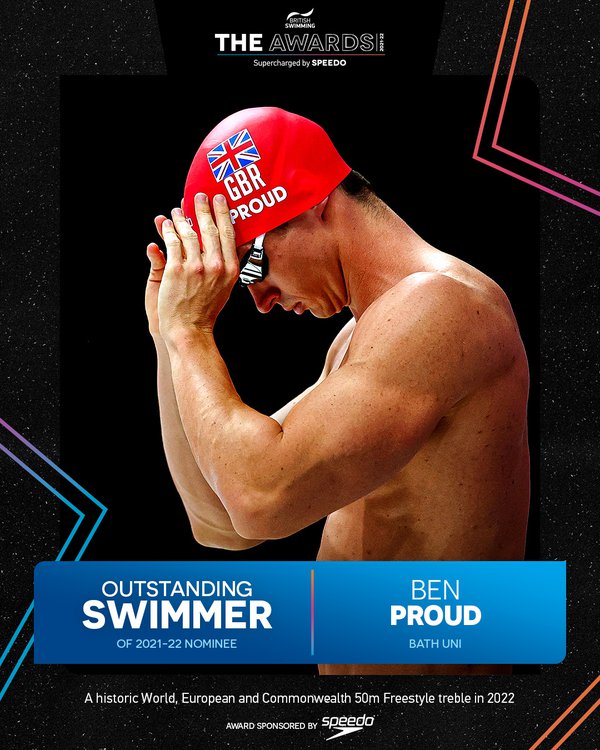 Ben Proud
Bath University
Ben Proud took silver in the 50m Freestyle at the 2021 Europeans before a place on the podium eluded by a tenth of a second at the Olympics. It was 2022 that proved truly unforgettable for Ben, with the sprinter becoming the first person in history to win World, European and Commonwealth swimming titles in the same event (50m Freestyle) in the same year. He also took Commonwealth gold in the 50m Butterfly.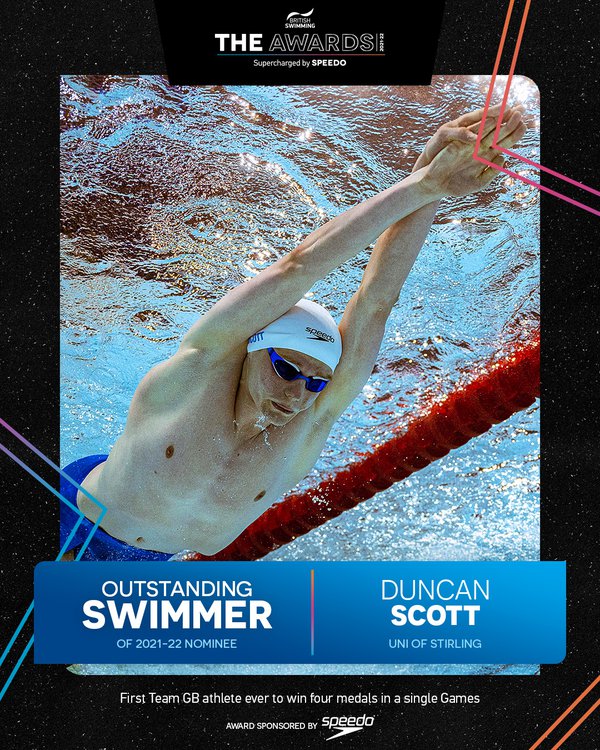 Duncan Scott MBE
University of Stirling
Duncan Scott took five medals at the European Championships in 2021. The University of Stirling man carried that form to Tokyo, becoming the first Team GB athlete ever to win four medals in a single Games. He brilliantly anchored the British team to emphatic Men's 4x200m Freestyle Relay success, a day after winning individual 200m Freestyle silver. The Steven Tigg-coached swimmer was one of the most successful athletes at the Commonwealth Games with Team Scotland, after missing Worlds through illness, where he secured individual golds in the 200m Individual Medley and 200m Freestyle.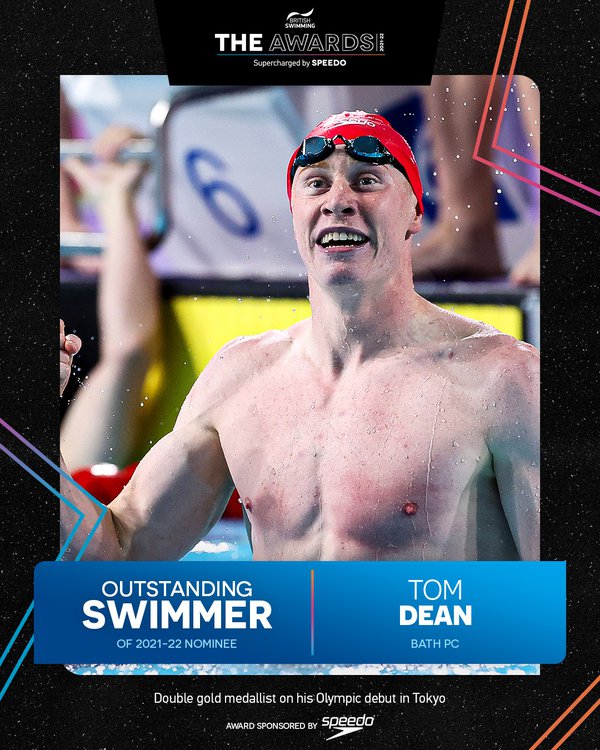 Tom Dean MBE
British Swimming Performance Centre, Bath
Tom Dean enjoyed an unforgettable Olympic debut in Tokyo – claiming gold in the 200m Freestyle, before helping the GB Men's 4x200m Freestyle Relay to an emphatic victory and European record. The David McNulty-coached athlete followed things up with a packed 2022 campaign, beginning with three bronze medals at the World Championships. He finished Birmingham 2022 with a medal tally of seven. Tom then contributed to a medal of each colour at the European Championships in Rome.
---
Swimming Emerging Athlete of 2021-22
Sponsored by MCRActive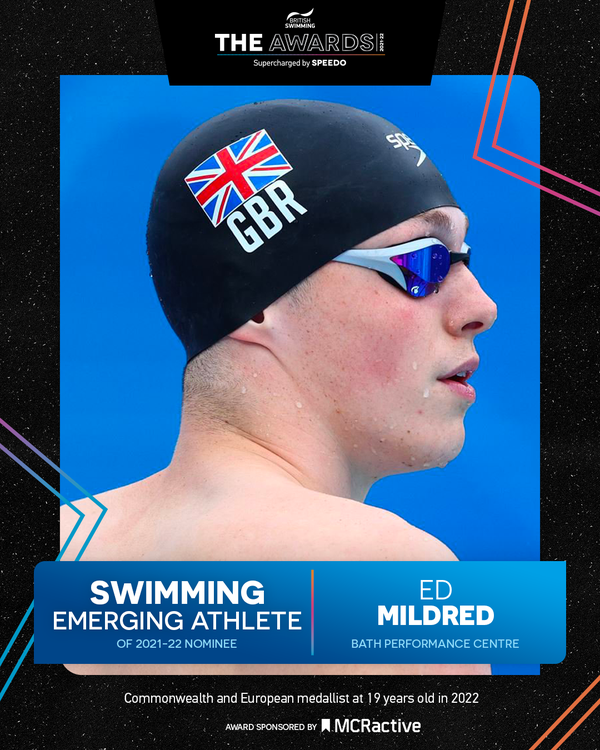 Ed Mildred
British Swimming Performance Centre, Bath
Ed Mildred has enjoyed an impressive breakthrough summer with the senior team following a 2021 season which included three medals at the European Junior Championships in Rome, including an individual silver in the 100m Freestyle – as well as his senior debut in the Budapest European Championships. His full transition from junior to senior level took place over both the Commonwealth Games and the European Championships of 2022, with the former seeing the 19-year-old claim three relay medals with Team England in Birmingham, before adding two more to his tally at Rome's European Championships as part of teams in the Mixed 4x100m Freestyle Relay (silver) and Men's 4x100m Freestyle Relay (bronze).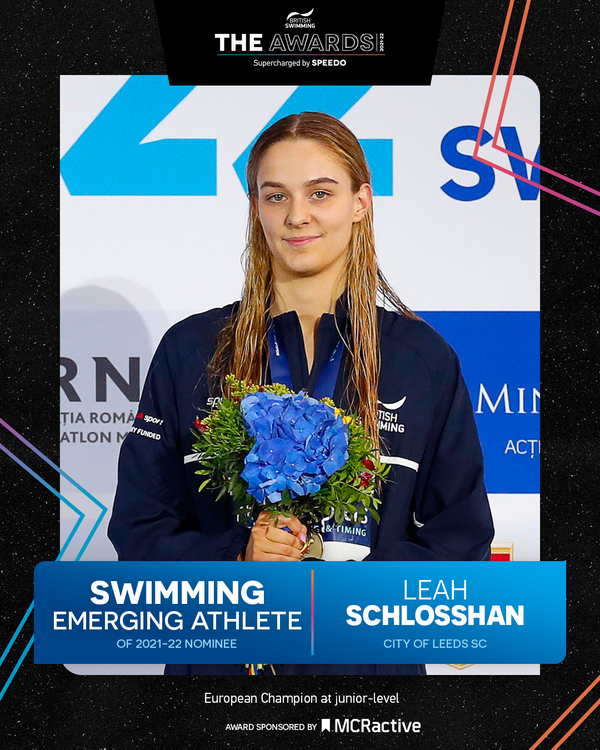 Leah Schlosshan
City of Leeds SC
Leah Schlosshan recorded the highlight of her young career this year when she took gold in the 200m Individual Medley final at the European Junior Championships in Bucharest. That followed on from contributing to a Women's 4x100m Medley Relay bronze at the previous European Juniors in Rome a year previous. The City of Leeds athlete is now aiming to carry her form into the senior section of her time in the pool, as she aims to build towards consistent senior selection ahead of Paris and beyond.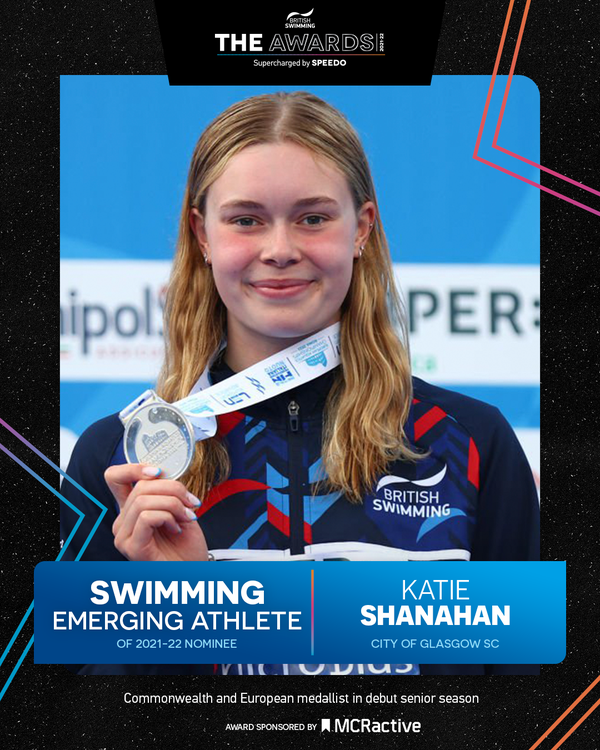 Katie Shanahan
City of Glasgow SC
Katie Shanahan rounded off her junior career in 2021 with an impressive six medals at Rome's European Junior Championships, including double gold across the 200m and 400m Individual Medley events. This would set her up for an impressive return to the Foro Italico a year later at the European Swimming Championships, with the 18-year-old taking a silver medal in the 200m Backstroke following a sensational finish to touch out several challengers to the medals – her first senior international medal in a GB cap. Preceding that competition was Shanahan's debut appearance at the Commonwealth Games with Team Scotland. She produced stunning swims in both the 400m Individual Medley and 200m Backstroke to give her two bronze medals at Birmingham's Sandwell Aquatics Centre.
Outstanding Swimming Coach of 2021-22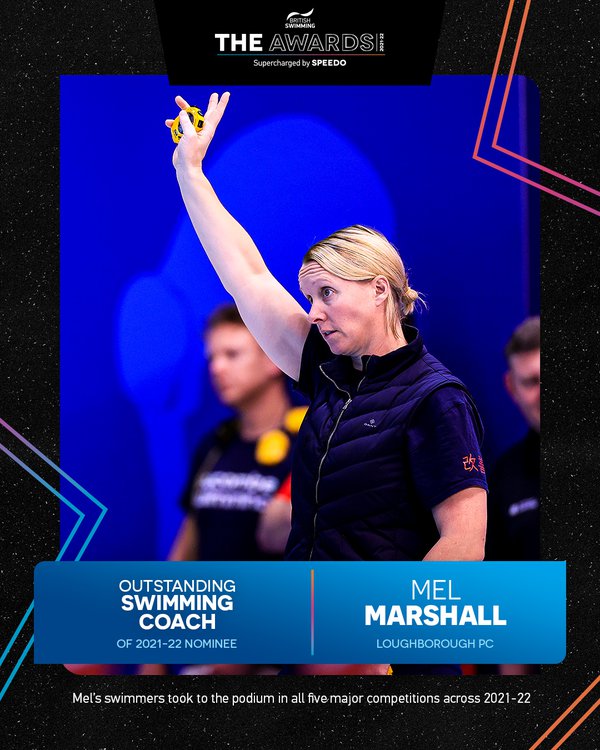 Mel Marshall MBE
British Swimming Performance Centre, Loughborough 
Mel Marshall continued her impressive record of success on the international stage, with a number of her swimmers taking to the podium across all five major competitions across 2021 and 2022. Her long-term swimmer Adam Peaty made history in defending his 100m Breaststroke Olympic title, while Luke Greenbank won 200m Backstroke bronze and then Men's 4x100m Medley Relay silver with Adam. Peaty and Anna Hopkin, meanwhile, were crucial parts of the world-record-breaking winners of the Mixed 4x100m Medley Relay team. Mel was also involved across all three major meets in 2022, with Greenbank medalling twice at the World Championships and Jacob Whittle claiming his first senior Worlds medal.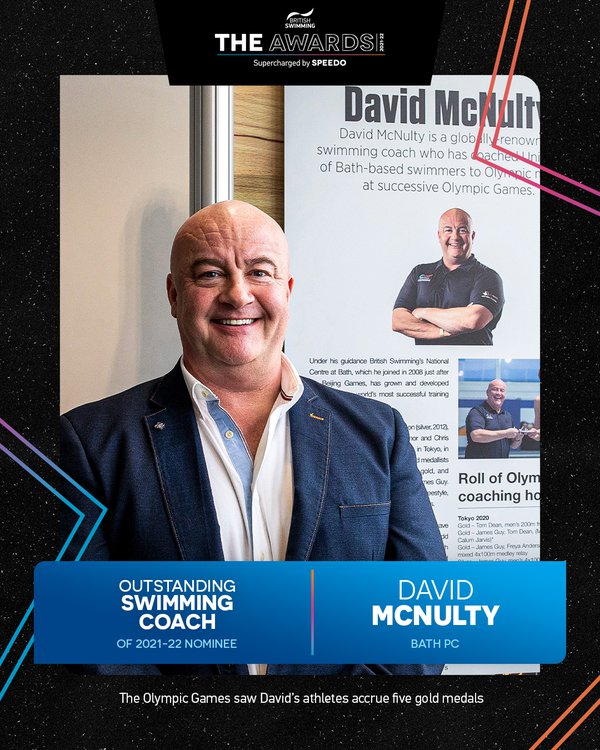 David McNulty
British Swimming Performance Centre, Bath
David McNulty's Bath Performance Centre athletes enjoyed a range of successes across 2021 and 2022. The Olympic Games saw his athletes accrue five gold medals, including two apiece for Tom Dean and James Guy. David's impact on a record-breaking Olympic performance for British swimmers saw him named Team GB Coach of the Year after the Tokyo Games. The year of 2022 was another busy affair for McNulty's swimmers, with the World Championships seeing four Bath Performance Centre athletes take medals from the competition – including a trio of bronzes for Tom – while Freya Anderson won two of each colour at the European Championships in Rome.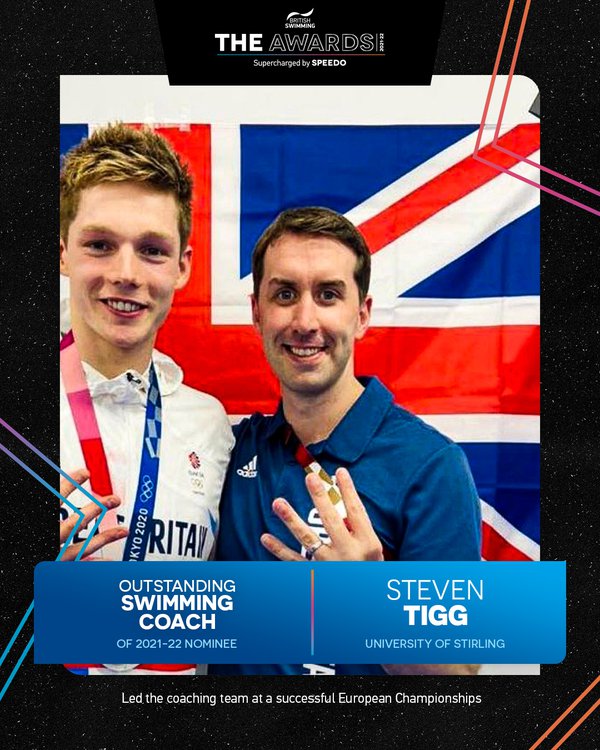 Steven Tigg
University of Stirling
Steven Tigg's athletes produced a number of memorable performances for the British Swimming team throughout the past two seasons. The Olympic Games in Tokyo saw his long-term University of Stirling athlete Duncan Scott become the most successful Team GB Olympian at a single Games with four medals. Kathleen Dawson, meanwhile, led the Mixed 4x100m Medley Relay team to a world record and maiden Olympic title. The 2022 Commonwealth Games in Birmingham continued the success for Tigg's swimmers with Team Scotland winning 12 medals overall. Steven also led the coaching team at a successful European Championships that brought two golds and two silvers for Lucy Hope, and he was also part of the team at the Budapest World Championships.
---