Learn more about the nominees across the 'Outstanding Diver', 'Diving Emerging Athlete' and 'Outstanding Diving Coach' of 2021-22 categories at the British Swimming: The Awards, Supercharged by Speedo.
Outstanding Diver of 2021-22
Sponsored by Great Big Events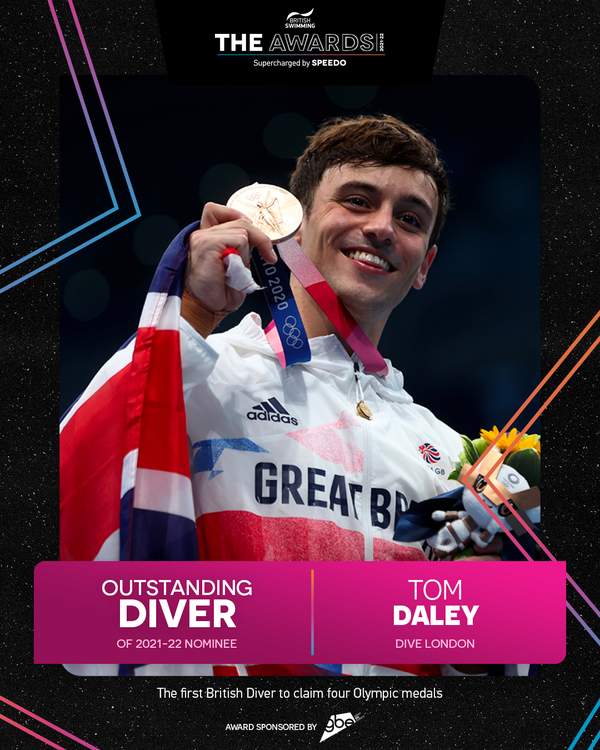 Tom Daley OBE
Dive London Aquatics
Tom's remarkable Olympic journey took him to his fourth Games in 2021 - and it provided an unforgettable few days for the then-27-year-old Team GB icon. Tom and partner Matty Lee produced a flawless display of diving in the Men's 10m Synchro, delivering an outstanding final dive to claim Olympic gold and spark emotional celebrations. He continued on to win brilliant bronze in the 10m Platform, making him the first British diver to claim four Olympic medals.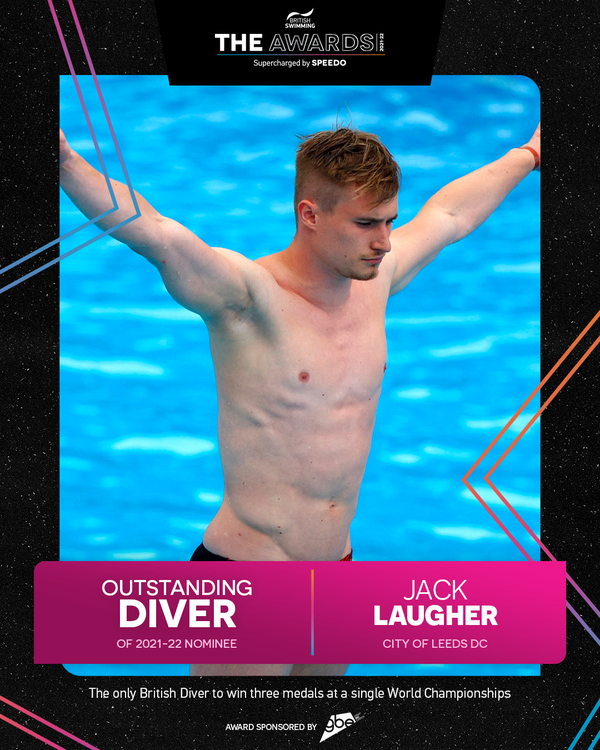 Jack Laugher MBE
City of Leeds DC
Jack sealed the third Olympic medal of his career at Tokyo 2020, showcasing his world-class credentials as he dived to bronze in the 3m Springboard - an achievement he explained as the most meaningful and important of his sporting accomplishments to date. His epic 2022 saw him become the first British diver ever to win three medals at a single World Championships, before following up with two Commonwealth titles and a pair of European golds - including one apiece with new partner Anthony Harding - in an outstanding year.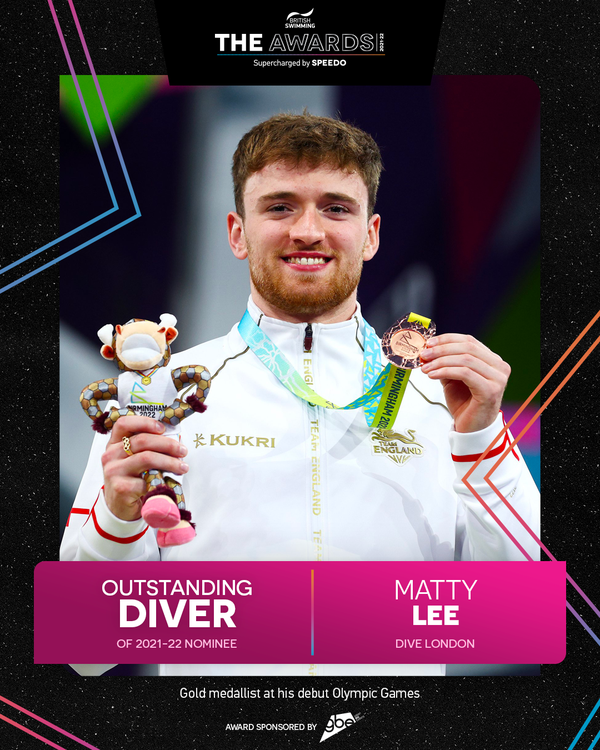 Matty Lee MBE
Dive London Aquatics
Matty produced an exceptional performance on his Games debut next to Tom Daley, the pair's 100-point-plus final dive worthy of the Olympic 10m Synchro title. Matty duly delivered on both individual and synchro fronts in 2022, soaring to World Championship silver alongside Noah Williams, before the pair went one better for Commonwealth Games gold. A Commonwealth bronze in the individual 10m Platform contest also followed to round out an amazing 15 months for the athlete.
Andrea Spendolini-Sirieix
Dive London Aquatics
Andrea emphatically established herself in the ranks across 2021-22, placing seventh at her maiden Olympic Games after winning two medals at the 2021 European Championships. A superb 2022 followed, featuring two gold medals apiece at the European Championships and Commonwealth Games, individually at both, alongside Lois Toulson in the Women's 10m Synchro in Rome and with Noah Williams (Mixed 10m Synchro) in Birmingham.
---
Diving Emerging Athlete of 2021-22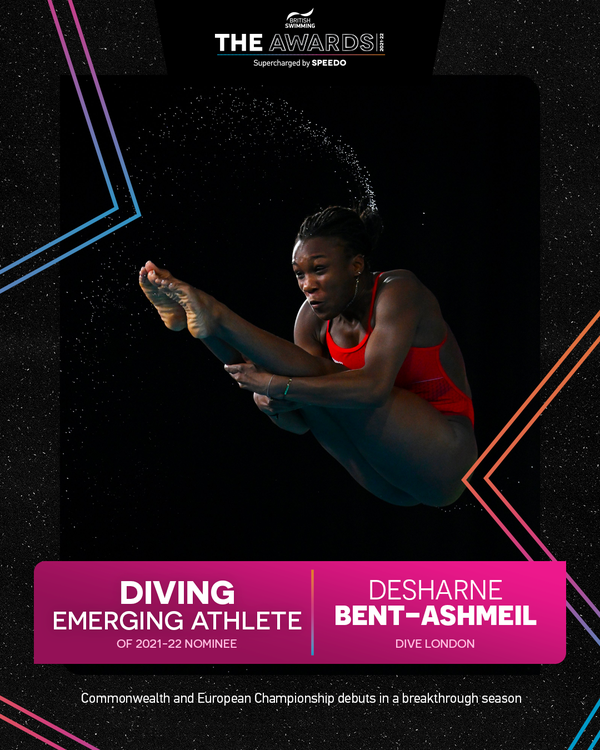 Desharne Bent-Ashmeil
Dive London Aquatics
Desharne began 2022 with impressive 3m Synchro victories alongside Amy Rollinson at both the National Diving Cup and the British Diving Championships, leading to a well earned World Championship selection. At the Commonwealth Games, Desharne racked up a trio of fourth-place finishes, finishing agonisingly outside of the medal places in the Women's 3m Synchro, Mixed 3m Synchro - alongside Ben Cutmore - and the individual 3m Springboard contest, where she showed her composure without a synchro partner to push all the way for a podium place. The Sam Buck-coached diver finished her first senior summer in Rome, again placing fourth in the 3m Synchro alongside Rollinson.
Amy Rollinson
Dive London Aquatics
Amy made the transition from junior to senior with impressive composure in 2022, following a bronze-medal win in the Girls A 1m Springboard at 2021's European Junior Championships. As well as the two national 3m Synchro titles to kickstart this year's events, Amy - who works with coach Stephen Hewat - won individual 3m silver at the National Diving Cup and bronze from 1m at the British Championships. She took her Worlds debut at Budapest's Duna Arena before lining up for Team England at the Commonwealth Games, going on to clinch the first senior international medal of her young career, battling back from an ankle injury on her way to 1m Springboard bronze, with her fourth-round dive scoring the second-highest scores across the whole competition.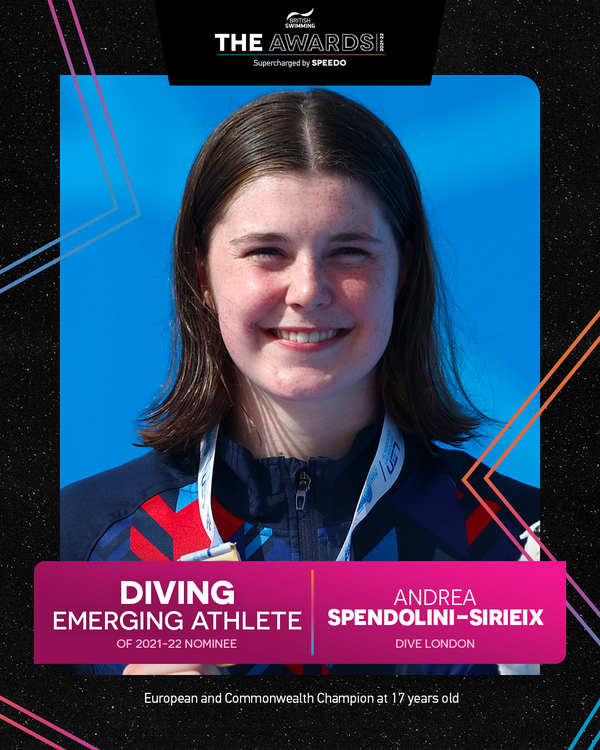 Andrea Spendolini-Sirieix
Dive London Aquatics
Andrea's 2021 saw her claim the first major international medals of her senior career, with an individual bronze in the 10m Platform, as well as Mixed 10m Synchro silver alongside Noah Williams, at the European Championships. Aged 16, she then went on to place seventh in the 10m Platform final on her Olympic debut. Andrea's 2022 medal haul began with World Championship bronze in the Team Event, when she combined with James Heatly, before she went on to reach the top step of the podium at both the Commonwealth Games and European Championships in August. The Commonwealths brought two titles plus a silver, while she backed up her individual gold credentials with another stellar display in Rome, then going on to partner Lois Toulson to 10m Synchro gold too.
---
Outstanding Diving Coach of 2021-22 
Sponsored by GLL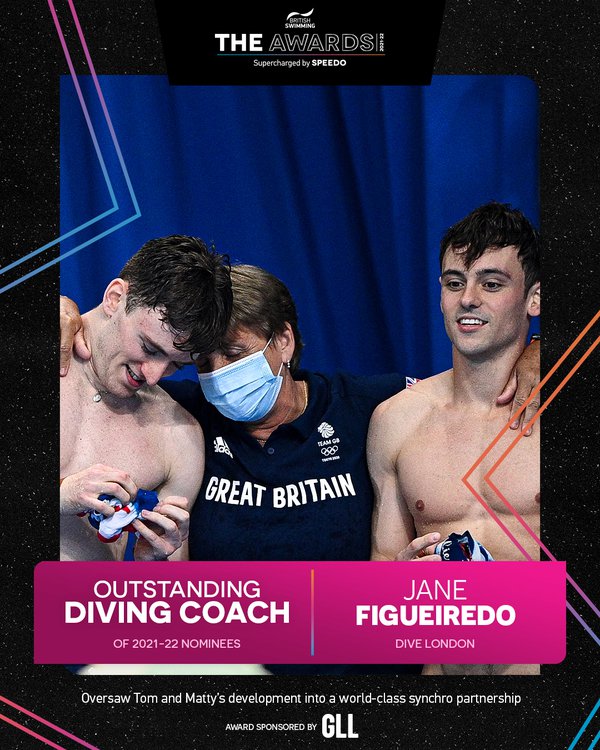 Jane Figueiredo
Dive London Aquatics
The British Diving Performance Centre London Head Coach oversaw Tom and Matty's development into a world-class synchro partnership that was capable of producing that outstanding performance for Olympic gold in Tokyo, as well as claiming European and World Cup golds. Having worked with Tom for a decade, Jane also helped guide him to a third individual Olympic medal in Tokyo. She also works with Grace Reid, who ranked sixth in the world alongside Kat Torrance in the Olympic 3m Synchro, and fourth at both European and World Cup level in 2021. Matty and Grace both won World and Commonwealth medals this summer, with Grace winning a further two at the European Championships in Rome. Robyn Birch, meanwhile, claimed a Commonwealth synchro bronze.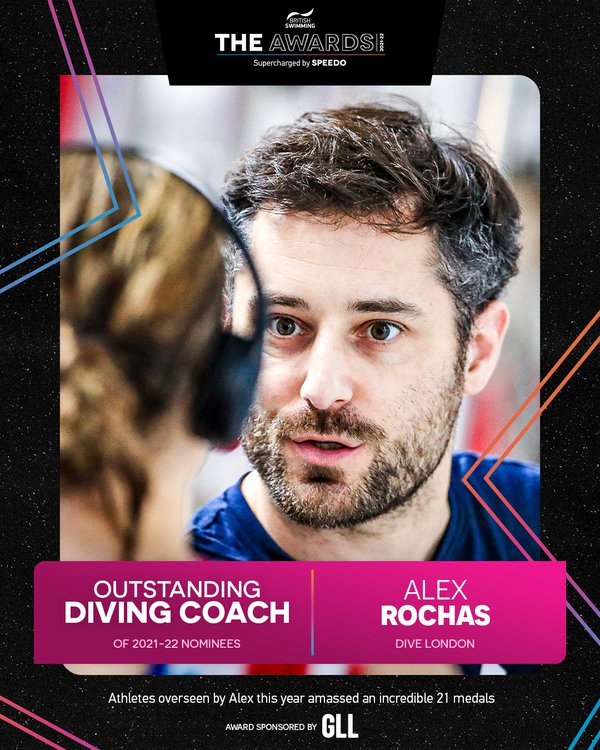 Alex Rochas
Dive London Aquatics
Athletes overseen by Alex this year amassed an incredible 21 medals between them across the World Championships, European Championships and Commonwealth Games, including seven golds - and he was always visible celebrating on poolside. Leading the way was Andrea Spendolini-Sirieix, who worked closely with Alex to build on a Team Event bronze at the Worlds to claim a quartet of titles at the Commonwealths and Europeans. Noah Williams won five medals across the three majors, adding to that mixed synchro Commonwealth gold with Andrea by enjoying a brilliant debut season as Matty Lee's partner, the pair winning Worlds silver and Commonwealth gold together.
Adam Smallwood
City of Leeds DC
Adam's close work with Jack Laugher has reaped countless successes over the years - and that continued to be the case throughout the 2021 and 2022 seasons. Smallwood played an important role in the third Olympic medal of Jack's career in Tokyo. He also oversaw Lois Toulson in her second Games - plus European and World Cup synchro silver alongside Eden Cheng. In 2022, Jack took three World Championship medals in Budapest, while there were subsequent individual and synchro golds at European and Commonwealth level with Anthony Harding, another diver coached by Adam. A double European gold haul for Lois was testament to the strength in Adam's athlete ranks, as was Commonwealth gold for Dan Goodfellow in the 3m Springboard.