Dive in for a slice! Kieran Bird has fired up the oven to bring us a pizza recipe loaded with his favourite toppings.
After a storming 400m Freestyle victory at the 2021 British Swimming Selection Trials in April, Kieran Bird secured his place on the plane for Tokyo 2020 this summer. Having lived alongside two fellow Olympic debutants in Jacob Peters and Brodie Williams in the lead up, we asked the Bath NC swimmer what he would occasionally serve up on the table for a quite night in after training. Over to you, Kieran...
Everybody loves pizza right? It can take a bit of time (and sometimes a few attempts to fully perfect) but there's not many better foods for sharing, and whilst I love to load mine up with chorizo and mozzarella you can pick and choose your toppings as you please.
Ingredients
For the dough
500g white bread flour
1/2 tsp salt
1 x 7g dried yeast packet
1 1/2 tsp caster sugar
325ml water
2 tbsp olive oil
For the sauce
500g ripe plum tomatoes
1 garlic clove
2 tbsp olive oil
1/2 tsp sugar
Chosen toppings
Mozzarella (The only essential - you'll need around 250g)
Chorizo
Smoked ham
Roasted vegetables (peppers/onion etc.)

Rocket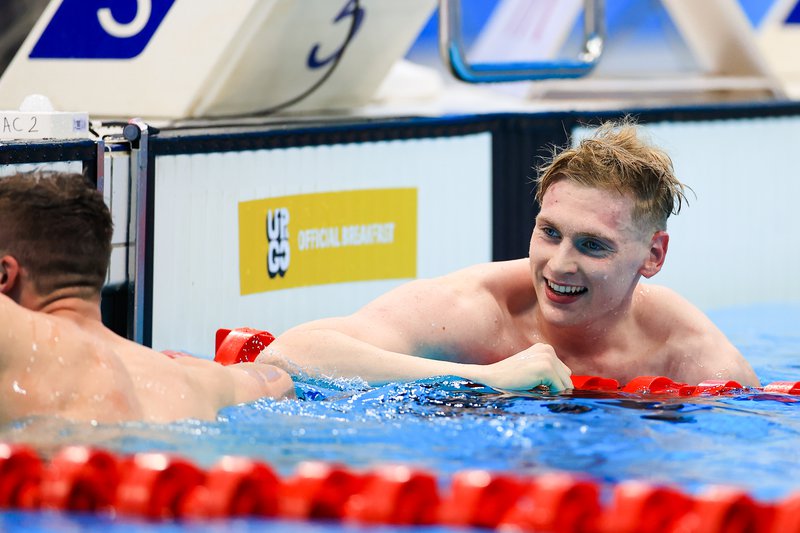 Method
Start preparing your dough by mixing the yeast, sugar, oil and lukewarm water in a jug and leave to rest for minutes. Meanwhile sieve the flour and salt onto a clean work surface and make a well in the middle.
With a fork bring the flour in gradually from the sides and swirl it into the liquid. Keep drawing larger amounts of the flour in and as it all starts to come together, work in knead in the rest of the flour with flour dusted hands until you have a smooth, springy dough.
Place your ball of dough in a large flour dusted bowl and flour the top of it before covering the bowl with a damp cloth and placing in a warm room for about an hour.
While the dough is rising, roughly chop your tomatoes, finely chop the garlic and place in a saucepan with the oil and sugar and stir as you bring it to a boil. Reduce to a simmer, stirring occasionally for about 30-45mins until thickened and set aside to cool.
 Once risen, take the ball of dough and knead out some of the air on a flour dusted surface (Tip if not using immediately wrap in clingfilm and keep in the fridge until required for next step).
Divide into three even balls and roll or stretch out into rough circles about 1/2cm thick on some baking paper. Top each with a third of the sauce and spread to within 2cm of the edges.
Cut your mozzarella into tiny cubes and scatter across before layering up with your added chosen toppings. Plenty of chorizo is must for me and I'll also add a few strips of smoked ham and some roasted veg that I've prepared as the oven heats up.
To cook the pizza heat up the oven to it's highest setting with a heavy baking sheet (or pizza stone if you have one) inside. Slide the pizza onto the heavy baking sheet an cook for about 8 minutes or until golden and puffed up at the edges.
Take out your pizza , sprinkle some fresh rocket leaves and slice up on a plate, giving the heavy baking sheet a minute or two to get hot again in the oven before cooking your further pizzas. 
Head over to the Health Hub section of the British Swimming website to check out plenty more Fuel My Friday recipes for meals, snacks and breakfasts from our athletes...