It's World Pasta Day on Sunday (25th October) - and what better way to mark it than with a delicious lasagne, courtesy of Louis Lawlor's #FuelMyFriday recipe? 
Glasgow-born Lawlor was named British Para-Swimming's Emerging Athlete of the Year in 2019 after securing a bronze medal in the Men's S14 100m Backstroke at the World Para-Swimming Championships in London - his senior debut at that level. 
This meal is a particular favourite of his, so we'll leave it to Louis to introduce. 
I love eating lasagne, so World Pasta Day is a good time to have this one! It's a delicious recipe and well worth the time to cook it up. 
Ingredients 
500g beef mince
1 onion, diced
1 carrot, diced
2 garlic cloves, pressed or finely sliced 
400g chopped tomatoes 
2 tbsp tomato puree 
300 ml beef stock
2 tsp Worcestershire sauce 
10-12 lasagne sheets
150g mozzarella
50g Parmesan 
50g butter
50g plain flour
500ml milk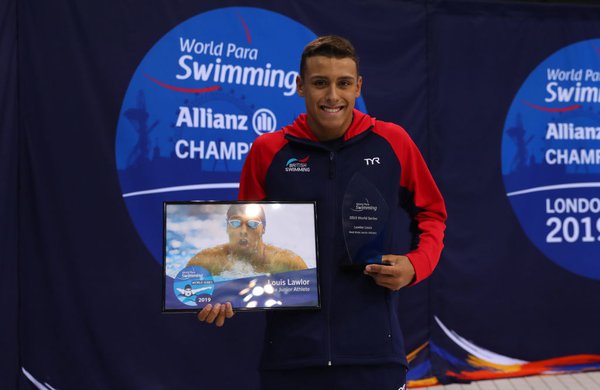 Method 
Fry the onion, carrot and garlic in a pan until softened, then add the mince, break up with a wooden spoon and cook on a medium heat. 
Once the meat is browned, season with salt and pepper if required. Stir in the chopped tomatoes, tomato puree and beef stock. Add in the Worcestershire sauce and simmer the mixture for 15 minutes or until the mixture has thickened. 
While the mixture is reducing, make the white sauce by melt the butter over a low heat and adding the flour. Whisk/stir until combined and then cook for one or two minutes. 
Remove the white sauce from the heat and whisk the milk in in stages. Add seasoning if required, then return to a low heat and whisk until thickened. 
Build the lasagne in a baking dish, starting with a layer of the beef mixture, then a layer of the pasta sheets and a layer of white sauce. Repeat twice, then top with the mozzarella (shredded) and Parmesan (grated) and bake in a pre-heated oven at gas mark 6/200 degrees for approximately 40 minutes until cooked through and piping hot. 
Serve with side salad and enjoy! 
Head over to the British Swimming Health Hub to check out the full Fuel My Friday back catalogue!