Fancy a sweet but healthy treat to enjoy across another weekend staying in at home? Today's Fuel My Friday might be just what you're looking for...
In light of the current situation, we are trying to bring you exciting culinary ideas that can get you into the kitchen and using ingredients that might otherwise be left at the back of your cupboards or fridges. 
Sport Nutrition Advisor Tiff Afflick is back with another eye-catching and versatile recipe which is perfect for sating that mid-afternoon snack hunger when working and training at home. Over to you, Tiff...
These are really easy-to-make cereal bars. They can be kept in an airtight container for up to four days after making and they are freezer friendly, which could be handy - because this recipe makes 12 bars! 

You can adjust the ingredients, like taking out the nuts, using nut butter, adding chocolate chips and things like that, depending on what you have available and any allergies or dietary requirements. That means they are another ideal snack for times like this, when cupboard ingredients may be more limited than normal. 
Ingredients
2 cups low-sugar cereal; eg. bran flakes, Weetabix
1 cup oats
1 cup dates
2 tbsp chopped nuts
2 tbsp seeds
50g chocolate
1 cup hot water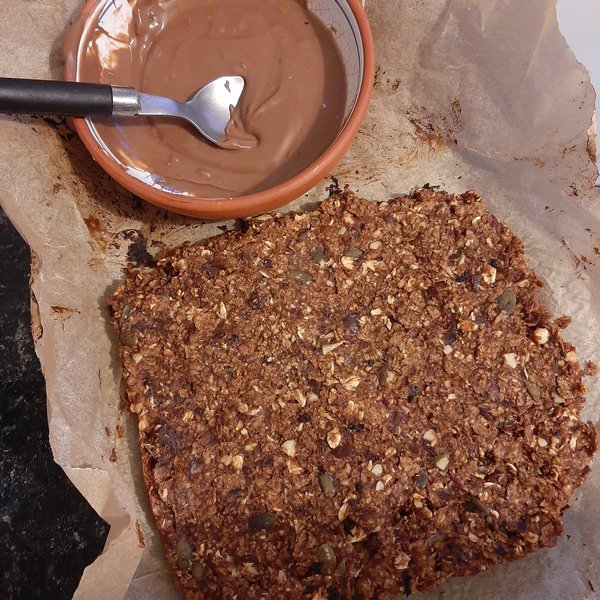 Method
Soak the dates in one cup of hot water for five minutes, then blend to a puree in a food processor
Add the remaining ingredients except for the chocolate to the processor, and pulse in short bursts until the mixture begins to stick together
Line a baking tray with baking parchment, then spread the mixture out to a thickness of around 2cm
Bake in an oven for 10 minutes at 190 degrees celsius, then leave to cool
Melt the chocolate and use it to cover the baked mixture. Chill in the fridge for at least two hours, before diving into 12 portions