Multiple European junior diving medallist, Tilly Brown, serves up a #FuelMyFriday she loves to 'tuck' into after training.
Having brought a silver and bronze medal home earlier this year from the European Junior Championships competition in Rijeka, Croatia (her first in-person event opportunity for 18 months!), the Southampton Diving Academy athlete has already secured her place on the World Junior Championship team ahead of this month's British Elite Junior Diving Championships.
As the preparations continue for her upcoming events, we checked in to find out what recipe she turns to after a busy day on the springboards! Over to you, Tilly...
A recipe I love is sesame salmon with broccoli and tomatoes - it's so good for after training and for recovery! It's very tasty, has a hint of spice, and it goes really well with wholegrain noodles or brown rice too if you want to make it into a bigger meal.
Ingredients

2 tsp rapeseed oil
2 x 125g salmon fillets
6 spring onions
12 cherry tomatoes
200g long stem broccoli
1 tbsp dark soy sauce
1 tsp sesame oil
1/4 tsp chilli flakes
1 tsp sesame seeds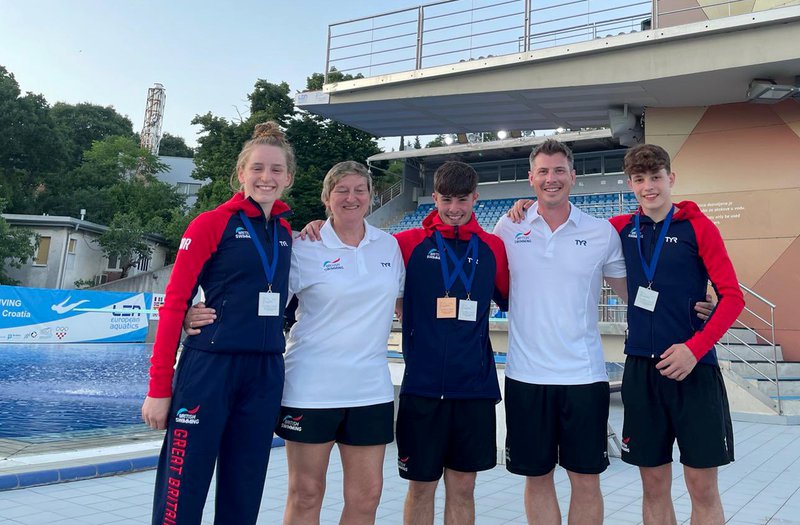 Method
Start off by getting your oven ready and up to temperature by setting it to preheat to 200 degrees (180 degrees in a fan oven).
Drizzle the rapeseed oil on a baking tray and place the salmon fillets in it, skin side down. Trim your spring onions and slice into thirds, before adding to the tray along with the tomatoes. Season with black pepper and bake for eight minutes.
Meanwhile, bring a pan of water to the boil then add the broccoli stems, cooking them for about four minutes before draining.
Taking the tray out the oven, add the broccoli, drizzle the soy sauce and sesame oil over the fish, and sprinkle everything with the chilli flakes and sesame seeds. 
Return to the oven for a further four minutes (or until the salmon is cooked through), before dividing between two plates to enjoy!
Check out our athletes' diverse range of recipe options across on the Fuel My Friday page HERE