Maria Papworth-Burrel is gearing up for next month's FINA Diving World Cup in Tokyo - and this week's #FuelMyFriday recipe is helping fuel her preparations. 
Dive London athlete Papworth-Burrel - who won the Women's 3m Springboard and 3m Synchro double at last year's British Championships - will be competing in the individual 3m event in three weeks' time, at a competition that will provide Olympic qualifying opportunities in several remaining spots for the Brits.
One of the snacks that keeps Maria going through the intense training schedule are these Black Forest crumble energy bars. Over to you, Maria...
These fruity homemade energy bars are delicious and packed full of nutrition, with plenty of fibre and protein. This recipe serves four, so you can easily make more if you fancy! 
Ingredients

For the crumble
65g rolled oats
65g oat flour
1/2 tsp baking powder
20g vanilla protein powder
21g olive oil butter
21g maple syrup
21g quark (or 0% fat Greek yogurt)
For the filling

25-35g Black Forest fruits
1 tbsp fresh lemon juice
1 tbsp chia seeds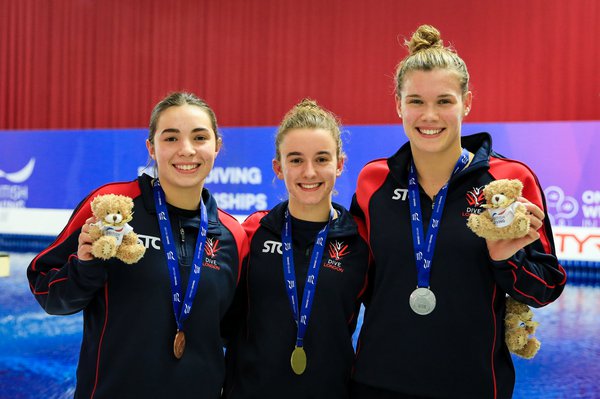 Method
Preheat your oven to 180 degrees celsius. 
Add the fruit (frozen or fresh) and lemon juice to a small saucepan. Bring to the boil and then lower the heat and gently simmer for 10 minutes. 
Stir in the chia seeds and then remove from the heat. If you have time, leave the jam mixture to sit for half-an-hour. 
For the crumble, combine the melted butter, maple syrup and quark/Greek yogurt in one bowl. Combine all the dry ingredients (oats, oat flour, baking powder and protein powder) in another bowl and then add to the butter/syrup/quark mixture. Mix it well to form a smooth paste. 
In a lined baking tray, spread about two-thirds of the oat crumble mixture, pressing it well with the back of your spoon or fingers. Pour in the chia fruit mixture, spreading evenly, before crumbling the remaining oat mixture on top.
Bake in the oven for 20 minutes. Let it cool completely before cutting into slices - and enjoy!  
Check out our athletes' diverse range of recipe options across on the Fuel My Friday page HERE