In need of a new and versatile recipe to help you celebrate National Barbecue Week at home? Our latest Fuel My Friday entry could be just what you are looking for.
British Swimming Performance Nutrition Advisor Tiff Afflick is back on hand to provide a delicious version of sweet and smoky barbecue skewers for you to tuck into on a sunny weekend in the garden. Over to you, Tiff...

This is quite a basic recipe, but it is the glaze that really makes these skewers special. I've given options to use chicken, tofu or halloumi, as they work best with the glaze - and it means that people with different dietary requirements can enjoy them. 
Ingredients
2 large handfuls of chopped mixed vegetables (peppers, onions, courgette, sweet potatoes etc)
300g diced chicken/tofu/halloumi
3 tbsp honey
1 tbsp oil
1/2 tsp garlic puree/powder
1 tbsp paprika
Pinch of salt and pepper
Squeeze of lemon juice
4 skewers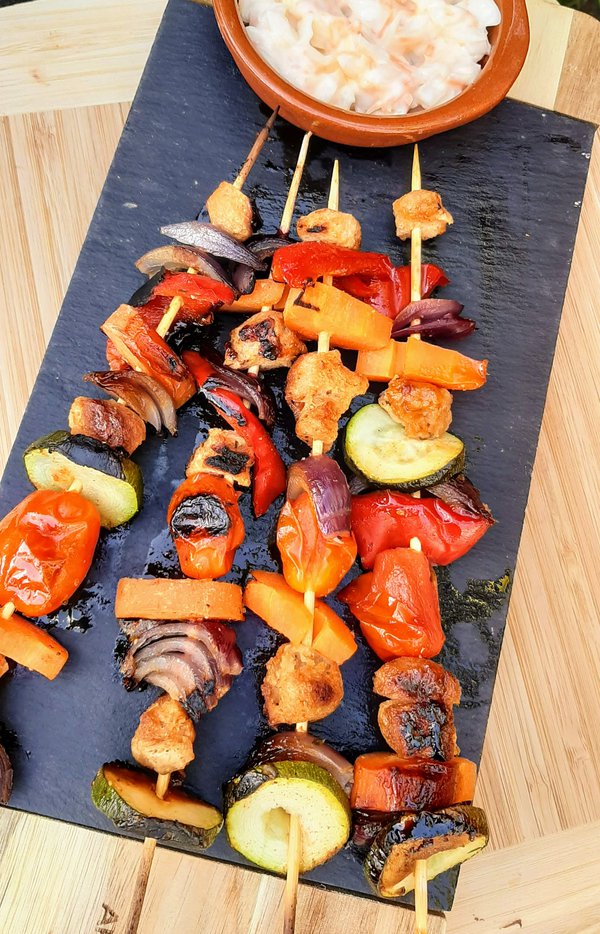 Method
Mix the honey, oil, lemon juice and spices together to make the glaze.
Chop the chicken, tofu or halloumi into large chunks.
Thread the chopped vegetables and chicken/tofu/halloumi on to the skewers, then brush with the glaze.
Leave the skewers to marinate for at least 15 minutes, then barbecue or grill them for 12-15 minutes until charred.
Check that the vegetables are soft all the way through, and if using chicken, check it is cooked through before serving with your choice of sides.

Rob Hobson, Head of Nutrition at Healthspan says:
"This recipe contains at least two of your five-a-day, which has been shown to help reduce the risk of many diseases. It is good to include red peppers, as these are one of the richest sources of a powerful antioxidant called vitamin C, which is also used by the body to make collagen – a connective tissue found in skin and cartilage."