A host of Britain's top swimmers and para-swimmers are set to be involved when the BUCS Long Course Championships take place at Sheffield's Ponds Forge this weekend (February 14th-16th). 
Some of those athletes have begun the year on overseas training camps in the United States, Japan and Australia, as preparations step up a notch ahead of the Tokyo Olympic and Paralympic Games. 
For many of the rest of the field set to battle it out in one of BUCS (British Universities and Colleges Sport) National's biggest annual events, the start of 2020 may well have involved coursework, revision and some January exams. 
Focus in the water and the lecture theatre are not mutually exclusive, though. Far from it.
Balancing training and studying is something plenty of student-athletes manage, to ensure success in the pool and the classroom.
For 2019 World Championships finalist Laura Stephens, that balancing act is nothing new - and there are two key factors behind getting it right.
"Managing studying and training side by side just takes organisation and good communication, with the university and my coach," says Stephens, who is currently reading architectural engineering at the University of Plymouth, alongside her busy schedule as a butterfly specialist with the Plymouth Leander club.
"The University of Plymouth have been very accommodating of my needs and making this as stress-free as possible for me. 
"Since I went straight from A Levels in school to the uni course, I've always been managing my studies around my swimming. So although it was a step up, I knew the commitment I was going to make to do both."
Getting that balance right in a normal week is one thing - but lectures, seminars and time for essay writing inevitably takes something of a back seat when student-athletes are away for big competitions throughout the year. 
Luke Greenbank - who became a world champion in the Men's 4x100m Medley Relay in Gwangju last year during the university summer holidays - has just returned from a training camp on the Gold Coast.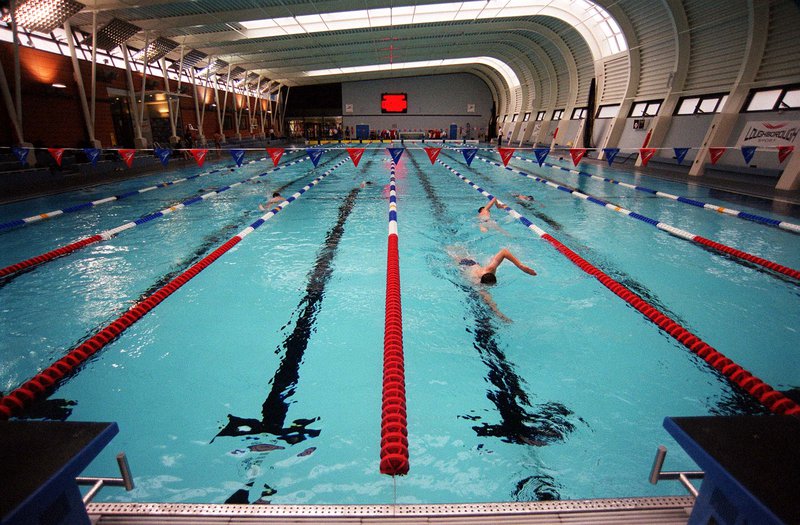 He is also working towards a degree in Sports Science at Loughborough - and the Mel Marshall-coached athlete is grateful for how understanding the university and his fellow classmates are when it comes to those crucial breaks from the lecture theatre.
"My lecturers have always been really supportive when it comes to me taking time off for competitions and camps," says Greenbank.
"I'm always able to catch up on content online, and they're always happy to help if I need anything explaining.
"My coursemates are also really helpful when helping me catch up on stuff I've missed."
That is a sentiment Stephens wholeheartedly agrees with.
"Obviously it's quite difficult to explain to my lecturers and uni mates what elite swimming really is and how much it means to me - it's more than just a hobby!" she adds.
"But they are understanding, and I don't find I have issues when it comes to the big competitions." 
Paralympic champion Hannah Russell is another athlete full of praise for her university and the help they offered as she chased her goals in the pool. 
Russell - who graduated from the University of Salford with an honours in sports science last July - took time out from her higher education studies in the build-up to Rio 2016, a Games at which she won gold in both the S12 50m Freestyle and 100m Backstroke.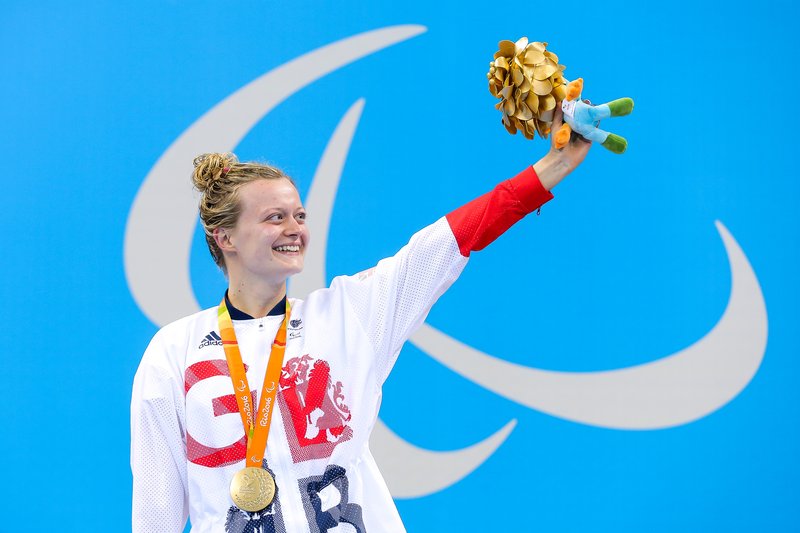 The Manchester-based para-swimmer is now targeting a third Paralympics later this year. And one particular lesson learned in the classroom could help to take the pressure off in the coming months. 
"It is tough to differentiate between maturing as a person and the added benefits of key learnings via my education and degree - I certainly feel better prepared and knowledgeable around elite training and performance, but also appreciate the disciplines of planning to study, being curious and having a growth mindsets," says Russell.
"A learning environment also helps as you are surrounded by like-minded people, and the lecturers can provide advice when required.
"Having something else to challenge me has also helped me so that training and competing was not everything." 
In educational terms, one set of finals stand out above all others this year: those that will take place in Tokyo for the Olympic and Paralympic Games. 
The trial events for both are on the horizon, with the British Para-Swimming International Meet taking place between April 9th and 12th, and the British Swimming Championships in London following straight afterwards, from April 14th to 19th. 
But just as with their studies, Greenbank, Stephens and Russell are all staying focused on the task at hand rather than looking too far into the future.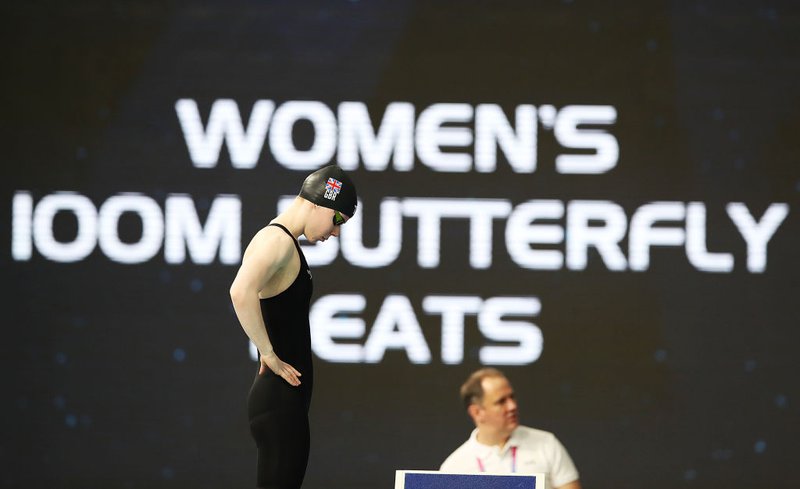 "I'm really looking forward to this season. Last season was a big step forward for me, but I'm not going into 2020 with any expectations," adds Greenbank, who claimed a 200m Backstroke bronze alongside his relay world title in Gwangju last July.
"Training is going really well at the moment, and I'm excited to get some racing under my belt."
The anticipation is high for Stephens, too - although the focus remains. 
"I'm feeling very excited ahead of 2020," says the former European junior medallist.
"It is an important year, but I plan on staying focused on my training and not get caught up in it too much. 
"I think just enjoying this year and everything that's coming with it is very important." 
As for Russell, returning from the recent training camp in Suzuka was an exciting way to start 2020. 
"I could not think of a better way to begin Paralympic year - it was a fantastic camp with my fellow GB teammates, there were some brilliant training sessions completed by the team in the outstanding facilities which Suzuka had to offer," she says.
"I'm extremely excited for the year ahead. My short-term goal is to qualify for my third Paralympic Games at BPSIM in April. I'm very grateful for all the elite support I receive on a daily basis from the National Performance Centre British Para-Swimming coaching team in Manchester, to help best prepare me in becoming the best athlete and version of myself this year, as I look towards Tokyo 2020." 
---
Studies and swimming
Laura Stephens

Main event: Butterfly 
Course and university: Architectural engineering, University of Plymouth
Why? I enjoyed maths, physics and drawing a lot in school and generally thought architecture would be a really interesting field to learn more about.
I didn't really know too much before I chose the course so it was a bit of a gamble, but it's definitely paid off.
Luke Greenbank 

Main event: Backstroke 
Course and university: Sports science, Loughborough University
Why? I've always been interested in sport, and it kind of goes hand in hand with swimming. 
A lot of what I learn can be transferred into improving my swimming. I'll also look to stay in sport through coaching or sports science when I do finish competing. 
Hannah Russell
Main event: S12 Freestyle and S12 Backstroke
Course and university: Sports science, University of Salford
Why?  Since an early age I have shown a big interest in sport. I started swimming when I was four, and absolutely loved the sport. PE has always been my favourite subject. When I was training to go the London 2012 Paralympic Games I had a solid understanding of the practical side of the sport, however the theoretical side and the science and benefits behind the training was new to me. 
At college in 2012/2013 I excelled at my BTEC (Level 3 Diploma) in Sporting Excellence, achieving three Distinction*s and went on to study a BSc Honours Degree in Sports Science at the University of Salford. I really enjoyed the challenges of this course and applied lots of the theory and practical learning over to my swimming performances. I learnt about practitioners' roles in the British Para-Swimming Sports Science team, and how it relates to my swimming training; to best support me to be the best athlete.