Recognising the social impact of individuals that have gone the extra mile to help the community and causes close to their heart.
Content presented by
The Community award is brought to you in partnership with Up&Go, the Official Breakfast Partner of British Swimming.
When you think about an athlete award it so often relates to sporting achievements, however the community award celebrates the unsung acts of an aquatics performer on helping others outside of chasing their medals dreams. 
Jessica-Jane Applegate
Paralympic champion Applegate has been passionately helping to support families in hardship through her involvement with Olio, a charity that saves food waste from big supermarket chains heading to landfill, and instead re-directs it to families in need.
At the start of lockdown Jess provided support to 3 families through her volunteer hours, but this has quickly risen to over 100 families, with the Alex Pinniger coached athlete taking on extra responsibility through managing 3 other team members having built up a great relationship with the local Tesco Superstore.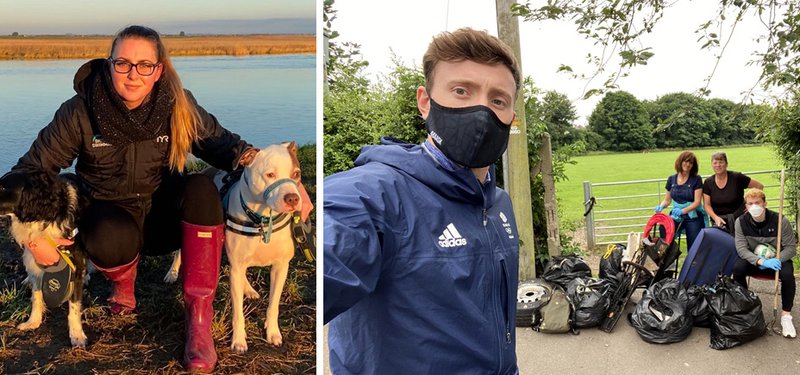 Max Litchfield
Medley specialist Max has been on a mission to encourage others to make at least 'one simple change' to help the environment and reduce plastic pollution.
Throughout the year the Loughborough National Centre man has offered tips through his social media on how to make switches to everyday habits and purchases, with the impact it such changes make. Additionally Max has rallied support from fellow teammates to join him in a clear up to improve the local environment, heading out to collect rubbish discarded in his local area.
Daisy Gunn
'Determined' is how Daisy has been described by her Great Britain Artistic Swimming peers. A member of the silver medal winning Paris FINA World Series combination team, Daisy committed to running 100 miles in August to raise money for Teenage Cancer Trust, a charity which is very close to her heart following the passing of a close friend. 
Smashing through her initial target five times over, a total of £750 was generated for the charity. Having achieved something far outside of her comfort zone, Daisy has promised to repeat a challenge year on year in her friends memory in order to continue raising awareness for the charity.
Jordan Catchpole
The S14 world para-swimming medallist found himself feeling like a 'fish out of water' when lockdown prevented his normal training, and so set about a cycling challenge to raise fund for his local pool, Beccles Lido.
With a target of under 8 hours, Catchpole set about covering 200 miles on a static bike - needless to say the Team Waveney swimmer had self described 'shaky quads' by the end but raised an amazing £1,150 for the lido and further £250 for local NHS services.
Voting has now closed, please refer to the main 2020 awards page for results information.