Emily Large is returning from an intense five weeks of International Swimming League action in Budapest - so what better way to refuel than with this tasty #FuelMyFriday recipe? 
Butterfly specialist Emily was part of the London Roar team that made it all the way to the ISL final for the second time in two seasons, with a third-placed finish in the Women's 200m Butterfly in Roar's opening match among her standout moments. 
The 2017 World Junior Champion is now back on home soil and will be beginning to turn her attentions to April's British Swimming Championships. One recipe that will be helping to fuel her preparations is this delicious chicken burrito dish - so it's over to you, Emily...
This is a meal I love. These burritos have a balance of everything needed - and they definitely fill the spot after a tough training session!
Ingredients

250g chicken breast, chopped/diced into chunks
1 onion, diced
1 red pepper, diced
400g black beans/red kidney beans 
500g rice
1 lime, juiced
1 avocado, chopped into chunks
Handful of coriander, chopped
6 tortilla wraps
1 tbsp chipotle paste
Tomato salsa, to serve
Cheddar cheese, grated, to serve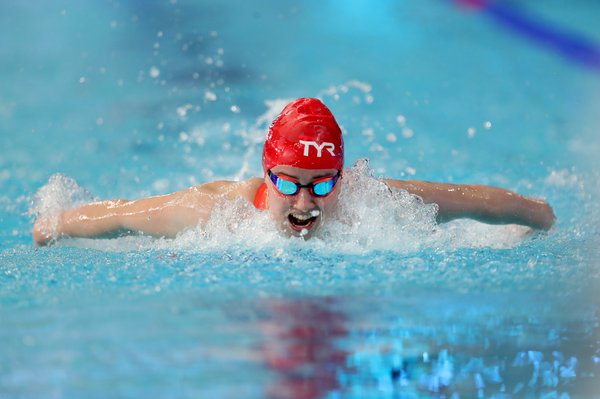 Method
Heat a splash of oil in a pan over medium heat and add the diced chicken, onion and red pepper until the chicken is cooked through. 
While the chicken is cooking, cook the rice as per instructions.
Once the chicken is cooked through, stir in the chipotle paste and stir for one minute. 
Drain the cooked rice and then stir through the black/red kidney beans, as well as some of the lime juice. 
Chop the avocado into chunks, then mix in the remaining lime juice and chopped coriander - as well as some seasoning - and mash the mixture. 
Heat the wraps in the oven for two minutes, or dry fry in a pan until warmed through. 
Divide the rice and beans across the wraps, then lay the chicken mixture on top, before topping with the avocado, salsa and grated cheddar cheese. 
Fold up and enjoy!
Head over to the British Swimming Health Hub section for plenty more Fuel My Friday inspiration!